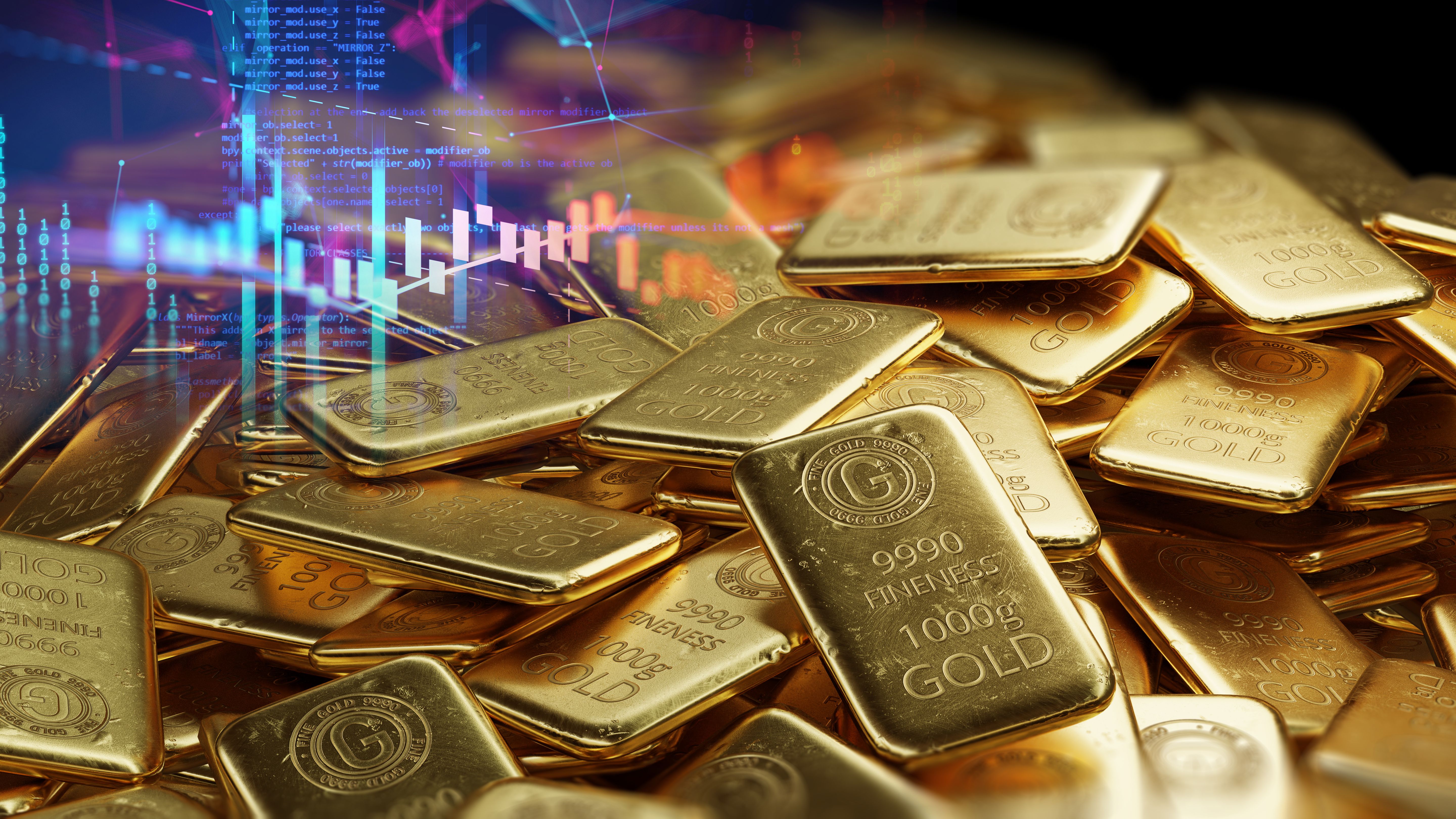 whiteMocha / Shutterstock
🗓️
Updated: July 12, 2023
We adhere to strict standards of editorial integrity to help you make decisions with confidence. Please be aware that some (or all) products and services linked in this article are from our sponsors.
We adhere to strict standards of editorial integrity to help you make decisions with confidence. Please be aware that some (or all) products and services linked in this article are from our sponsors.
Easily invest in pure gold from your phone
During periods of high inflation or market uncertainty, many investors turn to precious metals like gold. This is because it's often seen as an inflation hedge, and it's also surprisingly liquid as an investment.
However, buying gold, especially physical gold, can be confusing for new investors. Various gold brokers all charge different fees and have various types of bullion for sale. And you also have to ensure your gold is securely stored and insured.
Thankfully, companies like Vaulted make it easy for investors to add pure gold bars to their portfolios that are insured. And with low transaction fees and a streamlined mobile app, Vaulted is popular for good reason.
Our Vaulted review is covering how this investing platform works, what its fees are, and how to decide if gold investing is right for you in the first place.
Pros
Ease-to-use mobile app
Low investment minimum
Gold is insured and securely stores
Low transaction fees
Cons
Vaulted only lets you invest in gold, not other precious metals
Shipping gold to your house can be expensive
What is Vaulted?
Vaulted is a mobile app that lets you invest in physical gold that's securely stored in vaults at the Royal Canadian Mint. Investors can also choose to have their gold delivered to their homes, and the platform provides a simple and secure way to invest in gold right from your phone.
The company was created by McAlvany Financial Group and the International Collectors Association (ICA). The ICA has been operating since 1972 and is one of the larger gold brokerage firms in the United States. And according to its website, the team behind Vaulted have helped investors purchase over $2.5 billion worth of precious metals for their portfolios.
How does Vaulted work?
When you invest through Vaulted, you're buying 99.99% pure gold kilo bars that are manufactured by the Royal Canadian Mint. Gold is certified as being conflict-free. The Royal Canadian Mint also stores gold in its secure vaults that are insured against theft, damage, and other losses.
According to Vaulted, your gold is never mixed with other people's gold, and the Royal Canadian Mint can't lease or use your gold either. In other words, it sits in the secure vault unless you request delivery to your home or another vault via FedEx.
Here's how the process of investing in gold with Vaulted works:
1.

Create a Vaulted account on its website or by using its Android or iOS app.

2.

Link a checking account to your Vaulted account through its integration with Plaid.

3.

Fund your Vaulted account with ACH cash deposits or a wire transfer.

4.

Enter the amount of gold you want to purchase ($10 minimum investment).
Orders process during New York Stock Exchange (NYSE) trading hours, and transactions process almost instantly during market hours. You can also call Vaulted for help with trades if you prefer. Selling gold through Vaulted works the exact same way; just enter the amount of U.S. dollars worth of gold you're selling and enter your trade during market hours.
VaultPlan
You can make one-time deposits to your Vaulted account and then purchase gold. But another feature is VaultPlan, the platform's automatic gold savings plan. VaultPlan lets you invest in gold every two weeks or monthly, and you can change your investment amount and frequency any time.
This is basically a way to dollar-cost average your way into gold investing. This strategy is popular for regular stock and ETF investing, so it's nice that Vaulted is adding tools to promote consistent investing.
Vaulted fees
Vaulted charges 1.8% whenever you buy or sell gold. This fee is added to the wholesale price of gold when you buy or sell, and there aren't any hidden fees. There's also a 0.40% annual maintenance fee that covers the cost of storing gold at the Royal Canadian Mint and some of Vaulted's operational costs.
The maintenance fee is charged semi-annually, so you pay half of the fee in July and half in January of the following year. Alternatively, you can request delivery of your gold, at which point you stop paying maintenance fees.
You have to speak with a Vaulted advisor to arrange delivery. However, you pay certain delivery fees that the Royal Canadian Mint and your shipping carrier charge:
Royal Canadian Mint Handling Costs: $50 per delivery plus $2 per bar.
Shipping & Insurance: This varies depending on your carrier and location but generally costs around $225 according to Vaulted.
Gold in transit is insured by Vaulted. However, the company can only deliver to addresses in the United States and Canada.
Also note that if you own less than one bar, Vaulted transfers you smaller coins or bars, like a 1/10 ounce Gold American Eagle or 10 ounce gold bullion bar. At the time of writing, a kilogram of gold costs over $55,000, so it takes a lot of capital to buy a single kilo bar.
Is Vaulted safe? Where is your gold stored?
One advantage of investing in gold through Vaulted is that your gold is safe and secure. For starters, The Royal Canadian Mint is owned by the Canadian government, so it's not a private enterprise that's potentially more likely to go insolvent. It also conducts annual audits through the government of Canada and counts all holdings on a quarterly basis.
Furthermore, The Royal Canadian Mint insures its gold through Lloyds of London and holds billions of dollars worth of gold. And it actually holds your gold as a custodian, not on its own balance sheets. This means that if the Mint were to somehow go out of business, it can't sell your gold to pay creditors and must return the gold to Vaulted instead.
If you invest with Vaulted and decide to store gold yourself, carefully consider the security and insurance you're giving up.
How to contact Vaulted
You can reach customer support by calling 844-288-8024 or by emailing info@vaulted.com. Customer support is available Monday through Friday from 8:00 am to 5:00 pm MST.
Is Vaulted a good investment?
The advantage of investing in gold through Vaulted is that the process is simple and secure. A 1.8% buy or sell fee might seem high, but many online gold brokers charge similar amounts or much more. And even if you buy gold directly from the U.S. Mint, you're still going to pay some sort of transaction fee. Plus, if you compare using Vaulted to negotiating with the pawn shop down the street, it's a much more reliable process.
Really, the question investors should ask is why they want to invest in gold in the first place and what their goals are.
Historically, precious metals like gold and silver have been used as stores of value and inflation-proof investments. During periods of market downturns or currency devaluation, commodities like gold are generally more sought after.
And if you look at the historical price of gold, you can see that gold has gradually risen in value over the past few decades.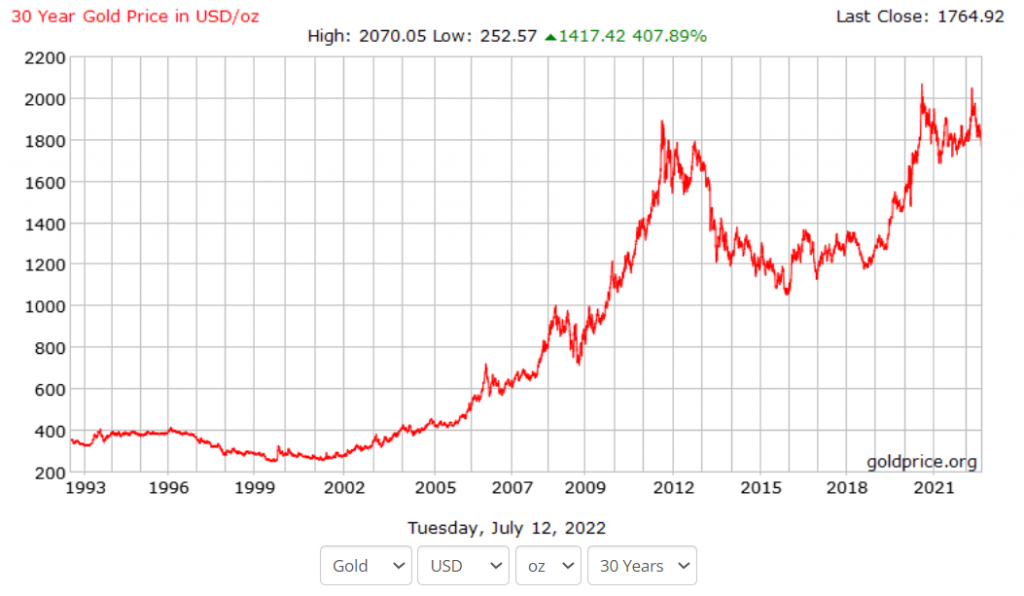 However, gold has also declined in value or gone through periods of trading sideways for several years. It's a misconception to think that precious metals like gold always go up, even if its supply is finite.
Long story short: you can diversify your portfolio with precious metals as a way to potentially hedge against inflation. But you shouldn't invest money into gold that you can't afford to lose, and appreciation isn't guaranteed.
Related reading >>> Gold vs. silver – What's the best investment?
Best alternatives
Vaulted is a cost-effective solution if you want to keep things simple. Other alternatives for gold investing include:
Purchasing physical gold from the U.S. Mint or Royal Canadian Mint
Investing through gold IRA companies like Goldco or American Hartford Gold
Buying gold jewelry and coins
Investing in gold mining stocks through your online stock broker
Investing in gold ETFs
Buying gold futures options
The gold ETF route is a very cost-effective one since many ETFs have low expense-ratios and you're not paying directly for physical storage. Plus, you can find various gold mining stocks or gold ETFs that pay dividends. Physical gold's lack of income generation is one of the main downsides of investing in it, so sticking with stocks and ETFs is a nice middle-ground.
But if you decide to purchase gold bullion or jewelry, make sure you have somewhere secure to store it or keep it in an insured vault.
Bottom line
Humans have been enamored with gold since ancient times, and historically, it's been a status symbol that only society's elite could enjoy.
These days, we use gold for so many purposes, ranging from wedding bands to cell phones. And thanks to apps like Vaulted, you don't have to be a king to add gold to your portfolio.
If you want to keep things simple and low-fee, Vaulted is worth considering. Just note that fees can get expensive when transporting gold to your home. And you can also get exposure to gold and other precious metals through various ETFs and mining stocks if you prefer.