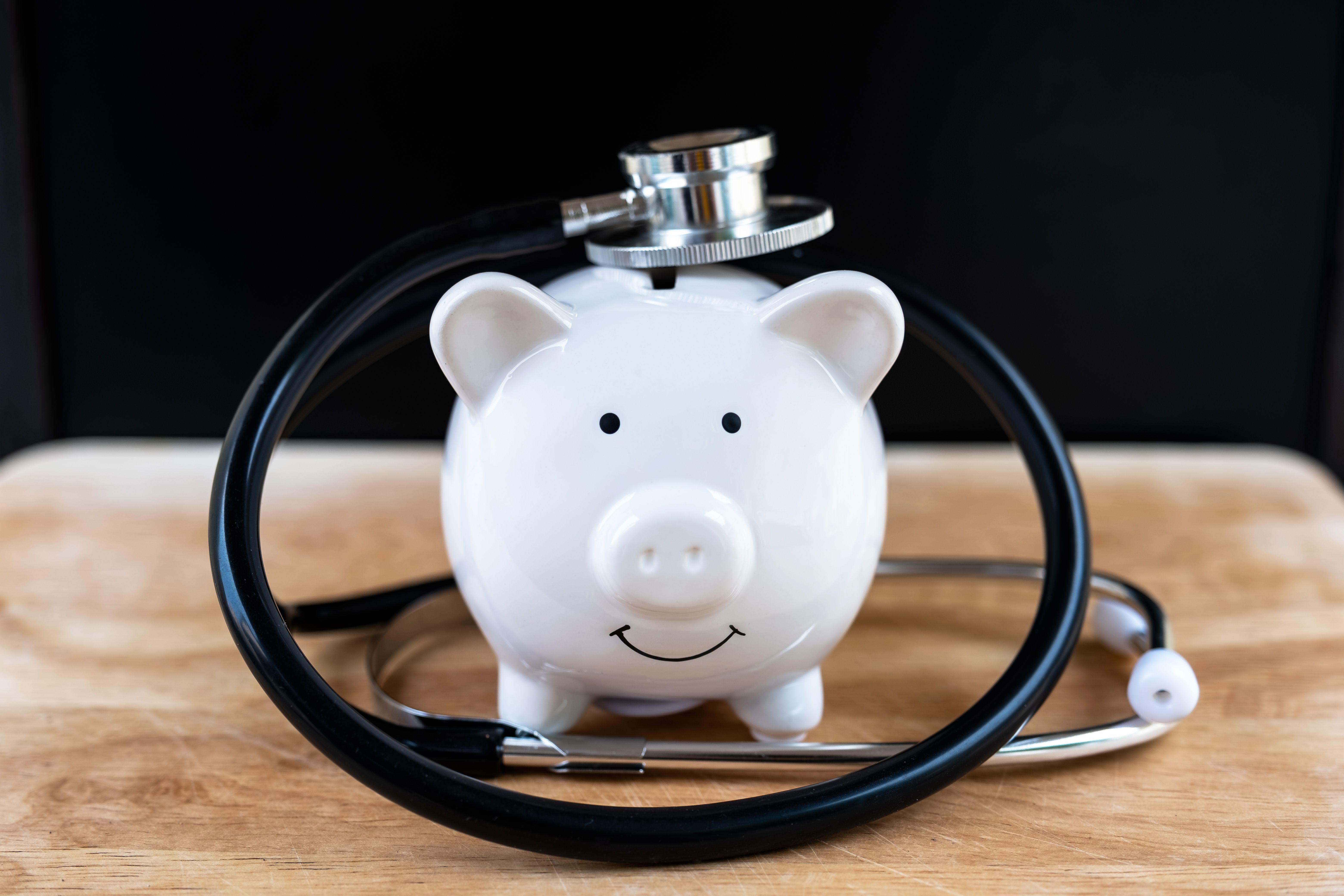 Optum Bank HSA: Is it right for you?
Inthon Maitrisamphan / Shutterstock
We adhere to strict standards of editorial integrity to help you make decisions with confidence. Please be aware that some (or all) products and services linked in this article are from our sponsors.
We adhere to strict standards of editorial integrity to help you make decisions with confidence. Please be aware that some (or all) products and services linked in this article are from our sponsors.
Pros and cons
Pros
Monthly fee may be paid by the employer or waived in some cases
Low-fee index funds for available for investment accounts
Quality investment options, although limited
Receipt vault to track past expenses
Cons
Monthly fee, if not waived or paid by the employer
Minimum balance for investments
A limited menu of investment options
Poor customer service reviews
Who is Optum Bank HSA for?
Our Score: 6
Monthly Fee: $3.75
Balance Required to Waive Fee: $5,000
Investment Threshold: $2,000
Optum Bank HSA might be a good fit for you if your employer offers Optum as an HSA provider or if you mainly invest in index funds.
Employer offers an Optum account. If your employer provides Optum as an HSA provider, you might find it valuable. More so if the employer is willing to pay the monthly maintenance fee on your behalf. Optum has excellent, although limited, investment choices. Optum still provides enough options to make a portfolio that fits most financial goals. Especially for index investors.
Index investors. This account is a good fit for Investors with a simple index portfolio who want low-cost options. Optum provides an array of index funds with low expense ratios. Vanguard, Schwab, and Fidelity funds are available from Optum at no extra cost.
What we like about Optum Bank HSA
If you have an Optum Bank account, there are plenty of things to like, such as plentiful investment options and a decent mobile app.
Investment options
Optum offers solid investment options even though the selection is limited. Index investors will enjoy the low-fee choices such as funds from Vanguard and familiar brokers such as Schwab and Fidelity. Target date funds are available from Schwab. Several of the funds in Optum's lineup have expense ratios that are less than 0.10%.
Few account fees
Optum will only charge three other types of account fees.
1.

ATM transaction fee of $2.50. (Be aware the bank/ATM you use may also charge an additional fee.)

2.

An outbound transfer fee of $20.00 or rollover fee to another HSA provider.

3.

A $1.50 fee for printed statements.
Aside from the monthly fee, Optum charges ATM fees per transaction. If you avoid ATMs when possible, you can save on this small charge. You only incur an outbound fee when you transfer your HSA to another provider. This one-time fee is standard among rollovers. And the printed statement fee is easily avoided by those who prefer digital statements.
Receipt vault
The receipt vault allows you to upload receipts to organize and conveniently store them in one place. That way, you can have them for later reimbursements and tax purposes. Ensure your itemized receipt includes the name of the provider or merchant, the date, the exact amount of expense, and a detailed description. To upload the receipt, take a picture or scan it and upload it to the mobile app or desktop dashboard.
Scheduled contributions
Setting up automatic deposits into your investment account is a great way to build wealth. Scheduling contributions allows you to grow your tax-advantaged HSA account passively. Once you meet the investment threshold, you can invest your contributions according to your fund selections.
Mobile app
The mobile app allows you to do more than the standard banking functions like paying bills and tracking payments. It can also follow contribution limits, capture and submit receipts, search for qualified medical expenses, and more.
Another feature of the mobile app is Alexa and Google integration. Optum's apps allow Google and Alexa to answer common questions about the HSA. Questions about qualifying expenses, HSA contribution limits, tax forms, and Optum Bank HSA contact information.
Optum's app can also connect to different digital wallets. Whether you want to connect to Apple Pay, Google Pay, or Samsung Pay, the mobile app covers all three.
Qualified medical expense tool
The qualified medical expense tool is a searchable web page of expenses. Each expense is listed as a qualifying, potentially-qualifying, or a non-qualifying medical expense. Hover over each listed expense on the page for more detail about qualifications.
Where Optum Bank HSA could improve
Optum charges a monthly maintenance fee that other HSA providers don't charge. Also, other HSA providers don't have a minimum investment threshold. Alternatives like Lively and Fidelity don't have these fees and minimums. And Optum has a smaller investment selection than some competitors as well.
But customer service is the area where most reviewers want to see improvement. There are frequent issues with logins and long wait times at the call center. Reviewers mention multiple transfers on the phone and unclear communication from the representatives. Other reviewers reported declined qualifying expenses, and customer service could not help resolve the issues.
Optum Bank HSA customer service
This customer support is offered online support anytime via the FAQ section, which provides quick answers to common problems. Log into your account to see your balance, order a new card, or check your statement. It even offers an HSA Tax Center resource for your tax questions. Optum provides a contact form for any other issues you may have. It also offers a call center open Monday-Friday weekly, excluding major holidays.
Fees & limits
Optum charges a small monthly maintenance fee of $3.75. It will waive the fee if you keep an average balance of $5,000 or more.
It also has an investment threshold. Your balance must remain at or exceed $2,000 each time you make a new investment.
How to open an account
Before you can open an HSA at Optum or any bank, you must meet specific qualifications, including a qualifying High-Deductible Health Plan, to be eligible. Your health coverage should only include what is permissible by the IRS. You can't be enrolled in Medicare or be claimed as a dependent on another person's tax return. The IRS publication 969 contains more information about these conditions.
Have your social security number, a valid email, and medical ID card with your group or employer number ready. If you are enrolling as an individual, you will not need a medical ID card with the group or employer number.
For identity verification, you may also need a copy of your social security card and a valid state-issued or government-issued photo ID. If your photo ID does not contain your address, you may also need a copy of an electric bill, gas bill, renter's agreement, or mortgage statement. Your cell phone bill won't be accepted.
To transfer an HSA, complete the application for opening an HSA with Optum. After the account is set up, log in and complete an HSA Rollover Transfer Request Form. The request form is in Forms & Documents, under the Help & Tools menu.
How safe is Optum Bank HSA?
Overall, the platform is safe, and Optum protects your account in several ways. It uses cloud-based enterprise identity management (EIDM) to ensure that only authorized users access your data. It also complies with federal privacy regulations such as FISMA, SAS70, and HIPAA, among others.
Furthermore, Optum's security systems support safety measures such as identity credentialing, physical and logical access management, smart card ID badges, biometrics, and HSPD-12 solutions.
Best alternatives
Those who want to take advantage of investing in an HSA, especially during the first year of opening the HSA, might benefit more from looking at alternatives without an investment threshold. If you don't want a minimum investment threshold or to pay a monthly fee, consider Lively and Fidelity as alternatives. Lively and Fidelity offer more investment choices as well.
Lively

Lively specializes in HSAs, and they are excellent. Accounts don't have monthly recurring fees, and there's no minimum balance required before you can access investing features.
If you use Lively through an employer, they are charged a modest fee, but it's free for you. Funds for investments are transferred to a linked account at TD Ameritrade, where you can choose from any supported investment. TD Ameritrade is a top brokerage in its own right, and the partnership with Lively is a win-win for everyone.
You can pay for qualified expenses with the Lively debit card, reimburse yourself for expenses paid via other methods, or save up expenses for future reimbursement. If you want an HSA that works with any health insurance company, has almost no fees and offers a vast range of investments with no minimums, you should consider Lively.
Fidelity

Best For: Investment Selection
Fidelityis one of the most significant investment brokerages in the United States. Its HSA is a great choice, particularly for those who already invest with Fidelity. You can choose a self-directed account with no recurring account fees or minimums. There's also a hybrid robo-advising version called the Fidelity Go HSA, which requires a monthly fee for balances of $10,000 or more.
The Fidelity HSA is also noteworthy for its access to low-cost investments. This account includes access to Fidelity's mutual funds with no expense ratio and virtually the entire U.S. stock, bond, ETF, and mutual fund market.
Confident investors may want to use the self-directed account with no recurring fees. If you're unsure which stocks or funds to buy, consider the competitively priced Fidelity Go HSA option.
The bottom line
Optum is still an excellent choice for an HSA provider, even with the fees and customer service issues. After all, it might waive your monthly fee.
Other providers may have more extensive investment selections, but it still provides plenty of choices for investors. However, Optum has a few features worth looking at, like the receipt vault and qualified medical expense tool.
Further reading: