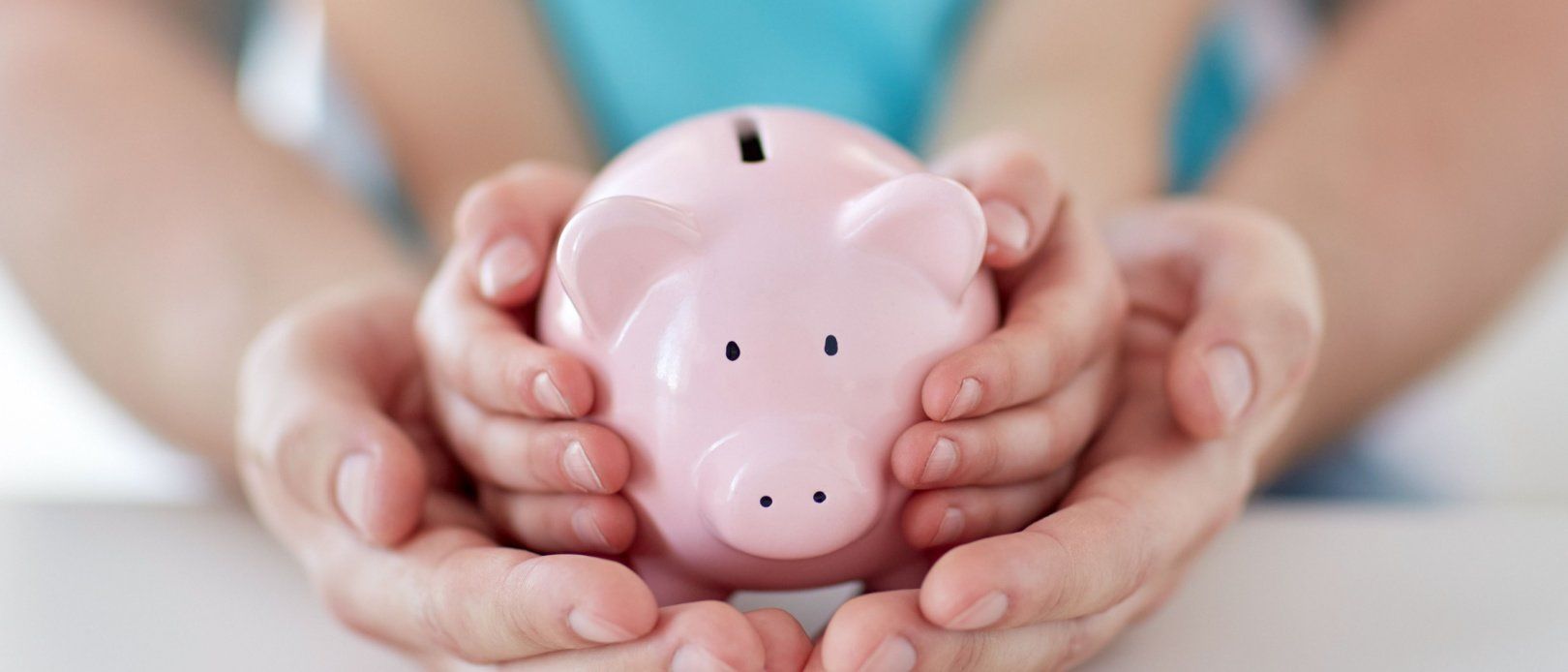 Ground Picture / Shutterstock
🗓️
Updated: November 14, 2023
We adhere to strict standards of editorial integrity to help you make decisions with confidence. Please be aware that some (or all) products and services linked in this article are from our sponsors.
We adhere to strict standards of editorial integrity to help you make decisions with confidence. Please be aware that some (or all) products and services linked in this article are from our sponsors.
As children, we are often told "money doesn't grow on trees." It takes age and wisdom to learn how money works and where it comes from. Understanding money needs to be taught. The earlier we teach children about money, the better chance we have to set them up for a strong financial future. This is where financial products designed specifically for children, such as GoHenry, come in handy.
What is GoHenry?
GoHenry is a financial literacy tool aimed at teaching children and teens between the ages of six and 18 about money. GoHenry was originally created by parents in the UK and has since been acquired by Acorns, an American fintech company that specializes in micro-investing and robo advice. The goal of GoHenry is to help kids be smart with money in order to set them up for financial success.
GoHenry offers family-friendly debit cards that are designed to educate children and teach them how to manage their money. The product also includes an interactive app with financial literacy games that are tailored by age and designed to help children understand things like wants versus needs, how to save and make investment decisions, and how to understand that when you spend it all, it's gone.
GoHenry has been featured and recommended by several major finance outlets including Forbes, Bloomberg, the Wall Street Journal, The Economist, and the New York Times.
Learn more about GoHenry
GoHenry features
GoHenry is a debit card for kids, but it goes beyond the typical children or youth accounts offered by regular banks. Here are the features that make GoHenry stand out.
Debit cards
GoHenry offers debit cards for kids and teens that are just like what you would get from a typical bank, only GoHenry isn't affiliated with any bank. GoHenry is a Mastercard debit card that can be used for purchases made both online and in store up to the account balance. Any transaction that results in insufficient funds will not process, which means you don't have to worry about any overdraft fees and spending money you don't have.
Parents are able to fund the account by transferring money to their child's card in an instant. Parents are able to set spending limits on GoHenry accounts and receive real-time notifications of where your child is spending their money and how much they spent.
Features of GoHenry debit cards include:
Zero liability protection
FDIC-insured accounts up to $25,000

Real-time spending notifications

Blocks on unsafe spending categories

Chip and PIN-protected transactions

Secure PIN recovery in the app

Bank-level encryption

The ability to easily block and unblock cards

To add to the fun, kids can choose from more than 45 customizable debit card designs including multi-colour prints, animals, sports themes, and even some designer collaborations.
Savings tools
Saving is a huge part of financial education and GoHenry has several savings tools to both teach and encourage your child to save.
The app allows children to set savings goals for specific purchases with target dates to help keep them on track. There is also an autosave feature that can be turned on to help reach this goal, which can be helpful if your child is receiving an allowance or has a part-time job.
As a parent, you have the option to lock your child's savings goal from within the app. This means they are unable to withdraw money from their savings until you unlock it (presumably when they reach their goal). This can help with creating saving habits and learning how to avoid temptation.
Another unique savings tool is parent-paid interest. If you choose, you can set up an interest rate through the app that will be paid on top of any savings every month. The amount of interest is up to you. This can be an incredibly handy tool to teach your children the power of interest in terms of how much more you can earn by saving and investing and the more money you save, the more interest you can earn.
Allowance features
One of the ways in which children can learn how to earn and use money is by paying them an allowance or for completing chores. With the GoHenry app, you can set these both up directly through the app so the money goes into their account.
GoHenry has a list of suggested popular chores built into the app, and you can also add your own. As a parent, you can select one of the chores and choose how much your child will earn from completing it. When the job is done, you can tick off the chore and your child will receive the money.
Yes, GoHenry can be used to send money as needed periodically but its true educational value is in using it for allowance and chore money. By having reliable and predictable contributions, your child can track their balance, see what they will get paid, when they will get paid, and see their balance decrease when it's spent.
Teenagers aged 14 or older who work a part-time job can have their paycheques deposited straight into their GoHenry account by providing their employer with the necessary details and direct deposit will do the rest.
App
GoHenry is both a debit card and an app. The app is meant to be a place to track savings and spending, and also a learning tool. GoHenry has a feature called Money Missions which are challenges, games, videos, and lessons designed to teach a range of financial topics, including budgeting, saving habits, money safety, spending wisely, jobs and earning, borrowing and credit, an introduction to investing, and more.
These Money Missions are tailored based on the user's age. Right now, there are two levels:
Level 1 - money basics and more which is meant for children ages 6+
Level 2 - designed for ages 12-14
At the time this article was written, GoHenry was developing a level 3 meant to target users between ages 15 and 18.
As a parent, you can also pay your kids to learn by adding a payment for the lessons and challenges completed. You can set any amount you like.
Parental controls
As a parent with a child learning about finances and how to manage money, it makes sense that you would want to be involved. GoHenry allows parents to keep an eye on their child's spending and saving habits, as well as contribute towards them. As a parent, the GoHenry app allows you to:
Receive real-time spending notifications to your phone
Set weekly and single spend limits

Choose where your child can use their card with a merchant block option

Lock and unlock your child's savings goals in the app

Send money straight to your child's card instantly

Receive any alerts for when your child's card is declined

Immediately block lost or stolen cards in the app (you can unblock if you find them)

Giftlinks
Giftlinks is a fun tool for friends and family members to get involved and help a child save. Oftentimes for birthdays or holidays, family members like to give money. Instead of giving cash, you can send a giftlink, which is just like an e-gift card or a voucher. The money is deposited into the child's GoHenry account and the giver can even include a gift card that you can personalize. Giftlinks are free to both send and receive.
More: Learn more about GoHenry
GoHenry pros and cons
Like every financial product on the market, GoHenry has its pros and cons. Here's a breakdown of both to better evaluate whether or not you think this product is a good pick for your family.
Pros
Designed by finance experts and parents.
Multiple tools aimed to teach children how to save and spend wisely.
Age-targeted learning.
Parental controls.
No transaction, ATM, or transfer fees.
Instant money transfers.
FDIC Insured up to $250,000.
Cons
Expensive, especially considering that many banks offer no-fee accounts for children and youth.
Savings options do not earn interest unless the interest is provided by the parents.
How much does GoHenry cost?
GoHenry charges a monthly fee of $4.99 per child or $9.98 for up to four children.
Included in the monthly cost is the physical debit card (if you want to choose a customized option, there is an additional cost of $4.99) as well as access to the app (or online portal) and all of its inclusions.
The debit card offers no transaction fees (domestic and international) and no ATM fees. All transfers are free which means that parents (or grandparents, aunts and uncles, friends etc.) can send money to the kids instantly. If your child loses their card, they will get a free card replacement. You can cancel your GoHenry subscription at any time.
Overview
Now that you understand the basics behind GoHenry, let's dig into some feedback about this financial tool from the perspectives of both the parents as well as the children who use GoHenry.
Why parents love GoHenry
While GoHenry is aimed at children, parents have full control and can easily monitor all activities through their own portal on the app. Parents have the ability to be active in their children's financial learning and add money for things like chores or an earned allowance by adding them to the app and paying them out as completed. This also makes it easier on the parents when it comes time to pay kids for chores. There's no more digging around for change and making sure you have cash on hand. A couple of taps on the app and the money can be transferred instantly into your child's GoHenry account.
As great as it is to be a part of contributing to your child's account in terms of payments and helping save money, it's equally important to be aware of how they are spending and using that money. Again, with GoHenry, this is another area where parents can take charge, as parents also receive real time updates on any spending, allowing you to know how and where your child is spending money.
GoHenry allows parents to dictate where their children can spend their money thanks to a merchant block option. As well as how much a child can spend at any given time or on a given purchase. Parents can also lock savings to avoid frivolous spending unrelated to set goals.
Why kids love GoHenry
Kids, no matter their age, love having their own money and the ability to spend it and save as they wish. GoHenry goes above and beyond typical bank accounts by allowing kids to set targeted goals to save for specific items and get paid immediately for any chores or jobs.
Even teenagers enjoy the app, understanding that GoHenry can offer them control over their goals and spending money. The convenience and control makes up for the fact parents are able to see what and where they are spending.
GoHenry allows for direct deposits from any part-time work your teen may have (for teenagers aged 14 and above). Teenagers aged 13+ can also synch their GoHenry account to send and receive money from friends and family members which makes it easier to split bills and share costs or pay someone back.
The goal setting feature is also a huge draw for teenagers who are more likely to have larger and more expensive goals to save for than young kids. Being able to see that goal and savings going towards it is a good feeling that encourages saving.
Two other perks that teens especially love are the fact that GoHenry cards are easy to travel with and can be taken internationally. They don't have to rely on getting cash or using mom or dad's credit card for any purchases. Plus, there is the 'refer a friend' program which allows users to earn a cash bonus when someone they have referred signs up and activates their card. Who doesn't love free money?
Alternatives to GoHenry
GoHenry is quite different from a typical children's or youth bank account, but it's not the only financial tool that targets financial education for kids. Here's how GoHenry stacks up to two other similar products.
GoHenry vs Greenlight
GoHenry and Greenlight are very similar. They both offer debit cards for children and teens and opportunities to learn about personal finances and money. There are parental controls on both accounts, allowing parents insight and control over what their children are spending their money on and how much they are spending. But there are two key differences between the two when it comes to investing and saving.
While GoHenry discusses investing in the learning features of the app, there are no opportunities for users to invest through the app. If they want to start investing they will need a separate financial product. Greenlight has built-in investment options, allowing you to do it all in one place. The kids can use the app to research and learn about investing as well as actively invest in stocks and ETFs. As a parent, you get full control and have the power to approve every trade.
As for saving, with GoHenry, if you want your child to earn interest on their savings then you need to provide it. Greenlight offers 1%-5% (depending on the type of account you have) cash back to their savings account. Two of the three cards even offer 1% cash back . While everyone loves 'free' money, the added interest is especially enticing when it comes to teaching and encouraging children how to save and spend wisely.
While the investing and interest options of Greenlight are pretty significant perks, the downside is that these extra features do come with an extra cost. Greenlight offers three different packages, the Greenlight Core for $4.99/month, Greenlight Max for $9.98/month, and Greenlight Infinity for $14.98 per month. The Core program offers 1% interest but does not include cash back or investing options for kids. That being said, each account offers debit cards for up to 5 kids so if you have multiple children, then the upgraded accounts aren't such a bad deal.
GoHenry vs BusyKid
On a surface level, GoHenry and BusyKid seem pretty similar. They are both debit cards for kids designed to help children learn about finance. But there are a number of differences between the two to consider if you are trying to figure out the best option.
BusyKid was originally designed to be, and is still at its heart, a financial tool for chores and allowance. Parents can assign chores and/or allowances to their kids via the app and once completed, the money gets transferred into the children's accounts. Each child will get a debit card which they can use to make purchases with their money. The app has three categories to divide their money into, Spend, Save, and Share. Parents can control how the money is divided and can monitor the child's spending, but there is not the same level of parental control that GoHenry offers.
BusyKid, like Greenlight, also offers investing options which GoHenry does not. With BusyKid, children can get started (with the help and approval of parents) by investing for as little as $10 with no commissions for buying or selling. What BusyKid lacks, however, is the educational aspect that makes GoHenry so popular. There are no finance games or lessons built into the BusyKid app.
While the annual fee is cheaper than GoHenry at $4 per month (billed annually) for up to five children, BusyKid charges several fees to be aware of. These include foreign transaction fees , card replacement fees, and card decline fees.
Summary
GoHenry is a financial tool created to help children and teens learn about and develop personal finance skills. An account includes access to the app as well as a physical debit card and allows kids to learn through real-life transactions as well as through the aid of educational tools and games. Parents can rest easy knowing that they can monitor their children's spending habits through their own in-app access. This includes participating by setting up payments for small jobs and chores and stepping in when needed to in order to encourage saving and deter frivolous spending. Run by American fintech company, Acorns, and backed by FDIC insurance for up to $250,000 per account, GoHenry is a well-rated financial tool that has earned 4.2/5 stats on Trustpilot with nearly 3000 reviews.
Learn more about GoHenry
FAQs