Survey finds Americans want housing prices to fall
A new survey from Consumer Affairs finds that 78% of Americans think a housing crash is coming. In fact, 63% want it to happen — with 84% of Gen Z respondents saying they want a housing bust because it will help them purchase their own home.
If the housing bubble does burst, Gen Z buyers can expect plenty of competition from other buyers — and will need prices to drop by the largest amount.
Three-quarters of all respondents in the survey said they've socked away the cash to snatch up a house if prices drop and have saved, on average, $29,504 for a home purchase. Gen Z respondents, however, had the smallest balance of cash on hand for a home — $15,601 on average.
In the past decade, the average U.S. home price has more than doubled, ballooning by a whopping 122% since 2012.
The median home price in the U.S. shot up from $228,000 in mid-2012 to $440,000 at the end of June. Investors snatched up homes in foreclosure during the Great Recession and converted them to rentals, a trend that continues today, severely limiting the number of homes available for sale.
Stop overpaying for home insurance
Home insurance is an essential expense – one that can often be pricey. You can lower your monthly recurring expenses by finding a more economical alternative for home insurance.
SmartFinancial can help you do just that. SmartFinancial's online marketplace of vetted home insurance providers allows you to quickly shop around for rates from the country's top insurance companies, and ensure you're paying the lowest price possible for your home insurance.
Explore better rates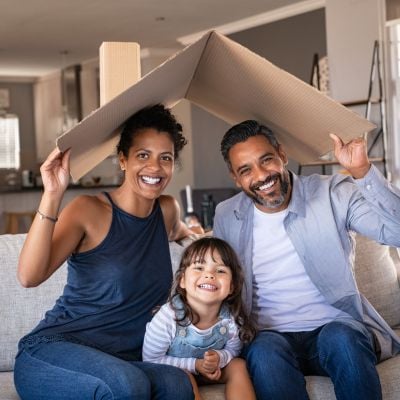 Pandemic led to skyrocketing housing prices
Once the pandemic hit, demand for homes soared, fueled by ultra-low interest rates that made mortgages extremely affordable, driving prices even higher and well out of the range of most would-be Gen Z home buyers.
Since the Federal Reserve started hiking interest rates in March to combat soaring inflation, the rate of home sales has slowed and, while prices aren't dropping yet, they are increasing at a slower pace, as rising mortgage rates make already high-priced homes too expensive for many buyers.
As of August, new mortgage applications had fallen to a 22-year low, sales of existing homes had declined for six straight months, and home price growth slowed for three straight weeks, from a peak of 16.6% in July to 13.3% in mid-August. Despite those reversals, home prices remain near record highs at a national median of $449,000.
So far, forecasters don't see home prices making significant declines, although some see a small drop in prices coming during 2023.
Recession is a double-edged sword for housing
As for the potential for a recession, a new survey of economists from the National Association of Business Economics found that 72% expect the U.S. will be in a recession by mid-2023 — and 19% think the recession already is here.
The Consumer Affairs survey found that 65% of respondents said a recession would force them to sell their homes, with 82% fearing that a housing crash would leave them owing more on their mortgages than their homes would be worth.
That would certainly lead to a significant drop in home prices — with one catch. The kind of severe recession that would be required to send home prices plummeting would also lead to a swooning stock market and higher unemployment.
That would make a home purchase out of the question for anyone out of work — including members of Gen Z.
Sponsored
Follow These Steps if you Want to Retire Early
Secure your financial future with a tailored plan to maximize investments, navigate taxes, and retire comfortably.
Zoe Financial is an online platform that can match you with a network of vetted fiduciary advisors who are evaluated based on their credentials, education, experience, and pricing. The best part? - there is no fee to find an advisor.