Real growth potential
Unlike many other types of investments, farmland is intrinsically valuable — come what may, people still need to eat. And with the global population poised to hit 10 billion by 2050, there will be no shortage of mouths to feed.
The rate of return on farmland over the last 47 years was 10.27% — better than average returns on real estate or stocks, according to data from the investing platform FarmTogether.
Over the last 20 years the numbers have been even stronger, with farmland investments yielding a return of 11.98% compared to 8.68% for real estate and 8.78% for the Russell 3000 Index, a capitalization-weighted index that aims to be a benchmark for the U.S stock market.
And here's where it gets really interesting: The United States has less and less of this valuable resource by the day, and much of the remaining supply is about to go on sale.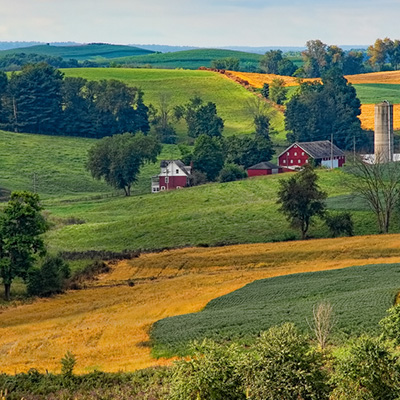 Farmland is changing hands
The U.S. population is aging, and working the land has always been a demanding job.
While family farms make up 96% of all farms in the country, federal data suggests the next generation isn't interested in taking up the task themselves. Farmers over age 65 own 40% of the land and outnumber farmers below 35 by a factor of six to one.
The result: A profitable asset is hitting the market that has, until now, been difficult to buy into. Farmland has traditionally been privately held, but as more farmers retire and sell or rent out their land, investors have a rare window.
So how does someone without any experience in agriculture take advantage of this opportunity? Thankfully, you don't need to grab a pitchfork and you don't even need to buy an entire farm.
Getting started investing in farmland
FarmTogether is an all-in-one investment platform that lets qualified investors buy stakes in U.S. farmland. The company pursues attractive properties and then partners with experienced local farmland operators, who manage the land.
Depending on the type of stake you want, you can get a cut from both the leasing fees and crop sales, providing you with a cash income. Then, years down the line after the farm rises in value, you can benefit from appreciation of the land and profits from its sale.
With a minimum initial investment of $15,000, FarmTogether's offerings are primarily aimed at experienced investors looking to diversify their portfolios with alternative assets. The platform is also restricted to accredited investors with the SEC.
Start by opening a FarmTogether account free of charge. You can sign up without any obligation to invest and you'll get a sampling of the data and tools that active investors can access.
It's rare to find an asset that beats other investing options in both returns and stability. With a potentially once-in-a-generation opportunity opening up, take the time to investigate whether farmland should be part of your portfolio.
Sponsored
Diversify your investments with farmland
You don't have to own a farm to profit off farmland.
Farmland has proven to be one of the most stable assets of the past few decades — and with FarmTogether, you're able to invest today. FarmTogether's platform gives accredited investors access to this exciting market, and one of the highest-yielding asset classes on a risk-return basis.
Sign up for FarmTogether to start investing in farmland.