It could be argued that people don't need Amazon or Apple products. But they do need to eat. And the farms that feed them, both now and in the future, need investors to fund them.
That's where you come in.
Notable names have placed big bets on farmland Farmland may not provide the same short-term pop that growth stocks sometimes do, but its long-term potential — and inarguable value to a planet that is already having trouble feeding itself — has inspired some prominent investors to bolster their portfolios with it.
One is Michael Burry, the forward-thinking investor who famously shorted the U.S. housing market prior to its crash in 2007 and was then portrayed by Christian Bale in the film the Big Short.
Burry has invested heavily in farmland since then, insisting that such real assets could outperform less tangible alternatives, like tech stocks, because they are essential, scarce and generate cash flow. "Agriculture land with water on site will be very valuable in the future, and I have put a good amount of money into that," Burry said in an interview with Bloomberg.
Warren Buffett, one of the world's most trusted investing veterans, has owned farmland since 1986.
"I needed no unusual knowledge or intelligence to conclude that the investment had no downside and potentially had substantial upside," Buffett wrote in his 2014 annual letter to Berkshire Hathaway's shareholders.
"There would, of course, be the occasional bad crop, and prices would sometimes disappoint. But so what? There would be some unusually good years as well, and I would never be under any pressure to sell the property. Now, 28 years later, the farm has tripled its earnings and is worth five times or more what I paid. I still know nothing about farming and recently made just my second visit to the farm."
Burry and Buffett aren't the only billionaires putting their money behind farmland. Care to guess who owns more farmland than anyone else in America?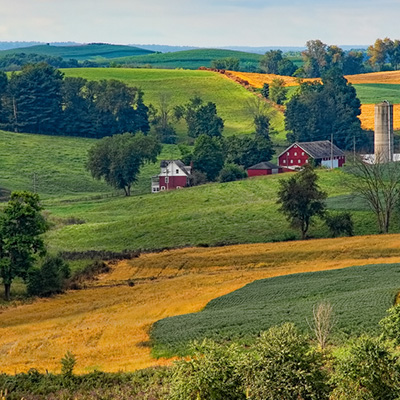 Farmland is one of the top asset classes capable of insulating your money from volatile market conditions. Learn how you can use FarmTogether to safeguard your portfolio.
Diversify now
Farmland's role in your portfolio You don't need to be a CEO or hedge fund heavyweight to understand the potential of farmland as an investment.
"There are several characteristics that make farmland an attractive asset class," says Artem Milinchuk, founder and CEO of investing platform FarmTogether.
"Investments into farmland have historically low volatility, are uncorrelated with public markets, and can offer strong annual returns. Farmland also provides investors with multiple revenue streams through rental payments and crop sales, making it a very compelling passive investment."
More important for investors is that farmland is one of the most recession- and inflation-proof investments available, making it an especially appealing safe-haven option in a post-COVID world.
And let's not forget the returns. The projected profits from FarmTogether's investment in the Goldenrod Peach Orchard should speak for themselves.
Farmland's less tangible returns While farmland has already proven to be a reliable source of returns, an investment in farmland can also help accomplish other goals, the kind that don't show up in a balance sheet.
"After COVID-19 restrictions halted tourism, transportation, and many pollutants, we were given a glimpse into a cleaner planet," Millinchuk says, adding that innovators in business, technology, government, and the financial sector have responded by becoming more ambitious with their goals and commitments regarding sustainability.
Creating a more livable planet is at the heart of what FarmTogether does. The investments the company makes in farms across the U.S. provides farmers with the capital they need to transition to more sustainable farming practices, a process that can be prohibitively expensive.
"These practices can not only mitigate adverse impacts on the land, but they can also sequester atmospheric carbon into soils, making agriculture a core solution for a net-zero economy," Millinchuk says. "Investing in farmland provides a unique opportunity to increase sustainability and proactively fight climate change."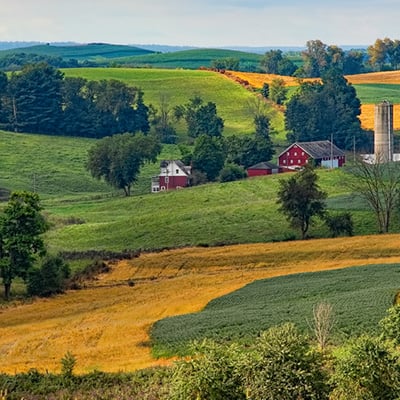 Farmland is one of the top asset classes capable of insulating your money from volatile market conditions. Learn how you can use FarmTogether to safeguard your portfolio.
Diversify now
Investing in farmland has never been easier Because farmland has lacked an accessible and trusted public market, like real estate's multiple listing service, it doesn't have a reputation for being the most approachable of assets. Opportunities to buy, and the data required to make smart purchases, have traditionally been in short supply.
So it's no surprise that billionaires and the country's biggest asset managers, like Nuveen and UBS, have had an inside track on farmland for the past several decades.
FarmTogether is changing the game — and helping the average investor catch up.
With a minimum investment of only $15,000, investing through FarmTogether requires a fraction of the capital required to purchase and manage an actual farming enterprise.
And by creating a robust learning center that provides comprehensive information, both about farmland investing and the individual farms FarmTogether members can purchase shares in, the company has finally democratized access to this long-overlooked asset and its ability to stabilize portfolios.
"Now more than ever, investors are prioritizing diversification and shifting their portfolios to include more safe-haven investments," says Millinchuk. "But with record-low bond yields, an unpredictable real estate market, and fluctuating gold prices, investors will need to search for new, recession-proof opportunities."
Sponsored
Diversify your investments with farmland
You don't have to own a farm to profit off farmland.
Farmland has proven to be one of the most stable assets of the past few decades — and with FarmTogether, you're able to invest today. FarmTogether's platform gives accredited investors access to this exciting market, and one of the highest-yielding asset classes on a risk-return basis.
Sign up for FarmTogether to start investing in farmland.