2nd stimulus checks: What's happening? It's been more than six months since Trump signed the law that gave you your first and so far only stimulus check. (Which most people actually received by direct deposit, not check.)
The typical payment was $1,200, though the amount phased out for Americans with higher incomes. Families received $500 per child, but only up to age 16.
At the start of October, the House approved a new $2.2 trillion bill offering $1,200 for most taxpayers plus $500 per dependent. But not a single Republican voted in favor, and Senate Majority Leader Mitch McConnell called the price tag "outlandish."
While the president was hospitalized with COVID-19, he tweeted: "OUR GREAT USA WANTS & NEEDS STIMULUS. WORK TOGETHER AND GET IT DONE."
Households devastated by layoffs and lockdowns used the earlier cash from Uncle Sam to buy food or pay bills. Americans in better financial shape went splurging, or used the money for more practical purposes like buying affordable life insurance to protect family members if a breadwinner died from the virus.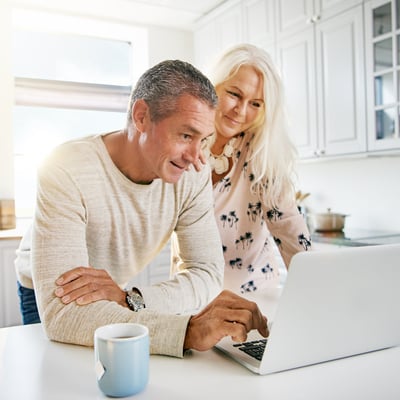 Are you confident in your retirement savings? Get advice on your investment portfolio from a certified professional through Datalign. It only takes 3 minutes to connect with an advisor who puts you first.
Get Started
How soon could you get more stimulus money?
With unemployment still high and with cooler weather bringing predictions of new infection spikes and new lockdowns, many consumers have been hoping for another payment.
But Trump's latest tweets have left things in a confusing state. When he proclaimed a halt to the COVID relief negotiations, he said that "immediately after I win, we will pass a major Stimulus Bill that focuses on hardworking Americans and Small Business."
The stock market tanked on the idea of no more talks, so Trump tweeted hours later: "If I am sent a Stand Alone Bill for Stimulus Checks ($1,200), they will go out to our great people IMMEDIATELY."
He says he's ready to sign. But no one gets another relief payment until negotiators can compromise on a bill that would pass the House and Senate, then reach the president's desk.
So far, there's no stimulus checks proposal working its way through Congress.
If a deal is reached this month, money could start finding its way into Americans pockets in November. If an agreement comes quickly after election — regardless of who wins — it's unlikely new stimulus checks would go out before December.
What do you do in the meantime? If your budget is stretched to the limits and you could really use an extra $1,200 right now, here are a few ways to find that cash on your own — and stop waiting for Washington to get its act together.
Sponsored
Compare car insurance and save up to $500 a year
If you haven't compared car insurance recently, you're probably paying too much for your policy. Getting quotes from multiple insurers used to be time-consuming, but today's technology makes it easy.
Using a free site like Pretected is easy and could help you save up to $500 a year on car insurance. In mintues, their "smart matching" system will provide tailor-made quotes from insurers that can meet all of your coverage needs - and your budget.
Stay protected on the road and find more affordable car insurance in minutes with Pretected.