Republicans propose targeted $1,000 stimulus checks "We recognize your calls for unity and want to work in good faith with your Administration to meet the health, economic, and societal challenges of the COVID crisis," Collins and the others told Biden, in a letter.
They're proposing a scaled-down package totaling $600 billion and including $1,000 stimulus checks for "Americans with the greatest need": individuals earning $50,000 or less and families making no more than $100,000.
Biden has said he's open to negotiating over who would be eligible for the next direct payments, but the White House says $1,400 stimulus checks are important for helping families struggling to pay rent and put food on the table.
The government's first, $1,200 stimulus checks — distributed to Americans last spring — were largely spent on essentials including groceries and housing, the U.S. Bureau of Labor Statistics has said.
The money also was used for investing, a bureau survey found, and was spent on other, unspecified things. Those may have included buying affordable life insurance — sales of policies have surged amid the pandemic.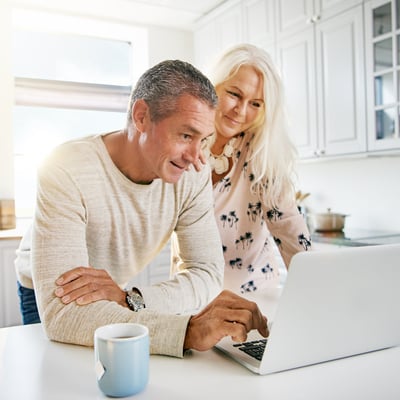 Are you confident in your retirement savings? Get advice on your investment portfolio from a certified professional through WiserAdvisor. It only takes 5 minutes to connect with an adviser who puts you first.
Get Started
When are you likely to get another stimulus check?
Though Biden says he wants to work with Republicans, he also has indicated his Democrats are willing to get the job done without the other party. "The COVID relief has to pass," he said on Friday. "No ifs, ands or buts."
Democrats who control the House and Senate are planning votes this week on a budget bill that would allow them to proceed on the president's aid package with no Republicans on board.
At the moment, it's not clear whether the Republican Group of 10 will have an impact — or whether Biden's party will stand firm on $1,400 stimulus checks. And, the income cutoff for the new payments is up in air.
But the timing of the next stimulus checks is coming into sharper focus. Senate Majority Leader Chuck Schumer says Congress may not approve them until mid-March.
"We'll try to get that passed in the next month, month and a half," the New York Democrat said early last week, according to multiple media outlets.
Under that timetable, you're not likely to see another stimulus check until late March, maybe not before April. Why the delay? For one thing, the Senate will be consumed by the impeachment trial of former President Donald Trump, starting next week.
What if you need another stimulus check pronto? If COVID is bashing your budget and you need additional cash right now, here are a few ways to come up with some money on your own — until Congress comes up with another stimulus check:
Sponsored
Compare car insurance and save up to $500 a year
If you haven't compared car insurance recently, you're probably paying too much for your policy. Getting quotes from multiple insurers used to be time-consuming, but today's technology makes it easy.
Using a free site like Pretected is easy and could help you save up to $500 a year on car insurance. In mintues, their "smart matching" system will provide tailor-made quotes from insurers that can meet all of your coverage needs - and your budget.
Stay protected on the road and find more affordable car insurance in minutes with Pretected.