Boost your credit score
If you don't have the funds to buy your dream home with an all-cash offer, you're going to need a mortgage. But with average rates nearing 7% right now, you'll likely get hit with higher monthly payments.
Still, you can get a more affordable interest rate with a higher credit score — applicants with scores of 740 or higher typically enjoy the lowest rates.
So check your score, make sure you're paying all your bills in full and on time and work toward clearing any lingering debts you still owe. Having a lower debt-to-income ratio will help boost your credit.
Read more: How can I stop the pain and make money in this nightmarish market? Here's 1 simple way you can protect your nest egg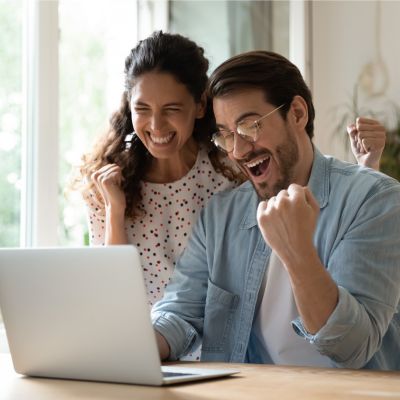 Compare current mortgage rates from top national lenders. Get the best rate for your purchase or mortgage refinance.
Compare Rates
Park your cash in a high-yield savings account
It's a good idea to set some cash aside each month, whether you're saving for a down payment or for the entire home price. So, consider stashing it in a savings account that offers higher returns.
A high-yield savings account could come with an APY of around 4%, compared to more traditional savings accounts, which will offer an interest rate of around 0.3%.
Just keep in mind that with high-yield savings accounts you may need to make a certain minimum deposit, maintain a minimum balance or pay regular fees — so compare offers first before deciding on which account to apply for.
Compare mortgage rates
Don't be afraid to shop around for mortgage rate offers from different lenders rather than settling on the first one you see.
Freddie Mac says its research have found that borrowers save an average of $3,000 when they compare quotes from at least five different lenders.
So pay close attention to interest rates, APRs, closing costs and discount points, as well as any penalties, terms and conditions that each offer includes — and pick the one that works best for you.
Don't forget to get pre-approval from your lender to outline what you can afford and what rate you can secure. It could also get you more negotiating power with real estate agents and sellers when you're actually in the process of buying a home.
Sponsored
Secure your retirement with a reverse mortgage
If you're low on cash savings and investments but have wealth in your home, a reverse mortgage is a great option for covering retirement expenses.
Mutual of Omaha is a trusted insurance provider that helps you make the most of your home equity.