Will buying a home be easier in 2022? Whether during a pandemic and accompanying economic crisis or in a more ho-hum year, real estate prices are driven by three factors: interest rates, housing supply and consumer demand. Change even one of those to a significant degree and you'll see local housing prices react.
The question is whether the elements will shift in 2022 — to a great enough extent, and in the right direction — to make finding affordable properties more likely for first-time homebuyers.
The answer? Well, you might want to sit down for this.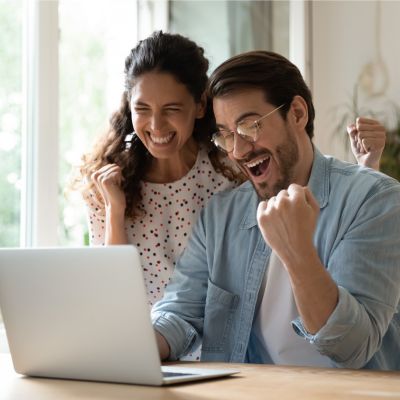 Compare current mortgage rates from top national lenders. Get the best rate for your purchase or mortgage refinance.
Compare Rates
Interest rates will be higher next year Mortgage rates hit an all-time low in January, and the last few months of sluggish vaccination rates and increasing COVID-19 uncertainty have limited their upward movement. This week, the average for a 30-year fixed-rate home loan is just 2.87%, according to mortgage giant Freddie Mac.
But today's cheap rates aren't expected to last. The Mortgage Bankers Association's most recent forecast sees the 30-year fixed rate averaging 3.4% during the fourth quarter of this year, meaning higher rates are coming. By the end of 2022, the MBA expects the 30-year to average 4.3%.
Phil Shoemaker, president of originations at mortgage lender Homepoint, says sitting tight until 2022 isn't a winning strategy for homebuyers.
"Waiting until next year to buy a home makes sense if you're not really in love with any of the houses on the market, or if you're not physically ready to move right now. But if you're purely looking it at from a funding perspective, now is as good a time as any to purchase," Shoemaker says.
Any uptick in mortgage rates will mean a reduction in buying power, notes Corey Burr, senior vice president at TTR Sotheby's International Realty in Washington, D.C.
"On a $500,000 property with an 80% mortgage [for $400,000], the principal and interest expense at 2.75% is $1,633 a month," Burr says. "At 3.5%, that same $400,000 loan has a principal and interest payment of $1,796 — a 10% increase."
Housing supplies will be tight in 2022 One reason home prices have been blasted into the stratosphere is a lack of properties for buyers to choose from. Resulting bidding wars have seen buyers pay far more than what historical data suggests their homes are worth.
But each time a "sold over asking" sign pops up on a lawn, it helps establish the next seller's listing price, ensuring the cycle continues. And that's not likely to change in 2022.
"We have materially underbuilt the supply of homes since the [2008] financial crisis," Shoemaker says. "We have never seen a resurgence of builders to meet what is happening from a population standpoint, and it will take years to correct that."
The pandemic is expected to keep disrupting homebuilding in America by throttling the lumber supply chain and driving the price of home construction higher. Increased costs for wood, as well as labor and land shortages, led to a 5.1% dip in home permits filed in June, says the U.S. Department of Commerce.
Burr, however, is optimistic about the home-supply challenges facing buyers. After all, it's not only new homes that hit the market.
"I do expect more inventory around the country in 2022. Many sellers who have been waiting for years to capitalize on the price appreciation that has occurred since the Great Recession correction will decide to put their homes on the market," particularly older Americans, once the COVID threat subsides, he says.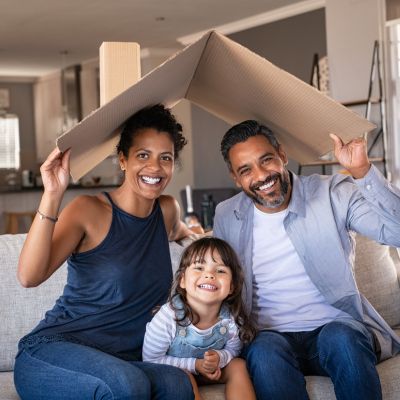 Home insurance is an essential expense – one that can often be pricey. You can lower your monthly recurring expenses by finding a more economical alternative for home insurance.
SmartFinancial can help you do just that. SmartFinancial's online marketplace of vetted lenders allows you to quickly shop around for rates from the country's top insurance companies, and ensure you're paying the lowest price possible for your home insurance.
Explore better rates
Demand will stay strong The problem with a bidding war between 20 homebuyers is that once the dust settles, 19 of them still need houses.
A slew of new buyers will hope to get onto the property ladder next year, in addition to all the lingering buyers whose dreams of homeownership were thwarted this year. An average of more than 2 million first-time buyers entered the market in each of the last four years, according to an analysis from Enact Mortgage Insurance.
Assuming similar numbers for 2022, the nation's supply of houses doesn't appear to stand a chance. The Census Bureau estimates only 353,000 new homes were up for sale nationwide at the end of June, while the NAR reported that 1.25 million existing homes were on the market. The math is not looking good for buyers.
"Demand for housing is only going to increase as more generations of homebuyers enter the market and more people move to less expensive areas because of remote work," Shoemaker says. "That imbalance between supply and demand will likely keep prices elevated."
So what are buyers to do? If they can commit to a three- to five-year ownership term — and actually find a home they like — Burr says they should consider pulling the trigger.
"This should cushion any market correction right after a purchase and help the house's appreciation defray the purchase and selling expenses over time," he says. "If a buyer's time horizon is less than three years, I recommend renting until one's life situation becomes clearer."
How to increase your odds of becoming a homeowner Interest rates, housing supply and a widespread hunger for homes are all out of your control. But there are a few things you can do to improve your chances of purchasing a house, either this year or next.
Improve your credit score. The lowest interest rates are typically offered to borrowers with the most impressive credit histories. If mortgage rates climb, you'll need to put in more work to find a lower rate. Check your credit score and see where it falls on the poor-good-great spectrum. Then, see what you can do to improve it before you reach out to lenders.

Generate more cash. Cobbling together a down payment is one of the biggest challenges you'll face as a first-time buyer, so drive income anywhere you can. In today's tight labor market, there's a chance you can find a higher-paying job. You also can chase returns in the still-white-hot stock market. A platform like Robinhood is a good place to start, or you can invest using just the "spare change" left over from your everyday purchases.

Destroy your debt. If you're trying to save up to purchase a home, carrying multiple high-interest debts — like credit card balances — won't help. Consider rolling those expensive debts into a single, lower-interest debt consolidation loan. You'll pay less in interest and wipe out your debt sooner, to create a little more room in your budget.
And you're probably going to need that, based on how things are looking for homebuyers.
Sponsored
Secure your retirement with a reverse mortgage
If you're low on cash savings and investments but have wealth in your home, a reverse mortgage is a great option for covering retirement expenses.
Mutual of Omaha is a trusted insurance provider that helps you make the most of your home equity.