1. Is the region prone to natural disasters? This probably isn't the first question on your mind when admiring a property's spacious kitchen. But if the answer is yes, you will absolutely want to know.
Most homeowners insurance policies do not cover damage from external flooding or earth movement. So, if the property is in a flood or earthquake zone, you'll need to buy additional coverage, and these extra costs need to be considered in your final decision.
In California, getting this information is easy. Since there are so many natural hazards, sellers are required to submit a natural hazard report that discloses any dangers. In other states, you may have to ask the seller or check for yourself using this flood zone map and earthquake hazard map.
If a property you're interested in is prone to major disasters, it's a good idea to buy enough coverage to completely rebuild your house. That can get expensive, but you can soften the blow if you know how to get the best rate on your homeowners insurance.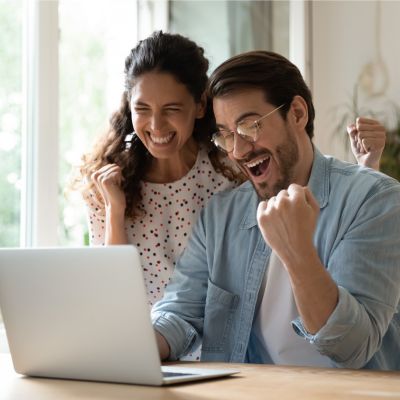 Compare current mortgage rates from top national lenders. Get the best rate for your purchase or mortgage refinance.
Compare Rates
2. How much home can I actually afford? It's tempting to skip this question and jump straight into house shopping. But to avoid wasting time (or getting attached to a house you can't afford), you need to determine your budget first.
Remember that the sales price and resulting mortgage payments are just one piece of the puzzle. You also need to account for:
Closing costs, like title insurance, loan origination fees and appraisal fees.
Property taxes.
Homeowners insurance.
Utilities.
Homeowners association dues (if applicable).
Maintenance, renovations and repairs.
A good first step to determine your budget is to get pre-approved for a mortgage.
You'll need to contact a lender (or better yet, multiple lenders) and provide information about your credit history, employment, income, assets and liabilities. The lender will come back with the maximum amount it's willing to lend you, taking all of that into account.
Keep in mind, that number shouldn't automatically be your limit, as lenders will often lend you just enough to strain your finances without putting you at risk of default. It will, however, give you a place to start.
3. Should I worry about the neighbors? The wrong neighbors can make or break a property.
It doesn't matter how perfect the house is — if you get stuck with a neighbor who gives you grief every day, it'll make life unpleasant.
You don't want someone who will call the police on you for parking a centimeter on their lawn, driving with a leaky muffler or listening to music too loud while cleaning your garage.
That's why it's important to ask the seller open-ended questions about what the neighbors are like. If they don't give you enough details, you can drill down with specific questions, such as:
Are they noisy?
Have you had any problems with them?
What do you wish you could change about your neighbors?
If you can meet the neighbors personally, that's even better.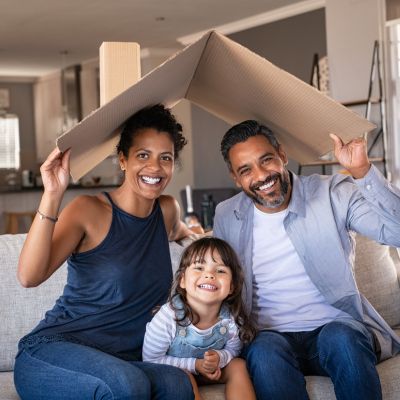 Home insurance is an essential expense – one that can often be pricey. You can lower your monthly recurring expenses by finding a more economical alternative for home insurance.
SmartFinancial can help you do just that. SmartFinancial's online marketplace of vetted lenders allows you to quickly shop around for rates from the country's top insurance companies, and ensure you're paying the lowest price possible for your home insurance.
Explore better rates
4. What's the area like? Just like your neighbors, the neighborhood itself is something outside your control that can affect your experience in your new home.
After all, you can remodel your house all you want, but you can't remodel the neighborhood.
Make sure to ask your real estate agent for information on crime statistics, neighborhood amenities, school district information, traffic issues and pending construction and development.
It's also useful to quiz the seller on their most and least favorite things about the neighborhood.
While all this information can be useful, in the end, you'll get the best feel for the neighborhood by taking the time to explore it yourself.
5. Why has the owner decided to sell? Knowing the seller's reason for leaving will clue you in to how motivated they are to sell. The more motivated they are, the more likely they are to negotiate.
For example, if the home is owned by a couple of empty nesters looking to downsize, they might not need to sell right away and probably won't be as flexible.
But if a young professional just got a new job across the country and needs to move next week, odds are they'll be willing to budge on price.
6. When was the property listed for sale? Another way to gauge a seller's willingness to negotiate is to find out how long the property has been on the market.
In most cases, the longer a home has gone without attracting a buyer, the more flexible the seller will be on price, contingencies and other terms.
Many house-hunters assume properties that have languished on the market and suffered multiple price reductions have something wrong with them, so they don't give them a fair chance.
But for savvy shoppers like you, this could be where the best opportunities lie. Maybe the seller accidentally priced the home too high to begin with. If you take the time to investigate, you could end up with a hidden gem that nobody else is paying attention to.
On the other hand, if the house just went on the market, the seller may be less likely to negotiate — especially in a neutral or seller's market. If this is the case, you may want to act fast before another buyer snatches it up.
When Is the Best Time of Year to Buy a House?
See what seasons, months, days or even dates will get you the best listings.
Read More
7. How much are nearby homes selling for? The best way to calculate a fair offer is to study "comps". Comps are comparable houses in the same neighborhood that have recently sold.
The key words here are comparable and recently.
To find similar homes, you need to list out all the characteristics of the home you're interested in. The closer the match, the more useful your comps will be.
You'll also want to find the most recent sales possible. If they are too old, they won't give you an accurate view of today's market.
It is possible to do all of this yourself, but a knowledgeable real estate agent will have access to more data and can help you better gauge market conditions.
8. What comes with the home? One of the biggest errors homebuyers commit is making assumptions.
When hundreds of thousands of dollars are on the line, you don't want to assume anything.
This includes what comes with the sale. Different states have different laws about what has to be included, and you want to be crystal clear on what you are paying for.
It'd be a bummer if you expected the washer, dryer and other appliances to be included, only to realize at closing that you'll have to fork over more cash to buy new ones.
9. Has the home gone through any major changes? It's important to verify that the listing description matches up with reality.
Not all renovations follow proper building codes. For example, you may find a four-bedroom listing, when in reality, that extra bedroom the owners built is legally a glorified closet.
You'll also want to ask for original manufacturer warranties for all appliances, systems and other upgrades, like waterproofing.
Seeing these records will help you and the seller get on the same page. Otherwise, the seller may be factoring in all these renovations into their price, when you don't even know they exist.
10. How is the major infrastructure holding up? When buying a house, the roof is kind of a big deal. It protects the whole property, but because of its location, it's often overlooked.
If you buy a house with an old or damaged roof, you better have thousands of dollars available to replace it when it finally starts to shed its shingles.
The lifespan of a roof depends on many factors including the workmanship, type of material used, quality of material used and exposure to the weather. Because of this, age can be just a number.
A home inspection will give you a more detailed assessment, but you may want to ask earlier to help you calculate a more reasonable offer. It's also helpful to know ahead of time as some lenders will require a damaged roof to be repaired before approving your loan.
Similar to the roof, you'll also want to know the age and condition of the major appliances and systems in the house. That includes the furnace, water heater, air conditioning unit, washer, fridge, stove and more.
You might consider purchasing a home warranty (or asking the seller to buy one for you). Most home warranties will help cover the cost of repairing appliances and systems for one year.
11. Does the home hold anything dangerous? In some states, sellers are required to disclose all known health and safety hazards, including things like:
Asbestos.
Water damage or mold.
Structural damage.
Lead-based paint.
Issues with heating, electricity, plumbing and appliances.
That said, each state has its own rules. If you live in a caveat emptor ("buyer beware") state, the seller may not be legally required to tell you this information.
What they are required to do is to answer your questions honestly. You may have to ask directly to pry out the truth.
Now, many of these issues should come up during the home inspection, but it's good to know before signing a purchase agreement. If not, they may delay the closing process until they are resolved.
12. Has the owner filed any insurance claims? Asking the seller direct questions and hiring a thorough home inspector will reveal most issues with a property.
Even so, hidden problems can slip through the cracks.
You can help avoid this by getting your hands on a copy of the property's Comprehensive Loss Underwriting Exchange (C.L.U.E.) report. This report shows you all the homeowners insurance claims in recent years and will "clue" you in to the property's history of damage.
Only the property's current owner can access the report, but it's free of charge, so don't feel shy about asking for a copy.
Sponsored
Secure your retirement with a reverse mortgage
If you're low on cash savings and investments but have wealth in your home, a reverse mortgage is a great option for covering retirement expenses.
Mutual of Omaha is a trusted insurance provider that helps you make the most of your home equity.