Mortgage rates in Arkansas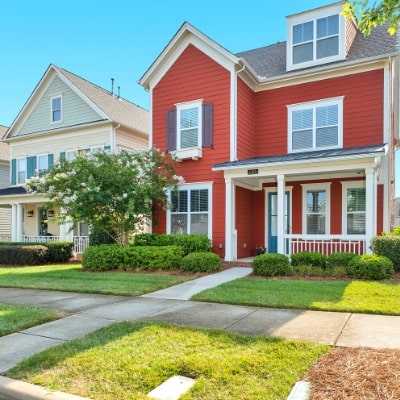 The right homeowners insurance policy protects you, your loved ones and your home.
Find the coverage you need at the most competitive rate in your area. Compare quotes from over 200 insurance companies with SmartFinancial.
Compare Now
First-time homebuyer programs in Arkansas
Buying a home for the first time can be challenging, but the Arkansas Development Finance Authority (ADFA) has the resources to make it a little easier.
The ADFA has a number of programs for first-time homebuyers that will reduce your out-of-pocket expenses. For qualified applicants, the ADFA can help secure a mortgage, supply a tax credit certificate, provide funds for a down payment and more.
ADFA Move-Up
The ADFA's Move-Up program offers first-time homebuyers affordable mortgages, whether that's a conventional loan or through the FHA, VA or USDA. Working through an approved lender, you can secure a 30-year fixed-rate mortgage with no prepayment penalty.
Borrowers may be eligible to combine it with other ADFA single-family-home-buying incentives as well. However, there is currently a maximum purchase price of $421,100 for this program.
ADFA Mortgage Credit Certificate (MCC) Program
A Mortgage Credit Certificate (MCC) is a dollar-for-dollar tax credit for first-time, low-to-moderate-income homebuyers. The certificate allows qualifying homebuyers to claim a tax credit of up to 50% of the mortgage interest they pay each year, capped at $2,000. As long as the home remains your primary residence, you can claim this credit for the life of the loan.
To qualify, you'll need:
To apply prior to closing your home loan.
To be a first-time homebuyer, a veteran or the spouse of a veteran or purchasing a home in a targeted county referenced on the ADFA website.
A household income below the set limit.
To purchase a home for less than $270,000.
To have the home as your primary residence.
To use an approved lender. The savings can be substantial, but be aware that when you use an ADFA MCC, you'll be charged an issuance fee of 0.5% of the loan amount.
ADFA Down Payment Assistance Program (DPA)
If you qualify for the ADFA Move-Up program, you can also apply for down payment assistance.
Qualified applicants receive between $1,000 and $10,000 to help with their down payment and closing costs. Cash back is allowed for expenses "paid outside of closing."
Arkansas Dream Down Payment Initiative (ADDI)
Through ADDI, qualifying low-income Arkansans can get up to 10% of the purchase price of their home, up to a maximum of $10,000. This is technically considered a second mortgage but has no monthly payments and is normally forgiven over five years.
ADDI must be used with the Move-Up program. First-time homebuyers using ADDI may also qualify for the MCC.
Note, if you're using ADDI or the DPA Program to purchase a home, ADFA will require you to take a pre-purchase homebuyer education course.
Sponsored
Get peace-of-mind on your home insurance
Homeowners insurance buys you peace of mind. But are you sure you're not paying too much for home insurance?
SmartFinancial compares quotes from over 200 insurance companies to check for discounts and help you find lower rates in your area.
Use SmartFinancial right now and stop overpaying for home insurance.