Mortgage applications slide Overall mortgage applications were down 2.5% last week, the Mortgage Bankers Association reported on Wednesday.
Demand for loans fell, even though mortgage interest rates have been plummeting. The average rate on the popular 30-year fixed-rate mortgage went down for the third straight week, to 3.17%, the MBA's weekly survey shows. Rates haven't been that low since early February.
Other surveys show rates have dropped even more. Mortgage giant Freddie Mac last week said the 30-year fixed-rate mortgage had plummeted to an average 2.97%.
Still, applications to purchase homes were off 5% from a week earlier, but were 34% higher than last year when the pandemic had just taken hold.
"The purchase market's recent slide comes despite a strengthening economy and labor market," says Joel Kan, MBA's chief forecaster, says. "Activity is still above year-ago levels, but accelerating home-price growth and low inventory have led to a decline in purchase applications in four of the last five weeks."
Meanwhile, applications to refinance mortgages in the week ending April 23 were down 1% from the previous week and 18% lower than a year ago.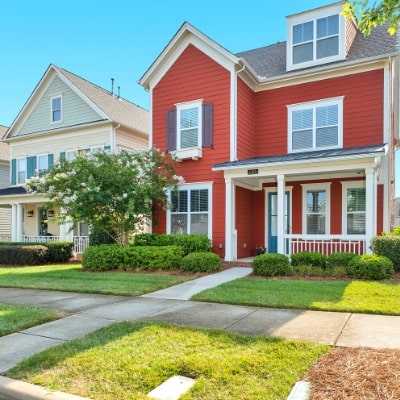 The right homeowners insurance policy protects you, your loved ones and your home.
Find the coverage you need at the most competitive rate in your area. Compare quotes from over 200 insurance companies with SmartFinancial.
Compare Now
The big mistake for millions of homeowners "Even with a few weeks of lower rates, most borrowers have likely already refinanced," says Kan.
But many U.S. mortgage holders who haven't yet refinanced are making a mistake by continuing to hold out. Some 13 million mortgage holders can still benefit substantially by trading in their loans for one of today's bargain mortgage rates, according to technology and data provider Black Knight.
The most qualified of the bunch — 1.5 million borrowers in all, Black Knight estimates — could save at least $500 a month by refinancing. That's a nice chunk of change to cover household expenses, pay down student loans or invest in the stock market using a relatively low-stakes approach.
Good refi candidates have 30-year mortgages and at least 20% equity built up in their homes, Black Knight says. They also have credit scores of at least 720. If you haven't seen your score lately, it's easy to access your credit score online for free.
Black Knight says a refi is worthwhile only if you can shave at least three-quarters of a percentage point (0.75) off your current mortgage rate.
A new way to get a better rate on a refi This summer, government-sponsored mortgage giants Fannie Mae and Freddie Mac will launch a new refi option offering reduced interest rates that could save low-income borrowers as much as $250 a month.
Qualified borrowers must have a federally backed mortgage and earn no more than 80% of their area's median income, among other requirements, the Federal Housing Finance Agency, which regulates Freddie Mac and Fannie Mae, announced Wednesday.
"Last year saw a spike in refinances, but more than 2 million low-income families did not take advantage of the record low mortgage rates by refinancing," explains FHFA director Mark Calabria.
The recent dip in mortgage rates may not last much longer as the U.S. economy continues to improve and COVID-19 vaccinations are getting into the arms of more Americans. If you're considering a refinance, check mortgage rates from at least five lenders to make sure you're bagging the most savings.
If you don't qualify for a refi, check out other ways to save money — like reducing your homeowners insurance when it's time to renew. Get rate quotes from multiple insurers to be certain you're getting the coverage you need at the best price.
Sponsored
Get peace-of-mind on your home insurance
Homeowners insurance buys you peace of mind. But are you sure you're not paying too much for home insurance?
SmartFinancial compares quotes from over 200 insurance companies to check for discounts and help you find lower rates in your area.
Use SmartFinancial right now and stop overpaying for home insurance.