5 ways to stop the foreclosure process It's important to note that each state has its own set of foreclosure laws. The first step to battling a foreclosure is understanding the laws — and your rights — where you live.
Also, no matter which foreclosure-fighting method you choose, make sure to keep detailed documentation of your actions, communications, phone calls, emails, letters, etc. Having this evidence will strengthen your case as you try to save your home.
Here's how to head off a foreclosure with five effective strategies.
1. Foreclosure workout
Lenders hate foreclosures just as much as homeowners do. Not only does it cost them time, money and resources, but nobody enjoys having to kick someone out of their house.
Because of this, most lenders will be willing to work with you to come up with a solution, or "workout agreement." This often involves rescheduling payments or extending the term of your loan.
Keep in mind that while it may be in the financial institution's best interest, your lender is under no obligation to help you. It's important to stay flexible and open-minded. In the end, you want to design a win-win scenario: You keep your house, and the lender avoids the hassle of foreclosure.
2. Short sale In a short sale — also known as a pre-foreclosure sale — you sell your home at a discounted price before the bank can repossess it and auction it off.
To do this, you'll need to get your lender's approval to sell for less than the market value. The lender will have to decide whether it's worth taking a loss in order to avoid the foreclosure process.
If you're facing foreclosure, you should be doing everything in your power to find a buyer and negotiate a short sale. By avoiding foreclosure, you can escape without annihilating your credit score. It's easy to check your credit score for free — and monitor for damage.
3. Bankruptcy
When you fail to make a short sale happen, filing for bankruptcy may be a viable last resort. Doing so generates something called an "automatic stay," which essentially throws a wrench in the foreclosure process and any other collections.
If you consult with a bankruptcy attorney and determine this is your best option, you have to choose which type of bankruptcy to file:
Chapter 13 bankruptcy can be filed before your home is foreclosed on, in an attempt to restructure your debts and avoid losing your home.
Chapter 7 bankruptcy can be filed to stall the foreclosure process. This gives you extra time living in your house rent-free, and allows you to save money for rent payments at the next place you'll live.
Once your automatic stay is in effect, the bank will likely file a motion to waive the stay and proceed with the foreclosure. Even if the bank is successful, you'll still have bought yourself some time.
And even if your automatic stay is approved, it isn't a get-out-of-debt-free card. At your court hearing, a bankruptcy trustee will act as a mediator between you and your creditors to formulate a modified repayment plan.
4. Deed in lieu Deed in lieu is short for "deed in lieu of foreclosure." It's basically a more civilized version of a foreclosure. Instead of your lender seizing your home by brute legal force, you give it back voluntarily by signing over the deed.
Similar to a foreclosure, a deed in lieu can wreak havoc on your credit score. The main benefit to you is that it is more discreet. You are able to leave on your own terms and won't have the police knocking on your door ordering you out.
Despite the hassle saved on a foreclosure, many lenders are hesitant to allow a deed in lieu. Not only does it make them responsible for paying off any additional loans against the home, but it also can come back to bite them if you file a lawsuit saying you didn't understand what you were doing.
5. Assumption or lease option
When you sell a house, the buyer usually takes out a home loan loan to pay you, which you then use to clear the remaining balance of your mortgage.
An assumption is slightly different. Instead of the buyer taking out a new mortgage, he or she steps into your shoes and "assumes" responsibility for your loan.
This seems like a good idea in theory, but in reality, most mortgage contracts have a "due-on-sale" clause stating you must pay off your entire balance when you transfer ownership of the property. Some lenders, however, may overlook the due-on-sale clause if it makes financial sense for them.
If you are eligible to use an assumption, your lender will assess the new buyer's financial history to make sure he or she qualifies to take over your loan.
If the buyer doesn't qualify — due to a poor credit score, low down payment or other reasons — you may be able to negotiate a lease option. Under this arrangement, the would-be buyer leases your house and makes payments, but you retain ownership until they are eligible to buy the property.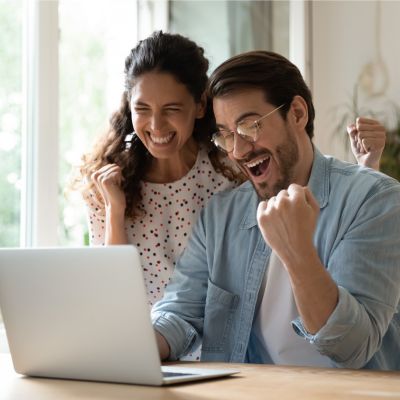 Compare current mortgage rates from top national lenders. Get the best rate for your purchase or mortgage refinance.
Compare Rates
Steer clear of foreclosure long before it starts When it comes to stopping a foreclosure, your best bet is to nip the situation in the bud. Instead of waiting until the last second and filing for a desperate bankruptcy Hail Mary, you can contact your lender and apply for a loan modification before things reach that point.
What is a loan modification?
A loan modification is one of many types of loss mitigation, or compromises, between a borrower and lender to avoid a lose-lose situation. Namely, foreclosure.
When you apply for a loan modification, you are asking your mortgage servicer to change the terms of your loan to make your payments more affordable. This can take many forms; some modifications may be permanent, while others are temporary.
Often, these modifications involve lowering your interest rate, extending the length of the loan or adding any unpaid interest to your principal.
To take advantage of loan modification, you can't procrastinate. It's best to speak with your mortgage servicer about payment options as soon as you sense financial difficulty.
When is it too late to stop foreclosure? Now you know several ways to fight foreclosure. But when is it time to finally give up?
Not until the day your house is sold off.
You can even stop — or stall — a foreclosure on the day of the auction itself, by filing for bankruptcy.
If you can't show your ability and intent to catch up on your payments, filing bankruptcy won't stop the foreclosure process forever, but at least it will buy you time to scrape together some savings. You might try a popular app that helps you earn returns on your "spare change" from everyday purchases.
Whatever you do, don't abandon your house prematurely. Instead, wait until the foreclosure sells and you are escorted out.
Turns out, just because you received a foreclosure notice does not mean the foreclosure will necessarily go through.
If you incorrectly assume your lender has taken ownership, and you leave the property vacant — known as a "zombie foreclosure" — you not only miss out on free rent but you also put your finances at risk.
See, a foreclosure process can be held up, and in some cases it might even be dropped altogether. If you leave early and the foreclosure falls through, the property will remain in your name. Without even realizing it, you could rack up unpaid property tax bills and maintenance fees for your unkempt property.
Sponsored
Secure your retirement with a reverse mortgage
If you're low on cash savings and investments but have wealth in your home, a reverse mortgage is a great option for covering retirement expenses.
Mutual of Omaha is a trusted insurance provider that helps you make the most of your home equity.