Mortgage applications slow; refinances retreat Overall mortgage applications were down 17.9% in the week ending April 3, the Mortgage Bankers Association said Wednesday.
"Mortgage applications fell last week, as economic weakness and the surge in unemployment continues to weigh heavily on the housing market," says Joel Kan, the association's associate vice president of forecasting.
Demand for refinance loans dropped 19%, reversing the previous week's 26% surge in those applications.
But last week's refi requests to lenders were up 144% from a year earlier — meaning the number of applications was nearly two and a half times higher than during the same week in 2019.
Refinances amounted to a strong 74.2% of all mortgage activity last week, down from 75.9% the week before.
Mortgage rates have been bouncing up and down, causing the refinance numbers to do the same, Kan says.
More: Mortgage payoff calculator
Current average mortgage rates
| Loan Type | Interest Rate |
| --- | --- |
| 30-year fixed-rate mortgage | 3.26% |
| 15-year fixed-rate mortgage | 2.73% |
| 5/1 adjustable-rate mortgage | 3.17% |
Source: Freddie Mac Primary Mortgage Market Survey, May 7, 2020.
Veterans: $0 Down, no PMI and lower monthly payments. Get started with Veterans United Home Loans.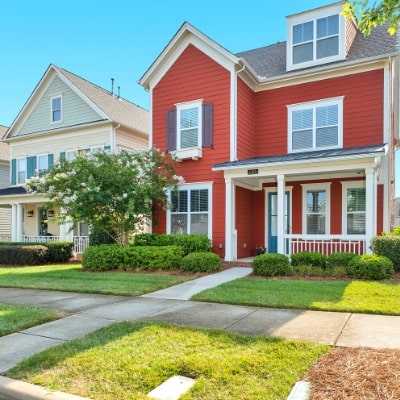 The right homeowners insurance policy protects you, your loved ones and your home.
Find the coverage you need at the most competitive rate in your area. Compare quotes from over 200 insurance companies with SmartFinancial.
Compare Now
Homeowners overlook falling mortgage rates Refinances declined even while mortgage rates took a dive last week that landed them very close to their recent record low.
The average rate for a 30-year fixed-rate mortgage fell from 3.50% to 3.33%, according to mortgage company Freddie Mac.The typical 30-year mortgage rate was just a couple of notches above 3.29%, the level from early March that set a new all-time low in the nearly 50-year history of the weekly Freddie Mac survey.
Freddie Mac releases fresh mortgage rates data on Thursday.
Kimberly Lanham, senior vice president of the mortgage consulting firm Digital Risk, says she expects rates to stay low for the next 12 to 18 months.
"Anyone with a mortgage over 4% should be looking at doing a refi," Lanham says. "However, borrowers need to make sure it really makes sense for them to refinance and ask themselves: What are their goals and long term plans?"
Use the mortgage calculator below to how much you might save with a refinance into one of today's low mortgage rates.
Demand falls for loans to buy homes Applications for what the industry calls "purchase loans" — to buy homes — fell 12% last week, to the lowest level since 2015, the Mortgage Bankers Association says.
Worries about the coronavirus and the economy have slowed real estate sales, says Corey Burr, senior vice president with Sotheby's International Realty in Chevy Chase, Maryland.
"A few houses are still coming on the market and selling, although the volume of contracts is about 30% below this time last year," Burr says. "Prospective buyers who were hoping to start their search for a home this spring have put those plans on hold."
Agents are using more than the promise of low mortgage rates to lure wary buyers. They're making ample use of 3D tours, social media, online videos and video conferencing to show off homes for sale. Open houses have stopped, and buyers who want to see homes in person are being allowed in one at a time using masks, gloves and sanitizers.
"Houses that go under contract are successfully getting to settlement, provided the buyer's financial and employment situation is still satisfactory, and the lender is able to fund the loan," says Burr. He recommends that buyers focus on larger, more stable lenders, because he says some smaller ones have stopped doing business in the current environment.
Take a look at today's best mortgage rates offered by lenders in your area:
Sponsored
Get peace-of-mind on your home insurance
Homeowners insurance buys you peace of mind. But are you sure you're not paying too much for home insurance?
SmartFinancial compares quotes from over 200 insurance companies to check for discounts and help you find lower rates in your area.
Use SmartFinancial right now and stop overpaying for home insurance.