Birmingham, Alabama Price: $1,099,000
You'll enjoy a relatively low cost of living in Birmingham, which means you can get some pretty spacious homes for less than $500,000. With double that budget, you can snag this custom-designed home with five bedrooms and five-and-a-half baths.
The 6,530-square-foot property in cedar shingle and stone features some seriously roomy living spaces and an expansive, fenced backyard with a multi-tiered redwood deck. In the finished basement, you'll find a den/rec room with a kitchenette, stone fireplace, stone bar and full bath as well.
With all that home to protect, you'll want to ensure you're getting the best rate on your homeowners insurance to avoid paying hundreds extra every month.
And note: the neighborhood does belong to a homeowner's association — you'll pay an additional $900 a year but get to enjoy local amenities such as a playground, private lake and tennis courts.
Stop overpaying for home insurance
Home insurance is an essential expense – one that can often be pricey. You can lower your monthly recurring expenses by finding a more economical alternative for home insurance.
SmartFinancial can help you do just that. SmartFinancial's online marketplace of vetted home insurance providers allows you to quickly shop around for rates from the country's top insurance companies, and ensure you're paying the lowest price possible for your home insurance.
Explore better rates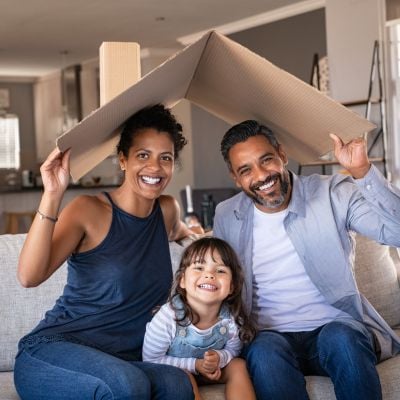 Anchorage, Alaska Price: $1,095,000
While you'll face frigid winters and pay a premium for your groceries in the Frontier State, it could be worth it to live in this modern home in Old Turnagain.
The estate covers over half an acre and features a sweeping lawn, lighted pathways, lilac trees and some spectacular inlet and mountain views. You also have easy access to nearby parks and a coastal trail.
The home itself holds three large bedrooms and four-and-a-half baths. If you wake up feeling chilly, the master bedroom has its own hot tub and solarium just a few feet from the bed.
Phoenix, Arizona Price: $999,000
You could snap up a pretty massive property in some areas of Phoenix, but $1 million can also unlock a life of leisure in the highly established Camelback East Village suburb.
You'll enjoy all the benefits of urban high-rise living — grocers, restaurants and fitness centers are all within walking distance — while scenic hiking trails lie just minutes away amid the parks and peaks of the Phoenix Mountains Preserve.
The 2,665-square-foot corner-unit condo has three bedrooms, three-and-a-half baths, two covered patio spaces and oversized entertainment spaces. Building amenities include a rooftop pool and hot tub.
Need cash? Tap into your home equity
As home prices have increased, the average homeowner is sitting on a record amount of home equity. Savvy homeowners are tapping into their equity to consolidate debt, pay for home improvements, or tackle unexpected expenses. Rocket Mortgage, the nation's largest mortgage lender, offers competitive rates and expert guidance.
Get Started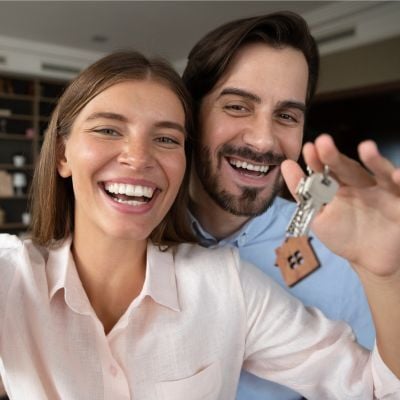 Little Rock, Arkansas Price: $975,000
The investors out there can acquire this multi-family home in Little Rock for less than $1 million, but it might need some renovating and redecorating to get it up to scratch.
The quiet property has two bedrooms and one-and-a-half baths per unit, with 14 units in total. The listing says the large courtyard and patio could be enhanced with minimal landscaping and that the place is "ideal" for kids.
The postal code places the property in the Reservoir neighborhood, which includes a community park with basketball and tennis courts, a disc ball course and open fields and trails.
Los Angeles, California Price: $950,000
Sure, you can find bigger homes for less in sunny L.A., but this particular enclave perched above the rest of the city is famously favored by celebrities and entertainment industry execs.
This small A-frame home in Hollywood Hills only fits two bedrooms, one bathroom and a detached studio space, but it's located on an oversized lot and offers quick access to Universal Studios, Hollywood, West Hollywood and Studio City.
If $1 million sounds pricey for the size of this abode, know that the median price in the area is way higher at $1.8 million — and that comparing mortgages rates can potentially save you thousands on a home.
Denver, Colorado Price: $950,000
The city of Denver is rated the second-best place to live in the nation by U.S. News — and the laid-back neighborhood of Lowry Field makes it easy to see why.
A former air force base, Lowry's now known for its green spaces, skating rink, summer concerts and the Wings Over the Rockies Air and Space Museum. You'll find several shops, grocery stores and entertainment options within walking distance.
With $1 million, you can set up camp in this sleek, contemporary, 3,302-square-foot townhome. It includes three bedrooms and three-and-a-half baths, plenty of upgrades and a finished basement, with laundries on both the main floor and second level.
Bridgeport, Connecticut Price: $995,000
At time of writing, Connecticut's biggest city didn't have any properties listed for $1 million on Realtor.com, but this renovated, colonial home in Fairfield is only 10 minutes away.
The 2,658-square-foot property holds four bedrooms, three bathrooms and plenty of bright and airy living spaces, thanks to glass doors and oversized windows. Yet the property's most distinctive feature is out back: an ultra-chic treehouse complete with a ladder, trap door, spiral roof and panoramic windows.
When you start getting jealous of your kid's new hangout, you can take a walk to Fairfield University, Tanaka Park and several restaurants, grocery stores and coffee shops.
And since Bridgeport is just a short jaunt away, make sure your auto insurance policy rate reflects your brief commute.
Wilmington, Delaware Price: $999,000
A seven-figure budget will go far in Wilmington, which is one of the state's poorest cities. The median household income here is just over $45,000. (If your income falls around that level, remember that refinancing into one of today's incredibly low mortgage rates is a fast way to reduce your monthly payments.)
This brick Georgian Colonial estate in the Historic District of Wawaset Park spans just over 5,000 square feet. Compared to some of the homes on the list, it's a steal at about $200 for each square foot of space.
The 1940 home boasts six bedrooms and five-and-a-half baths and lots of open green space with beautiful landscaping. Despite all the modern upgrades and renovations inside, it's preserved much of its character and features classic wood-burning fireplaces.
Jacksonville, Florida Price: $1,049,000
You get to feel like you're always on vacation in this gorgeous Queens Harbour home, which features a resort-style backyard complete with screened saltwater pool, spa and summer kitchen.
The 4,325-square-foot property on a quiet cul-de-sac includes four bedrooms and four baths, a first-floor office that could be converted to a fifth bedroom and a bonus game room.
It's also relatively close to The Beaches, the Atlantic Beach Country Club and Kathryn Abbey Hanna Park, which offers swimming, surfing, fishing and hiking, so you won't lack for activities on your extended staycation.
Atlanta, Georgia Price: $989,000
You'll pay a small fortune to reside in this dog-friendly highrise in bustling Midtown — but the overall cost of living in Atlanta is relatively low, winters are mild and job opportunities abound.
The luxe, 1,840-square-foot unit overlooks the large and lively Piedmont Park. It includes two bedrooms, two-and-a-half baths and a patio and features Calcutta marble countertops in the kitchen and bathrooms.
Building amenities include a pool, massage room and fitness center, outdoor kitchen and a fenced dog run area on the sixth floor. You'll also enjoy the fantastic shopping, dining and arts scene in the middle of Atlanta's commercial hub.
Honolulu, Hawaii Price: $950,000
Honolulu is notoriously expensive, with a median listing price of $619,800 on Realtor.com.
So even though this single-family home in Pauoa Valley is a serious fixer-upper, its proximity to downtown Honolulu, major roads and Auwaiolimu Neighborhood Park still commands a $1 million price tag.
The listing for the 3,154-square-foot home says it should have seven bedrooms and three baths, though the count might not match tax records. It's sold as-is with its original furnishings, appliances and dirt, so you'll also have to clean while you do your repairs.
Boise, Idaho Price: $995,000
Locals say Idaho's capital has it all: It's a bustling urban center with warm temperatures, affordable home prices and scenic mountains and canyons to satisfy any outdoor enthusiast. It's also considered a great place to raise a family and has a low crime rate.
This lovely single-family home in Trailcrest contains four bedrooms, four-and-a-half baths, a theater room, a large home office and a spacious backyard with a covered patio, pergola and swimming pool.
The 1,962-square-foot property is also in a great location, falling within the highly rated Boise School District and fairly close to Downtown Boise, which offers multiple dining and nightlife options.
Chicago, Illinois Price: $1,000,000
This tri-level, 3,071-square-foot property sits on a corner lot in the heart of Chicago's trendy Wicker Park enclave. The neighborhood has an artsy, bohemian appeal, fostered by its collection of boutiques, record and book stores, galleries and performance venues.
The contemporary home includes four bedrooms and three-and-a-half baths, a fenced backyard and a deck. The interior feels clear and breezy, thanks to vaulted ceilings and an open floor plan.
Keep in mind that the Windy City can get plenty of storms throughout the year, so if you live nearby, make sure your home insurance policy covers wind and hail damage.
Indianapolis, Indiana Price: $1,095,000
This cheerful, Victorian-style home looks like it tumbled straight out of a fairytale, with its intricate woodwork, colorful stucco and brick and enchanting courtyard — which includes a water feature fountain, putting green, fire pit and garden.
While one level of the home certainly fits the romance of the exterior, the rest of it has a distinct modern penthouse feel with shiny appliances and more contemporary furnishings. It even has its own separate designer kitchen, which you can easily trick out on the cheap.
The enormous 7,527-square-foot property fits eight bedrooms and seven baths, so you certainly won't lack for space. And it's just minutes away from Miles Square, the downtown part of the city.
Des Moines, Iowa Price: $995,000
This grand, four-acre estate belongs to the Westwood neighborhood of Des Moines, known for its historic homes. Plenty of parks lie nearby, but the downtown part of the city is only a 10-minute drive away.
The 1920 single-family home fits five bedrooms, five-and-a-half baths, an office/sunroom area, updated kitchen, a four-car garage and an expansive, private backyard.
You can live comfortably in Des Moines for a lot less than $1 million, but if you're struggling to cover your down payment, check out the various homebuyer programs Iowa has to offer.
Wichita, Kansas Price: $975,000
This ornate home sits on top of a golf course at Crestview Country Club. While you might get a kick hitting the links right outside your backyard, you'll also want to consider a home insurance policy that protects your windows from rogue golf balls.
The spacious 5,890-square-foot property boasts seven bedrooms and six-and-a-half baths, plus a generous kitchen, foyer and recreation room. The finished basement includes a walk-out that leads to the patio area outside, an in-ground saltwater pool and landscaped lawn.
You'll find a large deck off the eating area as well — perfect for entertaining or just enjoying the view.
Louisville, Kentucky Price: $985,000
This stately, colonial home in Cherokee Gardens promises plenty of period features that compliment rather than disrupt its modern amenities.
The 4,066-square-foot, three-story property includes six bedrooms and three-and-a-half baths with stunning wallpaper and elaborate hand-painted light fixtures in the dining room, a corner office and Juliet balcony on the second floor, a basement wine cellar and a landscaped yard.
The area is pricey for a reason: You'll get easy access to Downtown Louisville with its buzzing restaurants and bars, and the Waterfront Park by Ohio River is fairly close as well. And as long as your credit score is in good shape, you can get a great rate on your mortgage to save thousands of dollars over the life of your loan.
New Orleans, Louisiana Price: $985,000
It's hard to get closer to the action in New Orleans. This Victorian home lies just a few blocks away from the French Quarter, with its mix of historic architecture, restaurants and jazz clubs and modern boutiques and bars.
The listing says you can even hear the calliopes playing from the Mississippi River boats while sitting on your front porch.
But if you'd rather keep your distance from the din and debauchery of Bourbon Street, this multi-family home could be a great rental or condo conversion opportunity.
The 3,564-square-foot property includes five bedrooms and four baths, high ceilings, ornate fireplaces, balconies and a courtyard space.
Portland, Maine Price: $985,000
Live right next to the water and get that fresh ocean breeze streaming straight through your window with this cozy condo in Chandler's Wharf. You'll even get your own boat slip reserved on the dock.
The 1,621-square-foot property holds two bedrooms and two baths and a deck that overlooks the water. You'll be mere steps away from the quaint Old Port neighborhood, which offers several dining and shopping options, art galleries and theaters.
Portland is known for its rapidly rising housing costs, so you might consider moving inland. That said, you probably won't get as great a view.
Baltimore, Maryland Price: $985,000
You can find sizable properties for less in Charm City — the median listing price is only around $200,000 — however, the lovely green pocket of Ruxton is known for drawing the wealthy.
This elegant Tudor home positively flaunts its wood timber accents, glass detail, manicured lawns and a "secret garden" of mature trees and perennials, making it a perfect patio escape for those who want to get away from the hustle and bustle of Baltimore. Inside the 3,387-square-foot property, you'll find four bedrooms and three-and-a-half baths, a modern eat-in kitchen and a finished basement.
Towson University and the Greater Baltimore Medical Center are under a 10-minute drive away, and several restaurants and coffee shops lie nearby as well.
Boston, Massachusetts Price: $949,500
It's not the prettiest property on this list, but anyone eager for some passive income could live on the top floor of this 2,970-square-foot multi-family home while renting out the two units below.
The century-old East Boston home includes nine bedrooms and three baths but is beginning to show its age. If you've got a $1 million budget, the remaining $50,000 would be well spent on renovations.
The fundamentals are good, though. It's walking distance to public transit, Bremen Street Community Park and East Boston Library, and several beaches are just a short drive away.
Detroit, Michigan Price: $989,000
Detroit remains the most famous example of urban decay in the country, but some aging buildings are getting the love they deserve and are proving to be a real investment for some homeowners.
This French Second Empire mansion, built for banker Frederick Butler in 1882, was recently renovated and converted into four condos.
The price tag will only get you one of the units inside: a 2,267-square-foot space with three bedrooms and two-and-a-half baths. You'll also gain access to a shared outdoor deck and garage.
The building is situated in the historic district of Brush Park, which is recognized for its restored Victorian mansions and newer residential developments.
Minneapolis, Minnesota Price: $999,900
This picturesque, cottage-inspired home in the suburban Fulton neighborhood features vaulted ceilings, alder woodwork and rich chestnut floors.
The 3,637-square-foot property includes four bedrooms and four baths, a finished livable basement and an enchanting yard complete with a private, covered deck.
The cottage look is fitting for the area. The home is a five-minute drive from Lake Harriet, which is surrounded by parkland and offers canoeing and kayaking and hosts summer concerts and movies.
Fulton's known for being a luxury neighborhood — the median home listing is around $525,000, but prices can soar as high as $2 million.
Jackson, Mississippi Price: $969,000
Jackson's pretty affordable to live in, but if you've got scratch to spare, this million-dollar home in the gated Massena Heights covers 5,688 square feet and accommodates five bedrooms and four-and-a-half baths.
If you start feeling lonely in all that space, you can invite some people over and entertain with the expansive heated pool and adjoining cabana in the backyard.
It's a bit secluded from the rest of the city but perfect if you enjoy your privacy. It'll take less than 20 minutes to drive to LeFleur's Bluff State Park, the Mississippi Museum of Natural Science and Jackson State University.
Kansas City, Missouri Price: $939,900
This grey-accented traditional home boasts six bedrooms, four bathrooms and two half-baths, a soundproof theater room, a bonus room and a rec room that leads out to a covered patio.
The 5,888-square-foot property sits on a large cul-de-sac lot and includes several high-tech upgrades, like a keyless locking system and security system with six cameras facing outside. Some of the blinds are remote operated -- all upgrades that will also tend to offer you an even better rate on your homeowners insurance.
The yard is beautifully landscaped and faces a small river, but it'll take less than half an hour to drive to the urban heart of Kansas City.
Billings, Montana Price: $999,900
If you need room to stretch out, this lovely log home just outside Billings offers plenty of bright, open space inside and out. The entire property covers over two acres of land.
The single-family home includes five large bedrooms, four-and-a-half baths and tall windows that allow in lots of natural light. Outside, you'll discover a large patio, built-in fire pit and covered gazebo.
The whole home is undeniably cozy, but when you get the itch to go outside, Billings is surrounded by natural wonders. The sandstone Rimrocks are nearby, as are several museums and historical sites.
Omaha, Nebraska Price: $1,045,000
For $1 million, you can live just like billionaire investor Warren Buffett. The Omaha home he bought in 1958 is worth about that much today, and he's never upgraded even as his wealth exploded.
This spacious 6,848-square-foot property in Tomlinson Woods includes four bedrooms and four-and-a-half baths and a heated four-car garage. For entertainment, just head down to the finished lower level that features a wine room, wet bar, movie theatre and fitness room.
Omaha is reputed to be a great place to raise a family, with affordable housing, a strong job market and safe communities. The desirable, gated community of Tomlinson Woods is close by Westroads Mall, which provides numerous shopping and dining options.
Las Vegas, Nevada Price: $1,050,000
Why spend over $1 million on a tiny apartment?
Well, this condo on Las Vegas Boulevard allows a dedicated high roller to live right in the midst of the city's glitzy casinos, high-end restaurants, shops and performance venues.
The slick 1,090-square-foot unit offers views of many city landmarks, including Park MGM, the New York-New York Hotel and Casino, Mandalay Bay and the new Raiders' Allegiant Stadium.
While the home is open and stylish, you'll probably want to spend most of your time out and about. You might feel cooped up with only one bedroom and one-and-a-half baths -- although you may find there are some profitable perks to downsizing.
Manchester, New Hampshire Price: $929,900
At time of writing, Manchester didn't have any properties listed for $1 million on Realtor.com — but you might consider moving just a little outside the city for this spacious single-family home.
The 4,503-square-foot property in Hooksett features three bedrooms, two bathrooms and two half-baths. There's lots of entertaining space, with a games room and additional media room, plus a partially finished basement that's currently being used as a photography studio. (It's a lot easier to make money from home these days thanks to gig marketplaces.)
In the summers, you can lounge outside in your private backyard, which includes a pool, large deck and patio with a fire pit.
Newark, New Jersey Price: $929,900
Newark and New Jersey as a whole are known for being ridiculously expensive. For three years straight, Jersey has been the No. 1 state Americans are fleeing in United Van Lines' annual study of state-to-state moves. Home listings on Realtor.com stretch as high as $3 million.
So what does $1 million get you? This multi-family home in the Ironbound neighborhood isn't a looker, but it fits four families and includes two bonus apartments, with a total of eight bedrooms and six bathrooms.
The enclave demands a high price for its restaurant scene as well as its proximity to transportation options and job opportunities in downtown Newark, The New York Times says.
Albuquerque, New Mexico Price: $1,000,000
Fancy a game of mixed doubles? This custom-built estate in the Altura community comes with a full-sized tennis court, plus an indoor pool and hot tub to help you relax afterward.
The luxurious property fits four bedrooms and four-and-a-half baths, and outside, you'll find an outdoor kitchen and grill under the covered patio. When that's not enough to keep you occupied, Altura Park is within walking distance and you can find several restaurants and coffee shops nearby.
Just bear in mind that Albuquerque has some of the highest property taxes in the state, so expect to pay a hefty price for this gargantuan 9,449-square-foot home.
New York, New York Price: $949,000
New York's steep food and housing costs push hundreds of residents out each day. It's a challenge to find affordable housing anywhere in the city, but $1 million will secure a modest place to hang your hat.
This brick Tudor home in the Flatlands neighborhood in Brooklyn contains three bedrooms and three-and-a-half baths and a covered patio in the backyard. The listing says it's been through a complete renovation and that the fuzzy images don't do the 1,872-square-foot property justice.
Even if the home doesn't turn out to be a hidden treasure, there's always something happening in NYC. Numerous cafes, restaurants, parks and beaches are under a half hour's drive away. And if you cut back on your monthly expenses, like high-interest debt payments, you'll be able to afford even more of what the city has to offer.
Charlotte, North Carolina Price: $1,015,000
This European-style townhome is situated in the residential Elizabeth area, which offers upscale dining options, bakeries and bars. You'll also appreciate the walking trails, rose garden and reflecting pool in Independence Park, which is within walking distance.
The airy 2,520-square-foot home has three bedrooms, three-and-a-half baths and hardwood floors throughout. The kitchen is anchored by a large island and custom wet bar with quartz countertops.
The jewel of this property is out back, though. From the elevated deck, you can step down into a fenced backyard, then descend further into an in-ground saltwater plunge pool.
Fargo, North Dakota Price: $1,125,000
This Highland Park townhouse is the priciest entry on this list but could be a good investment opportunity, featuring three separate units with three bedrooms and two-and-a-half baths each.
Spread over 6,168 square feet, the three townhomes are bright and modern, each boasting an open kitchen with a quartz island, a dining and living room and a private deck.
If you're considering a move, know that North Dakota has been rated one of the worst states for winter driving, so make sure you're equipped with a good car insurance policy.
Columbus, Ohio Price: $995,000
This German Village brick house was built all the way back in 1850 but is still incredibly well-maintained, with high ceilings, wood floors and one gas-log and one decorative fireplace.
The 3,357-square-foot property fits five bedrooms and three-and-a-half baths, two home offices, an exercise space and a full basement. The brick patio outdoors includes a hot tub, and the listing says the sellers are currently completing renovations for the primary bathroom.
The historic neighborhood offers several boutiques, restaurants, bars and public parks as well. You can get to downtown Columbus in under 10 minutes.
Oklahoma City, Oklahoma Price: $974,999
With $1 million, you can live in luxury in this huge, traditional home, which sits on a 5.6-acre green space filled with mature trees.
The 5,392-square-foot property encompasses five bedrooms, a bonus room, three bathrooms and two half-baths and two offices — plus a pool and hot tub in the back. Feel free to roast some s'mores over the fire pit on the patio while entertaining guests.
And don't worry about sacrificing location for scale. The home is situated in the highly rated Oakdale School District and is just a short drive away from Spring Creek Park, which offers trails, prime bird-watching opportunities and a beach.
Portland, Oregon Price: $999,900
The City of Roses is one of the most desirable places in the country, according to Redfin, as Americans are packing up and moving there in droves. Anyone looking to capitalize on the trend could scoop up these two investment properties for the price of one.
You'll get a 1900-era house and a fourplex, for a total of five units. While that's a lot of money-making potential, you'll definitely have some fixing up to do first.
All together, the properties contain 12 bedrooms and six baths. They're situated in the leafy St. Johns neighborhood with plenty of outdoor offerings, like Smith Lake, Pier Park and the lush Smith and Bybee Wetlands Natural Area.
Philadelphia, Pennsylvania Price: $975,000
Here's an "unbelievable investment opportunity," if the listing is to be believed. For $1 million, you can grab two separate properties — with five units each — spanning a total of 5,369 square feet.
Ten tenants are paying a total of $71,140 per year to live in the pair of buildings, located in South Philadelphia's West Passyunk area. Meanwhile, Realtor.com estimates that your mortgage would only cost about $40,320, assuming a 20% down payment and a great interest rate.
With all that money saved, you'll have plenty of cash to invest and grow your savings.
And if you wanted to live in one of the units, you'd find plenty to do in South Philly. The area holds a diverse range of eateries and the South Philadelphia Sports Complex, which hosts hundreds of events and sports games each year.
Providence, Rhode Island Price: $999,000
Passable properties are pretty pricey in Providence — not to mention the high taxes and health care costs — so $1 million won't go nearly as far. Still, retirees should appreciate this Cape Cod bungalow near the Seekonk River.
The 2,542-square-foot property fits three bedrooms and two-and-a-half baths, a den with a wet bar, fireplace and other built-ins, an office area and a full basement. Outside, you'll find a landscaped private backyard with a stone patio and screened porch.
The home is situated in Upper Elmgrove and is steps away from the tree-lined Blackstone Boulevard, the local farmers market, restaurants, schools and shops as well.
Charleston, South Carolina Price: $1,000,000
For exactly 10,000 benjamins, you can grab a ground-floor condo in this stately 19th century building, located in the heart of Charleston's historic French Quarter.
While you won't be spoiled for space — the 1,458-square-foot unit fits just two bedrooms and two bathrooms — the property was recently renovated to feature some luxurious stone baths and a gourmet kitchen.
Plus, you won't get bored on your walks around the neighborhood. On any given day, you might stroll past the City Market, historical sites like the Old Exchange & Provost Dungeon, several old churches or the Waterfront Park.
Sioux Falls, South Dakota Price: $1,095,000
If you can never find the time to hit the green, this oversized 7,008-square-foot home is located smack dab on a golf course.
The modern mansion features six bedrooms, four bathrooms, heated marble floors, a home theater, arcade and game tables. The main suite has its own fireside seating area, an enormous shower and air jet tub, two walk-in closets and direct access to the deck.
If the home itself isn't enough, it's just a 20-minute drive to the heart of the city. Sioux Falls was ranked the 10th best place to live in America just last year by the ranking site Livability, which pointed to the city's affordability, low crime rate and quality health care systems and schools.
Nashville, Tennessee Price: $969,999
If you love the blues, look no further than this brightly colored 1950s home near the legendary music venues and festivals of Nashville.
The 2,940-square-foot corner-lot property has four bedrooms, three bathrooms and two half-baths, a spacious back deck and rooftop entertainment area. The listing suggests the home has Airbnb potential and could even convert to include an in-law suite.
The home is situated in the desirable Green Hills neighborhood — a color mismatch, to be sure — known for its luxury homes, boutiques and eateries. To stay on theme, check out the famous Bluebird Café, which hosts live performances by established and up-and-coming songwriters.
Houston, Texas Price: $995,000
The listing for this Victorian four-plex in Houston Heights invites buyers to return it "back to its splendor" as a single-family residence.
The 3,997-square-foot property would make for a pretty palatial home, as it holds seven bedrooms and seven bathrooms, plus a front porch and balconies on the second level.
That said, it's unclear how much "rehab" is required, as the seller hasn't offered any interior photos and the home will only be shown for inspection once you make an "acceptable" offer.
While you might expect more than a chunky fixer-upper for $1 million, Houston's home prices have been rising over the past year, even through a disastrous winter storm and a recent rise in mortgage rates. The Houston Association of Realtors now says it's concerned about a potential shortage of homes on the market.
Salt Lake City, Utah Price: $1,050,000
This ultra-contemporary, boxy home in Holladay could be a fantastic senior's retreat. It's a three-story home but it has ramps throughout and an in-home elevator, giving anyone access to the stunning mountain and valley views on the top floor.
Alternatively, if you're still in your physical prime, the home is conveniently located near the Mount Olympus trailhead, the Heughs Canyon Trail and Utah's premier ski resorts.
The property fits four bedrooms and three-and-a-half baths, and its abundance of windows allows for lots of natural light to pour indoors. The home is listed at 5,388 square feet, though buyers are encouraged to obtain an independent measurement.
Burlington, Vermont Price: $935,000
According to the listing, this charming Dutch Colonial Revival home was built in 1935 by Frank C. Dorn, the original owner of the nearby Soda Plant — an old bottling facility turned small business incubator.
The 2,056-square-foot corner-lot property includes three bedrooms, one-and-a-half baths and several other light-filled living spaces popping with dramatic accents, like dark ebony floors and a blue, pink and teal kitchen. The listing says the lot holds plenty of potential for expansions or additions, when you can afford it.
The South End neighborhood off Lake Champlain is known for the Burlington Country Club as well as a plethora of restaurants, breweries, art studios and performance centers.
Virginia Beach, Virginia Price: $1,038,500
This exquisite builder's residence by the Lynnhaven River provides privacy, plenty of space and serene waterfront views.
The 5,400-square-foot home features six bedrooms, three bathrooms and two half-baths and a lanai — a patio with a roof and one open side — with a private hot tub in the back. The property is also located in the coveted Kingston Elementary district.
If you're not from the area, bear in mind that hurricane season in Virginia Beach lasts from June through November and can bring strong winds and flooding. Virginia is one of the states where home insurance is rising the fastest, with average premiums of $1,341 per year, according to the personal finance data site ValuePenguin.
Seattle, Washington Price: $1,050,000
Seattle is known for its coffee, beautiful scenery, great jobs — and incredibly expensive homes. It's also billionaire Microsoft cofounder Bill Gates's hometown.
This 1,279-square-foot, two-bed, two-bath condo is worth a lot more than you'd pay for a massive two-story home in other parts of the state. But if you don't need the space, downtown Seattle is just a 20-minute walk away, and Myrtle Edwards Park along Elliot Bay is fairly close by as well.
You'll also get access to multiple building amenities, including a fitness center and private, outdoor patio, not to mention all the trendy shops and eateries that Belltown has to offer.
Charleston, West Virginia Price: $924,999
This elegant hilltop home sits on nearly 10 acres of land, and the stone facade is a perfect match for its neighborhood of Quarry Creek.
The 7,900-square-foot estate boasts six bedrooms, five-and-a-half baths, a huge balcony off the second level and an expansive backyard with gorgeous mountain views. Compared to many other homes on this list, it's a steal at just $117 per square foot.
The home's a bit tucked away from the rest of the city, but there's a general hospital nearby and it won't take too long to get to the Charleston Town Center shopping mall.
Milwaukee, Wisconsin Price: $999,000
The listing says this 1904 Victorian/Federal home has a "commanding presence," and that certainly seems to be true. The 6,564-square-foot property has rich wood frames and pedestals throughout and even a few stained glass accents in the sunroom.
A $1 million budget here buys five bedrooms, three-and-a-half baths, an updated kitchen with its own fireplace, enclosed front and rear porches, plus a game room and a theater on the third floor. You'll also gain a two-bed, one-bath carriage house to make some easy rental income on the side.
Within walking distance, you'll find both Bradford Beach and Lake Park, which hosts several trails, a golf course and the charming North Point Lighthouse.
Cheyenne, Wyoming Price: $1,050,000
This North Star Ranch home is rather secluded from the rest of the city — the nearest grocery store is five miles away — but it's perfect for someone looking to get away from it all while refusing to compromise on comfort.
The 5,830-square-foot property features five bedrooms, each with its own private bath, plus one-and-a-half baths to spare. There's also a four-car garage and finished basement with a great entertainment space and walk-out.
While Wyoming is the least populated U.S. state, tourists flock to its parks each year for a very good reason. The stunning Curt Gowdy State Park is just a half hour drive from this ranch property.
Sponsored
Follow These Steps if you Want to Retire Early
Secure your financial future with a tailored plan to maximize investments, navigate taxes, and retire comfortably.
Zoe Financial is an online platform that can match you with a network of vetted fiduciary advisors who are evaluated based on their credentials, education, experience, and pricing. The best part? - there is no fee to find an advisor.