Preparing to buy your first home
Buying a home is a big undertaking, but if you break it down into manageable steps, it won't seem as overwhelming.
Before you start cruising open houses and browsing real estate websites, however, you should prepare yourself and your finances for this big purchase.
Stop overpaying for home insurance
Home insurance is an essential expense – one that can often be pricey. You can lower your monthly recurring expenses by finding a more economical alternative for home insurance.
SmartFinancial can help you do just that. SmartFinancial's online marketplace of vetted home insurance providers allows you to quickly shop around for rates from the country's top insurance companies, and ensure you're paying the lowest price possible for your home insurance.
Explore better rates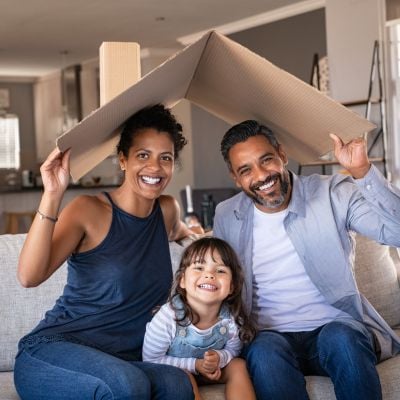 Start saving early
You already know buying a home is expensive, but even so, the actual numbers can be jarring.
How much money you need for a down payment depends on your loan type and the minimum your lender will require.
With a conventional loan, the minimum down payment is usually 5% of the purchase price — that means, if your home costs $400,000, you need at least $20,000 to get started. Some loans will allow you to put down as little as 3%, but that would still be $12,000.
After the down payment, closing costs will be your most expensive upfront obligation. Among those costs might be mortgage discount points, appraisal or inspection fees, title searches and insurance, as well as fees for deed-recording and credit reports, surveys and associated taxes.
Generally, these costs will add up to around 2% to 5% of your total loan. That can start to look like a second down payment.
Finally, you'll need to consider any moving expenses. That includes the logistics of moving your belongings, but you may also have to make some repairs or upgrades to the home and then decorate or furnish it after.
The earlier you start saving for these expenses, the better. And leave yourself some wiggle room: You should plan to have some money left over in an emergency fund should anything major pop up.
Determine how much home you can afford
Knowing what percentage of the home's purchase price you'll need upfront can also help you sort out how much home you can afford.
If the expenses on a $400,000 home are already going to be a stretch, you shouldn't start shopping for homes that cost much more than that.
This is important because mortgage lenders will sometimes offer a bigger loan than you should reasonably take on. It's important to know your comfort level rather than rely on the lender to inform your decision.
Take a deeper dive into your finances and put some thought into what exactly you need from your prospective new home.
You can estimate what your monthly mortgage payments will be by using a mortgage income calculator.
More: How much can I borrow for a mortgage?
Review your financial health
You might find it an uncomfortable experience, but consider taking a hard look at your finances.
Ask yourself a few questions: How much do you have in savings? How much debt do you have? Where is your money going every month? Are you able to take on additional or unexpected expenses?
Need cash? Tap into your home equity
As home prices have increased, the average homeowner is sitting on a record amount of home equity. Savvy homeowners are tapping into their equity to consolidate debt, pay for home improvements, or tackle unexpected expenses. Rocket Mortgage, the nation's largest mortgage lender, offers competitive rates and expert guidance.
Get Started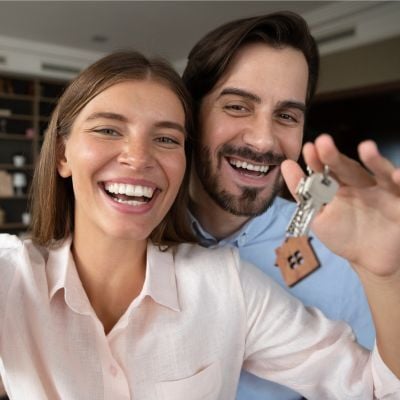 Consider the kind of home you need
Most homebuyers probably picture themselves in a single-family, detached house. But other types of housing might be a better option.
Keep in mind, real estate agents and banks are OK with you spending as much as you "can afford," but going for the biggest, best house you can qualify for may get you into serious trouble.
If you don't need a whole house or a yard, consider a condominium or townhouse. These options can be more affordable and can serve as great starter homes for first-time buyers.
If you're set on a single-family home but still dealing with sticker shock, consider a fixer-upper. Buying a home that needs some work can save you money upfront, but don't forget to factor in the cost, effort and time needed for renovations.
More: Townhouse vs. house: Which is better for you?
What features do you like?
If you decide to work with a real estate agent, this will be one of the first questions put to you. It's not a bad idea to come up with a list in advance.
If you work from home, you'll probably want a space that can serve as an office. If you're a home chef with Food Network aspirations, an up-to-date kitchen might make your list. Dog owners will typically look for a yard.
You may find it hard to find a home that meets all of your wants. When you draw up your list, consider indicating what is a "nice to have" and what's a "need to have," so if you need to narrow your focus, you've got a head start.
Check your credit score
Your credit score is an important factor in assessing your eligibility for a home loan. You won't find the same standards across all lenders, but the better your score, the more easily you'll qualify for a preapproval.
A better score will generally make the final underwriting process smoother too.
If you don't already know your credit score, you can get a free credit check. Knowing where you stand can help prevent any unfortunate surprises during the application process. If you improve your score, that opens you up to better loan options.
If your credit has been damaged, or you don't have enough history with credit to prove you're reliable, a credit repair loan is one way you can build a solid payment history and boost your score.
Get preapproved for a mortgage
Before you can start making offers on homes, you'll want to seek preapproval for a loan.
You can't earnestly start house hunting until you know how much you can pay.
Mortgage lenders will scrutinize your financial records and examine your debt-to-income ratio and credit score, then come up with a loan amount they believe you'll be able to pay back.
Don't worry, getting a preapproval doesn't lock you into that loan or that lender — and it will show sellers that your offer is serious.
How much can you afford month to month?
Paying back the money you borrowed isn't the only expense you'll have to manage every month as a homeowner. In addition to the principal, you will need to pay interest, taxes and insurance.
Property taxes in your area will generally cost about 1% of your home's value every year, though the amount varies by state. You'll also be expected to purchase homeowner's insurance, and, depending on how much cash you put down upfront, you might also be on the hook for mortgage insurance, which protects the lender in case you default.
Our mortgage income calculator can help you add it all up and determine your monthly housing bill.
Once you know the costs, make sure you'll have enough room left in your budget for other expenses, including groceries, entertainment, clothing and travel.
5 steps to buying your first house
Now that you've completed the prep work, you can proceed to the fun part: looking for a home.
1. Find a home
By now, you know what you want in a home and how much you can afford. You can bring in a real estate agent and start your search in earnest.
Don't feel pressured to go with the first agent you meet. If the connection isn't right or the person is not listening to what you want, then they won't get you the house you're looking for.
Read up as much as you can about homes in your local market. Learn about the different neighborhoods and their price points, crime rates, transportation links and nearby schools. Take advantage of free information on local real estate agents' blogs and local magazines.
Everything before this point has been about the theoretical search for a home, but now that you're putting the plans in motion, you may have to adapt your expectations based on what you find.
When you walk through an open house, it's easy to pick out what you hate. That wall color is awful. The kitchen cabinets are orange? The décor is just — I can't even.
But all of those things are easy to fix. Focus on the layout, structure, electrical system, plumbing and the roof. Cosmetic changes are cheap, so don't let a mint-colored toilet bowl derail your dream.
2. Check out first-time homebuyers programs
There are several first-time homebuyer programs available at both the federal and state level.
Government-backed loan programs, including FHA loans, USDA loans and VA loans, make homeownership more accessible by offering low- to no-down-payment options and more flexible credit score requirements.
Also, many states offer additional programs that give first-time homebuyers with lower incomes more favorable interest rates and down payment assistance. Even some local agencies offer down payment assistance programs.
Most of the state-level programs have limits on the home purchase price and the participant's income, so be sure you qualify for assistance before banking on it.
3. Make an offer
Working with your real estate agent, you'll come to an amount you're prepared to offer the seller. In your offer, you'll also list any conditions, or contingencies, you want to include.
Some common contingencies include financing (so you're not stuck if you can't get a loan) and a home inspection (to ensure the property is in good condition).
At this point, the seller can either accept or counter your offer. You may find yourself in a back-and-forth through the agents until you can come to an agreement. The seller may decide to go with another offer or simply reject yours.
You can walk away from the deal if the seller won't budge on the price or your contingencies.
If all goes smoothly and the seller accepts your offer, that will initiate the process of officially buying the home. You'll make a deposit to an escrow account, where the money will be held by a third party until the deal is finalized.
You'll have about 30 days during which the house will be taken off the market and you'll be under contract for the purchase, provided no major issues arise before the sale can close.
4. Get the home inspected
As a first-time buyer, you should arrange a home inspection before the sale is finalized. Even if you can't see a single thing wrong with the home, professional inspectors are trained to spot issues you probably would not think of.
Sellers are required to disclose serious defects with the home. If your inspection finds any major defects, you can either back out of the deal and seek the return of your deposit, or ask the seller to renegotiate the price.
Either way, it's important to know about any issues with the home before they officially become your problem.
5. Close on the home
If all goes well, you're now at the final stage of the homebuying process: closing.
This is when you'll go through the processes related to all those closing costs we mentioned.
Your lender will ask to have the home appraised, you will need to arrange a title search to ensure there's nothing to prevent ownership of the home from being transferred, and you'll have to apply for your mortgage and home insurance.
Then, you'll have a big pile of paperwork to sign. At the end, you're officially a homeowner and you'll have nothing more to worry bout.
More: How long does the closing process take?
Next steps for first-time homebuyers
Remember that homes need maintenance. At some point, you'll need to replace the windows, furnace or roof. Hopefully not at the same time, but who can say for sure?
Think back to that emergency fund we recommended that you establish. Keep contributing to it regularly.
While you're setting money aside, don't forget to put some savings toward your retirement. The housing market can be fickle, and you should never rely on your home as your sole financial cushion in retirement.
Remember that the path toward homeownership doesn't end when you buy a home. The more you think ahead, the more pleasant you'll find the journey.
Sponsored
Follow These Steps if you Want to Retire Early
Secure your financial future with a tailored plan to maximize investments, navigate taxes, and retire comfortably.
Zoe Financial is an online platform that can match you with a network of vetted fiduciary advisors who are evaluated based on their credentials, education, experience, and pricing. The best part? - there is no fee to find an advisor.