First-time homebuyer programs in South Carolina
SC Housing runs three programs that can apply to first-time homebuyers and sometimes move-up and repeat borrowers as well.
They work with conventional, FHA, VA and USDA loans — more on those later — and may come with forgivable down payment assistance, or DPA.
A mortgage tax credit program can provide qualified homebuyers with up to $2,000 a year, but isn't available for certain types of loans.
SC Housing Homebuyer Program
SC Housing offers 30-year mortgages with a fixed interest rate and DPA to help low- to moderate-income families and individuals.
The Homebuyer Program works a little differently depending on which county you're based in.
In "non-targeted" counties, you must either be a first-time homebuyer or not have owned a home in the last three years before the loan is closed. Single parents and disabled borrowers might be able to have this requirement waived.
In "targeted" counties, however, only first-time home buyers can apply.
Borrowers need a minimum credit score of 620 for FHA loans or 640 for conventional, VA and USDA loans.
SC Housing also offers down payment assistance with 0% interest and no monthly payments, but your term will differ based on your total household income. Borrowers with incomes at or below 80% of the area median income qualify for loan forgiveness after 10 years in the home. Those with incomes above 80% of the local median are eligible for 20-year terms.
The maximum home price is set to $230,000 for 10-year terms and $325,000 for 20-year terms, as of 2021.
To receive down payment help, you'll also need to complete a homebuyer training course, which will be set up by your mortgage lending partner.
Palmetto Home Advantage Program
First-time, move-up and repeat homebuyers are all eligible for this mortgage program, as long as they have a credit score of 640 or higher.
The Palmetto Home Advantage Program offers borrowers a market rate loan with down payment assistance of either 0%, 4% or 5% of the loan amount. The maximum income limit for government loans is $103,000.
For conventional loans, your income can't exceed 80% of the area median. If you need to pay mortgage insurance, you'll also receive reduced rates (18%).
County First Initiative
The County First Initiative provides extra help to homebuyers in underserved communities with poor economic conditions.
It applies to both first-time and move-up borrowers and includes up to $8,500 in forgivable down payment assistance and special fixed-rate financing.
Income and home price limits follow the same guidelines as the Homebuyer Program.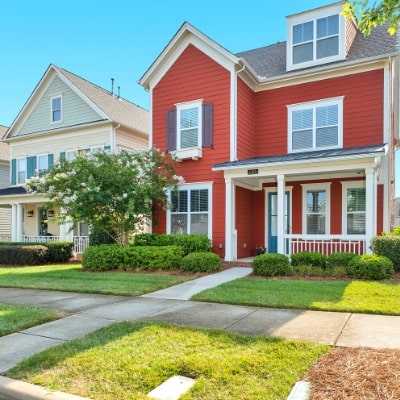 The right homeowners insurance policy protects you, your loved ones and your home.
Find the coverage you need at the most competitive rate in your area. Compare quotes from over 200 insurance companies with SmartFinancial.
Compare Now
Nationwide first-time homebuyer programs
For a "conventional" mortgage through the private market, lenders typically look for a credit score of about 620 and a down payment of at least 5% of the total home price.
And if you're not able to pull together a 20% down payment, be prepared to fork over extra for private mortgage insurance.
However, you shouldn't forget about nonconventional mortgages offered through the federal government — especially if you're a first-time homebuyer.
FHA loans
In 1934, the Federal Housing Administration introduced FHA loans to encourage more Americans to purchase homes. This occurred back when the majority of the country was made up of renters.
The terms for an FHA mortgage are a bit more relaxed, compared to what you'd require for a conventional mortgage. Lenders can grant loans to borrowers with credit scores as low as 580, but if you have enough money for a larger deposit, your score could be as low as 500.
You can even put a minimum down payment of just 3.5%, although this will mean contending with pricey mortgage insurance premiums — so it's better to put down at least 10% if you can.
VA loans
Toward the end of World War II, Congress passed an act to reward eligible veterans with more affordable home loans.
The U.S. Department of Veterans Affairs (VA) guarantees mortgages issued to active service members, veterans and some surviving military spouses. These loans don't require a down payment or mortgage insurance, but borrowers will have to pay a funding fee of between 1.4% and 3.6%.
USDA loans
The United States Department of Agriculture can guarantee loans for lower-income rural and suburban homeowners. Like VA loans, USDA loans don't require a down payment or private mortgage insurance.
You'll pay an upfront fee of 1% of the loan amount and an annual fee of 0.35%; however, these costs usually end up being cheaper in the long run compared to the mortgage insurance costs associated with other types of loans.
Not everyone's eligible for a USDA loan, however.
The current income threshold in most parts of the U.S. lies at $91,900 for one- to four-member households and $121,300 for five- to eight-member households, but these may be higher if you live in a county with a high cost of living.
You can check whether your household qualifies through the USDA's website.
Next steps
Now that you have all the information, it's time to take concrete steps to buy your first home.
First, take a look at your credit score. You can use Credit Sesame to get a free credit check and see whether your score needs to be improved to qualify for the loan you want. If it's too low, consider using a credit repair service like Self to boost it up.
Next, gather all of your important documents to show proof of funds and stable income. These will show lenders that you're a reliable borrower.
Finally, you can go ahead and get preapproved for a mortgage, check out your dream listings and become a first-time homeowner.
Sponsored
Get peace-of-mind on your home insurance
Homeowners insurance buys you peace of mind. But are you sure you're not paying too much for home insurance?
SmartFinancial compares quotes from over 200 insurance companies to check for discounts and help you find lower rates in your area.
Use SmartFinancial right now and stop overpaying for home insurance.