First-time homebuyer programs in Ohio in 2021
You won't receive your loan directly from OHFA. Instead, you'll work with one of the agency's participating lenders to secure either an FHA, VA, USDA or conventional loan at OHFA's rates.
Once you've qualified for an OHFA loan, you can also apply for one of the agency's support programs. Your lender will help walk you through the application process.
Ohio Mortgage Tax Credit
OHFA provides first-time homebuyers with a direct federal tax credit worth up to 40% of the annual mortgage interest they pay.
The size of your credit varies, based on where your home is and what type of mortgage you have. OHFA also offers two different streams: Basic and Plus.
The Mortgage Tax Credit Plus provides a credit for 40% of the interest paid, to a limit of $2,000. The Plus program is open to homebuyers who are also using a loan through OHFA's first-time homebuyer program. You may face a slightly higher interest rate than if you just use the loan program, but you're also entitled to down payment assistance of up to 2.5% of your home's purchase price.
If you go with a different loan program through your lender, you can still receive a Mortgage Tax Credit Basic. This entitles you to a 30% credit for your mortgage interest if you bought a bank-owned property, 25% if you purchased a home within a target area, and 20% for all other properties. With the Basic program, there are no credit score or homebuyer education requirements, but you'll have to meet the OHFA's other loan eligibility requirements.
More: Estimate house affordability with max mortgage calculator
The FHA's Loan Requirements Explained.
A walkthrough of how to meet the FHA's requirements.
See Guide
Your Choice! Down Payment Assistance
This down payment assistance program gives homebuyers the choice of a loan for either 2.5% or 5% of the home's purchase price, which they can use for their down payment, closing costs or other pre-closing expenses.
While it's a loan, it will be forgiven after seven years, unless you sell, refinance your home or move.
To qualify, you'll have to meet the income and purchase price limits assigned to your region, as well as the debt ratio and credit score requirements for your loan type.
Ohio Heroes
This program was created to help Ohio residents in public service jobs obtain mortgage loans with discounted interest rates.
It's open to:
Veterans, active duty military members or members of Reserve components.
First responders: police officers, firefighters, volunteer firefighters, EMTs and paramedics.
Medical health professionals.
Pre-K-12 teachers, administrators and counselors.
To qualify, you'll need to meet the income and purchase price limits for your region, as well the debt-to-income ratios and credit score limits associated with your loan type.
If you're not certain if you qualify, you can consult OHFA's complete list of eligibility requirements.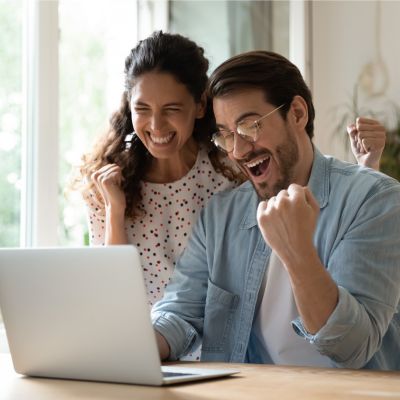 Compare current mortgage rates from top national lenders. Get the best rate for your purchase or mortgage refinance.
Compare Rates
Who qualifies for Ohio first-time homebuyer grants and other programs?
OHFA offers competitive loans at 30-year fixed rates for residents of Ohio with low to moderate incomes. To qualify, you'll need a credit score of 640 or higher for VA, USDA and conventional mortgage loans, and 650 or higher with an FHA mortgage.
For Ohio's first-time homebuyer programs, you'll also need to meet one of these eligibility requirements:
You haven't owned a home in the last three years.
You're an honorably discharged veteran.
You're buying a home in a target area.
For each of these programs, you'll also be required to take a homebuyer education course.
More: Get a free credit score and credit monitoring from Credit Sesame.
Nationwide first-time homebuyer programs
When assessing your application for a garden-variety "conventional" mortgage, lenders in the private market will usually expect to see a credit score of at least 620 and a down payment of at least 5% of the overall purchase price.
More: Use these savings accounts to build up your down payment.
If you're coming up a little short in either respect — as many first-time buyers do — you should look into one of the following nonconventional mortgages, which you can source through the federal government.
FHA loans
In 1934, the Federal Housing Administration created FHA loans to encourage Americans to buy homes. At the time, about 60% of Americans rented instead of buying.
FHA lenders will grant you a loan with a credit score as low as 580 and a minimum down payment of just 3.5%, making these loans accessible to more Americans. But depending on how much money you put down, you will face long-lasting fees to cover mortgage insurance. Try putting down 10% if you can, and 20% is even better.
The FHA's Loan Requirements Explained.
A walkthrough of how to meet the FHA's requirements.
See Guide
VA loans
VA loans were created toward the end of World War II to help veterans buy homes of their own. An act passed by Congress in 1944 made it possible for today's U.S. Department of Veterans Affairs (VA) to guarantee or insure home, farm and business loans made to veterans by lending institutions.
To qualify for one of these loans, you must be an active service member, veteran or a surviving military spouse. You won't have any down payment or mortgage insurance obligations, but you will have to pay a sizable funding fee.
USDA loans
USDA loans, which are guaranteed by the United States Department of Agriculture, also don't require down payments or mortgage insurance. These loans are targeted to lower-income rural and suburban Americans.
Borrowers will find they're charged an upfront 1% guarantee fee and an annual 0.35% fee. But if you do the math, the sum of those fees tends to be less in the long run than the mortgage insurance associated with other types of loans.
That said, you may make too much money to qualify for a USDA loan. The current income limits in most parts of the U.S. are $86,850 for one- to four-member households and $114,650 for five- to eight-member households, but the thresholds may be higher if you live in a county with a steeper-than-average cost of living.
You can find your region's limit on the USDA's website.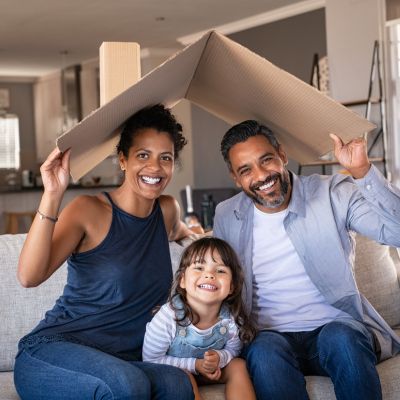 Home insurance is an essential expense – one that can often be pricey. You can lower your monthly recurring expenses by finding a more economical alternative for home insurance.
SmartFinancial can help you do just that. SmartFinancial's online marketplace of vetted lenders allows you to quickly shop around for rates from the country's top insurance companies, and ensure you're paying the lowest price possible for your home insurance.
Explore better rates
Next steps
Now that you know all your options, you may be asking yourself: "What next?"
A great first move would be to take a look at your credit score and see how you measure up to your ideal loan's requirements. You can get a free score through the site Credit Sesame.
Was your score disappointing? That's OK; you have plenty of options. An organization like Self credit repair can help you bring your score up.
When you're in good shape, don't forget to gather the important documents you'll need to prove you've got money in the bank and money flowing in.
Then you can finally think about getting pre-approved for a mortgage and start shopping for your new digs in Ohio.
Sponsored
Secure your retirement with a reverse mortgage
If you're low on cash savings and investments but have wealth in your home, a reverse mortgage is a great option for covering retirement expenses.
Mutual of Omaha is a trusted insurance provider that helps you make the most of your home equity.