Nationwide first-time homebuyer programs
Most homes are purchased using a "conventional" mortgage — those not offered or backed by the government.
Typically, you'll require a credit score of around 620 and a down payment of at least 5% of the total price of the property (though it can go as low as 3%). If your down payment is under 20%, you'll also have to pay extra for private mortgage insurance (PMI).
While this is the most common path to homeownership, the federal government offers several options that may be better suited for first-time homebuyers.
More: Get a free credit score and credit monitoring from Credit Sesame.
FHA loans
In 1934, the Federal Housing Administration (FHA) created a loan program to incentivise homeownership in the U.S. To date, more than 46 million mortgages have been provided through this program.
The requirements for an FHA loan are less strict than those of a conventional mortgage. The average credit score you'll need is just 580, and if you have a larger deposit, you could pass with a credit score as low as 500.
The minimum down payment is only 3.5%, but if you pay less than 10%, you'll suffer an additional mortgage insurance premium (MIA).
The FHA's Loan Requirements Explained.
A walkthrough of how to meet the FHA's requirements.
See Guide
VA loans
In 1944, Congress passed an act to reward active service members, veterans and surviving military spouses with guaranteed mortgages, making homeownership cheaper and more accessible.
The loans provided by the U.S. Department of Veterans Affairs (VA) don't require a down payment or mortgage insurance.
However, borrowers will have to pay a substantial funding fee to cover VA's expenses and keep the program going.
USDA loans
If you're planning to live in a rural or suburban area, the United States Department of Agriculture (USDA) may offer to back your home loan.
These loans don't require any down payment or private mortgage insurance but do have an upfront fee of 1% and an annual fee of 0.35%.
Even with these fees, USDA loans are generally more affordable than paying for mortgage insurance.
USDA loans are specifically geared toward low-income households. As such, there's a limit to the amount of money your household can make and still qualify.
The amount varies from county-to-county, depending on the cost of living. Generally, the threshold is $91,900 for one- to four-member households and $121,300 for five- to eight-member households.
You can find out more on the USDA website.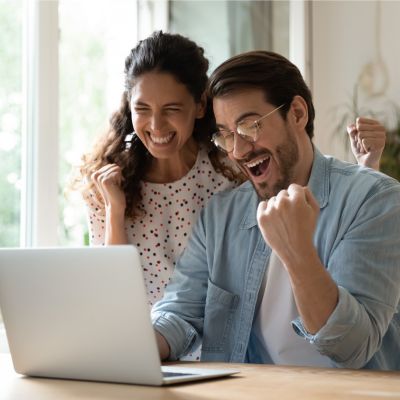 Compare current mortgage rates from top national lenders. Get the best rate for your purchase or mortgage refinance.
Compare Rates
First-time homebuyer programs in New Hampshire
Established in 1981, the New Hampshire Housing Finance Authority, also known as New Hampshire Housing, is the state's agency for affordable housing and down payment assistance programs.
So far, it's helped more than 50,000 low- to moderate-income families buy a place of their own and financed the creation of more than 15,000 multi-family housing units.
New Hampshire Housing Home Flex Plus program
The New Hampshire Housing Home Flex Plus program works with FHA, VA or USDA loans and provides down payment and closing cost assistance for up to 4% of your total mortgage.
That assistance comes in the form of a second mortgage that can be forgiven in full after four years. However, if you end up selling your home, refinance your first mortgage or file for bankruptcy during that time, you'll have to pay back the loan.
To be eligible for this program, you need a minimum credit score of 620, need to complete a homebuyer's education course — online or in person — and your income must fall under the limit of $137,400.
More: Determine monthly instalments with mortgage income calculator
New Hampshire Housing Home Preferred Plus program
Much like the previous program, New Hampshire Housing Home Preferred Plus provides you with a forgivable down payment and closing cost assistance of up to 4%.
The difference is that this program is paired with a conventional loan, offering up to 97% financing and discounted mortgage insurance.
The qualifications for this program are roughly the same. You need to hit a minimum credit score of 620 and complete a homebuyers education course. However, your income also needs to fall below 80% of the area's median, up to a maximum of $137,400.
New Hampshire Housing Purchase Rehab program
If you're buying a home that needs a little work, the New Hampshire Housing Purchase Rehab program can help you secure some extra funds to turn that drab domicile into a dream home.
This program allows you to add up to $35,000 to your mortgage to help cover upgrades and repairs. It can be used for cosmetic repairs, to boost energy efficiency or for safety upgrades. Unfortunately, the loan cannot be used for structural repairs.
You can combine this program with the Home Flex Plus program and put as little as 3.5% down toward the loan. Again, your income can't exceed $137,400.
Manufactured Housing Financing in ROCs
A Resident-Owned Community (ROC) is a cooperatively owned community of prefabricated homes that are owned by the residents who live there, as opposed to an outside landlord.
This program provides homebuyers and current homeowners in qualified New Hampshire ROCs with several affordable conventional financing options.
These include low fixed rates on mortgages, cheaper mortgage insurance and more refinancing options. There are currently 12 ROCs that qualify for this program. Check the New Hampshire Housing website to see the full list.
New Hampshire Housing Community Heroes Initiative
In response to the pandemic, New Hampshire Housing set up a fund to help essential workers afford a home. If you get a mortgage using Home Flex Plus, Home Preferred Plus or Home Preferred Plus ROCs, you can get $3,000 in closing credit.
The people who qualify for this initiative include health care, daycare and elder care workers, first responders, educators and members of the military.
This initiative is self-funded by New Hampshire Housing, so check in to make sure this fund hasn't run out.
Homebuyer Tax Credit
The Homebuyer Tax Credit can help decrease your federal income taxes through a mortgage credit certificate (MCC).
The annual credit goes up to $2,000 and can be used for the life of your mortgage, as long as the property remains your primary residence.
Household income and purchase price limits vary according to the county you're in and the size of your home.
Next Steps
Now that you're familiar with all your options, there are a few things you should do to make sure your first home purchase is a success.
Be sure to check your credit score with a free service like Credit Sesame and see whether your score needs to be improved to qualify for the loan you want. If it's too low, consider using a credit repair service like Self to boost it up.
Then collect all of your essential documents to show you have money in the bank and a steady income.
Finally, get a mortgage preapproval to pin down how much home you can afford and the interest rate you'll have to pay. With a preapproval in your pocket, you'll be ready to jump when you see a home you like.
The Best Lenders for First-Time Homebuyers
Click Here
Sponsored
Secure your retirement with a reverse mortgage
If you're low on cash savings and investments but have wealth in your home, a reverse mortgage is a great option for covering retirement expenses.
Mutual of Omaha is a trusted insurance provider that helps you make the most of your home equity.