First-time homebuyer programs in Iowa
If you think you qualify for assistance from the Iowa Finance Authority, you'll want to reach out to a preferred lender to get the process going.
These lenders will be able to confirm that you're eligible for these state programs. Provided you are, the lender will guide you through the mortgage application process through to the closing of your first home.
FirstHome Program
The FirstHome Program connects first-time homebuyers with affordable mortgages and approved local lenders. With FirstHome, interest rates are typically lower than market rates, and there are fewer fees.
To qualify for the FirstHome Program, the household income limit varies by county but ranges from $86,900 to $109,000. The home purchase price limit is generally $349,000 - but certain targeted areas may qualify for a home purchase up to $427,000.
FirstHome participants can also request a free Iowa Title Guaranty Owner's Certificate at the home's closing. This certificate ensures that if a title issue arises, the Iowa Title Guaranty will step in to assume attorney fees, costs and expenses associated with defending the title to your home. While title issues aren't common in Iowa, the certificate costs nothing and will protect you if something comes up.
Down payment assistance with FirstHome Program
IFA also offers down payment and closing cost assistance in conjunction with their FirstHome Program. Qualified applicants can apply for either a down payment assistance grant or a second loan.
With the grant option, homebuyers are entitled to $2,500 to help with your down payment and closing costs.
The second loan option would provide up to 5% of your home's purchase price or $5,000 (whichever is less). You won't face a monthly payment on your loan, but will be asked to pay it back when you sell the house, refinance or pay off your mortgage.
Homes for Iowans
The IFA also offers its Homes for Iowans loan program, which is open to both first-time and repeat homebuyers in Iowa. Similar to the FirstHome Program, the Homes for Iowans loans have fewer mortgage fees, and your interest rate isn't influenced by your credit score.
For this program, the household income limit is $152,500 and the purchase price limit is $427,000.
Borrowers using the Homes for Iowans program also are entitled to request a free Iowa Title Guaranty Owner's Certificate.
More: "How much home can you afford?
Down payment assistance with Homes for Iowans
You can combine a Homes for Iowans mortgage with a down payment assistance grant or loan. With the grant, you'll receive up to $2,500 to help with your down payment and closing costs. The loan, which you won't have to repay until you sell, refinance or pay off your first mortgage, will provide you with either $5,000 or 5% of your purchase price.
The Homes for Iowans down payment assistance can only be paired with the Homes for Iowans mortgage program — it won't work with the FirstHome program, and vice versa.
Military Homeownership Assistance Program
The state of Iowa offers a $5,000 grant program designed for military service members and veterans to cover down payment and closing costs on qualifying homes. The funds can be used in conjunction with either the FirstHome Program or Homes for Iowans, but the money is limited by funding availability.
Eligibility for the Military Homeownership Assistance Program
Meet the Iowa Finance Authority's military service history requirements.
Receive approval before closing on a qualified home.
Work with an IFA-approved lender.
Purchase a home that you plan to occupy as your primary residence within 60 days of closing.
Mortgage Credit Certificate Program
Iowa's Mortgage Credit Certificate (MCC) program allows homebuyers to save up to $2,000 every year on their federal taxes for the life of their mortgage loan. Every year, you're granted a direct credit on your federal taxes of 50% of the annual interest you pay on your mortgage.
Currently, the IFA website states that there is no funding available for new Mortgage Credit Certificates. For existing borrowers with an MCC, follow the site's re-issuance instructions.
More: Compare the best mortgage lenders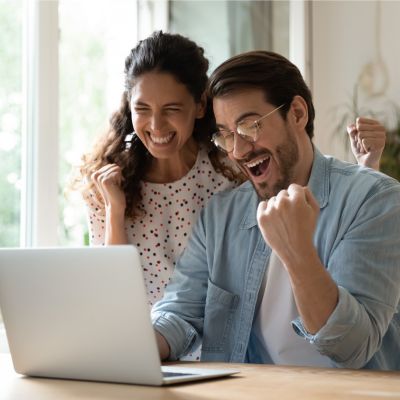 Compare current mortgage rates from top national lenders. Get the best rate for your purchase or mortgage refinance.
Compare Rates
Who qualifies for first-time homebuyer programs in Iowa?
The Iowa Finance Authority offers homebuyer programs targeted to lower-income households. The income limit to qualify for assistance varies by county and program, but the income ranges from $86,900 to $109,000.
There's also a home purchase price limit of $349,000, but can be as high as $427,000 in targeted areas. The IFA has an eligibility checker where you can confirm if you meet your region's specific limits.
Other requirements include:
You must be a first-time homebuyer, or not have owned property in the last three years. The only exceptions are for military members or veterans (not dishonorably discharged) who have not already used the IFA's programs, and for homebuyers in targeted areas.
You must plan to occupy the home as your primary residence within 60 days of closing.
You must have a credit score of at least 640.
Your debt-to-income (DTI) ratio must be no higher than 45%.
You must complete homebuyer education if seeking a conventional mortgage.
More: Get your free credit score from Credit Sesame
National first-time homebuyer programs
Getting a "conventional" mortgage through the private market can be tough.
You'll often need a credit score of about 620 and a down payment of at least 5% to qualify. Plus, if you don't put down at least 20% of the purchase price, you'll have to pay extra each month for mortgage insurance.
That's why many first-timer buyers will prefer to use one of these government-run, nonconventional mortgage options.
FHA loans
In 1934, the government introduced Federal Housing Administration (FHA) loans to encourage homeownership across the country. At the time, only about 40% of American households owned their homes. Since its creation, the FHA has insured more than 46 million mortgages.
FHA loans are easier to obtain than conventional mortgages. The minimum credit score is typically 580, but if you provide a larger down payment, you could qualify with a score as low as 500.
The minimum down payment with an FHA loan is 3.5%, though if you put down less than 10%, you'll have to pay a mortgage insurance premium. That can quickly add to the overall cost of your monthly payments.
More: FHA loan requirements
VA loans
These loans were introduced by Congress in 1944 as part of a law that boosted benefits for veterans. The law allows today's U.S. Department of Veterans Affairs (VA) to guarantee or insure home, farm and business loans made to veterans by lending institutions.
VA loans are available to active service members, veterans and some surviving military spouses. While the loans don't require down payments or mortgage insurance, borrowers are required to pay a considerable "funding fee".
USDA loans
USDA loans also require no down payment and no private mortgage insurance. Guaranteed by the United States Department of Agriculture, they help lower-income rural and suburban Americans become homeowners.
These loans do require you to pay an upfront 1% guarantee fee and an annual 0.35% fee. But when compared to the amount you'll pay in mortgage insurance with other types of loans, you'll probably still come out ahead with the USDA's program.
That said, you may simply make too much money to qualify for a USDA loan. The current income limits in most parts of the U.S. are $86,850 for one- to four-member households and $114,650 for five- to eight-member households, though the limits may be higher if you live in a county with an above-average cost of living. The USDA's website can show you the limits in your area.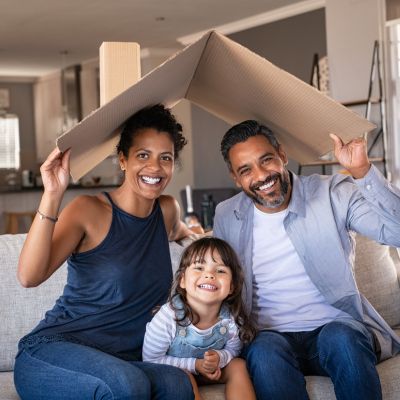 Home insurance is an essential expense – one that can often be pricey. You can lower your monthly recurring expenses by finding a more economical alternative for home insurance.
SmartFinancial can help you do just that. SmartFinancial's online marketplace of vetted lenders allows you to quickly shop around for rates from the country's top insurance companies, and ensure you're paying the lowest price possible for your home insurance.
Explore better rates
Next steps to homeownership in Iowa
Deciding to buy a home is a big decision. A great next move is to check your credit score and see how you measure up to your ideal loan's requirements. You can get a free score through the site Credit Sesame.
Is your score disappointing? That's OK — you have plenty of options. An organization like Self can help you boost your score.
Once you're in good shape, don't forget to gather the important documents you'll need to prove you've got money in the bank and cash coming in.
Then you can finally think about getting pre-approved for a mortgage and start shopping for your new digs.
Sponsored
Secure your retirement with a reverse mortgage
If you're low on cash savings and investments but have wealth in your home, a reverse mortgage is a great option for covering retirement expenses.
Mutual of Omaha is a trusted insurance provider that helps you make the most of your home equity.