Falling rates seem to spark a borrowing comeback Demand for mortgages has been fluctuating but may be showing early signs of a turnaround.
Though mortgage applications declined during the first full week of April, "most of the pullback [came] earlier in the week when rates were higher," says Joel Kan, chief forecaster for the Mortgage Bankers Association.
The MBA says the average rate for a 30-year fixed-rate mortgage fell to 3.27%, the lowest since mid-March. More recent data from mortgage giant Freddie Mac shows 30-year rates have taken a dive to an average 3.04% — a six-week low.
The MBA's most current numbers are from the week ending April 9, when overall mortgage applications fell 3.7%, driven by lower refinance applications. Refi requests fell 5% for the week and were 31% lower than during the same week last year.
But applications for loans to purchase houses slipped by just by 1%, and were up 51% from the same week a year ago, when the pandemic shut down open houses and mortgage offices.
Buyers feel like "they're getting very close to free money. Our market is still white hot," says Burr.
Mortgage rates remain low by historical standards and that's played a big role in keeping real estate agents and mortgage brokers busy.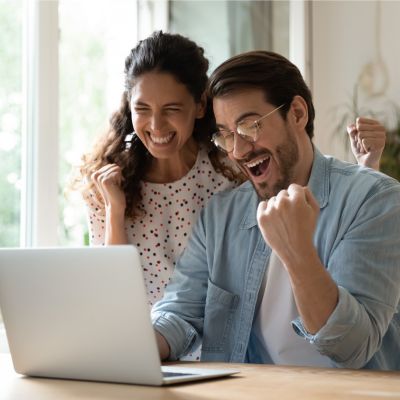 Compare current mortgage rates from top national lenders. Get the best rate for your purchase or mortgage refinance.
Compare Rates
How to find a lower mortgage rate Rising COVID-19 cases and a vaccine setback conspired to push rates down, following weeks of steady increases, says Matthew Speakman, an economist with Zillow.
But don't assume the lower mortgage rates are going to stick around.
"The outlook for rates is likely still upward, barring any additional setbacks for the nation's recovery from the pandemic," Speakman says.
If you've been thinking about refinancing your mortgage, to cut your interest rate and monthly payment, this could be a good time to make a move.
Black Knight, a mortgage data and technology provider, estimated on Monday that 13 million homeowners could still save an average of $283 a month by refinancing their loans.
If you go the refi route, don't settle for the first mortgage rate offered to you. Be sure to check rates from multiple lenders to find the best deal in your area.
Another way to save on your housing expenses is by shopping around for homeowners insurance. When you buy or renew a policy, compare rate quotes from several insurers to find the lowest price on the coverage you need.
Sponsored
Secure your retirement with a reverse mortgage
If you're low on cash savings and investments but have wealth in your home, a reverse mortgage is a great option for covering retirement expenses.
Mutual of Omaha is a trusted insurance provider that helps you make the most of your home equity.