Mortgage debt among different generations
The Bank of America data obtained by Markets Insider shows that millennials have experienced a near 20% increase in mortgage debt since the fourth quarter of 2021 compared to Gen X, who saw a less-than 10% increase, and baby boomers who had a near-zero percent increase in the same time period.
One reason why mortgage rates have jumped significantly since the end of 2021 is inflation. The Federal Reserve has hiked interest rates 11 times since March 2022 to try and get the nation's rampant inflation under control.
This has made borrowing money exponentially more expensive, causing challenges for millennials and younger Americans who are trying to buy their first home.
In addition to painfully high interest rates, the average entry-level home hit a record price of $243,000 in June, up 2.1% from a year earlier and up more than 45% from before the pandemic, according to real estate brokerage Redfin. This means that a first-time homebuyer needs to earn an annual salary of around $64,500 — which is over $10,000 higher than the average wage of Americans aged 25-34 — and up 13% from $57,222 a year ago.
It's far from easy to get a foothold on the housing ladder today, but anything is possible with careful financial planning.
Stop overpaying for home insurance
Home insurance is an essential expense – one that can often be pricey. You can lower your monthly recurring expenses by finding a more economical alternative for home insurance.
SmartFinancial can help you do just that. SmartFinancial's online marketplace of vetted home insurance providers allows you to quickly shop around for rates from the country's top insurance companies, and ensure you're paying the lowest price possible for your home insurance.
Explore better rates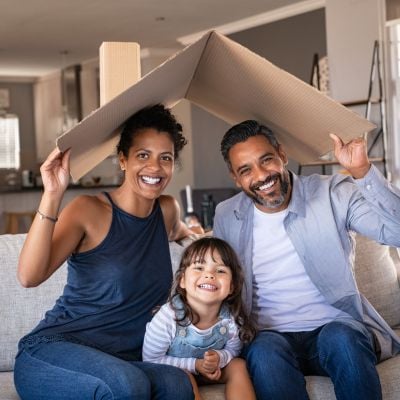 Are you bullish or bearish on the housing market?
If you're undeterred by the current housing market headwinds and are determined to buy a house right now, there are things you can do to reduce your expenses.
For instance, any effort you can make to boost your credit score should work in your favor. Banks and private lenders look at your credit score as an indicator of your overall financial health. The higher your credit score, the lower your interest rate should be — potentially translating into dramatic savings over the course of your mortgage term.
Paying down your credit card debt is one the best ways to improve your credit score. Once you've made progress on your debt, keeping your credit utilization at 30% or lower is often advised if you want to maintain a high credit score.
When facing mortgage rates of over 7%, it can really pay to shop around. Earlier this year, Freddie Mac said homebuyers can potentially save $600-$1,200 annually by applying for mortgages from multiple lenders — worthwhile savings in today's tricky economic climate.
The same can be said for essential expenses like insurance once you've bought your home. Don't just settle for the first home insurance quote you get. Do your research and try to find the best coverage and the best price for you.
If you're a little more bearish on the market conditions and buying a house today is not for you, there are other ways to invest in real estate.
You can use simple online platforms and investing apps that will enable you to invest in fractional shares of real estate without having to put down thousands of dollars.
Sponsored
Follow These Steps if you Want to Retire Early
Secure your financial future with a tailored plan to maximize investments, navigate taxes, and retire comfortably.
Zoe Financial is an online platform that can match you with a network of vetted fiduciary advisors who are evaluated based on their credentials, education, experience, and pricing. The best part? - there is no fee to find an advisor.