Mortgage rates this week
30-year fixed-rate mortgages
The average 30-year fixed-rate retreated further to 6.13%, Freddie Mac reported Thursday. Last week, the average rate was 6.15%.
This time a year ago, the average rate was 3.55%.
Although this week's mortgage data marks the third-straight weekly decline, some economists remain skeptical about rates falling below the 6% mark.
"Despite slowing inflation, the expected ongoing restrictive monetary policy may keep mortgage rates in the 6%-7% range in the short term," writes Realtor.com economist Jiayi Xu.
15-year fixed-rate mortgages
The average 15-year fixed rate moved down to 5.17%, compared to the previous week's rate of 5.28%.
This time last year, it was 2.80%.
"Mortgage rates may fall even further in the following weeks as investors expect the Federal Reserve to take a smaller rate hike in February thanks to easing inflation," says Nadia Evangelou, senior economist for the National Association of Realtors.
"In fact, this is the first time after nearly two years that the inflation rate is finally lower than it was the previous year," Evangelou says, noting the inflation rate was 6.5% at the end of 2022, compared to 7.0% in 2021.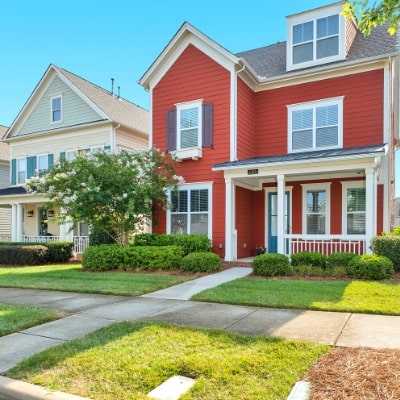 The right homeowners insurance policy protects you, your loved ones and your home.
Find the coverage you need at the most competitive rate in your area. Compare quotes from over 200 insurance companies with SmartFinancial.
Compare Now
Housing affordability still a hurdle
While new home sales in December ticked up 2.3% compared to November's revised figure, it certainly wasn't a reaction to falling prices. Indeed, the median sales price of a new home climbed 7.8% to $442,100.
"The emotional roller coaster ride home shopping can be has been amplified by the ups and downs in mortgage rates over the last year, which for the most part had involved more up than down," writes Danielle Hale, chief economist at Realtor.com.
"Whether shoppers are focused on the recent reprieve in costs or the run-up that still dominates the year-over-year trend is likely to affect how eagerly they approach the housing market in 2023."
Hale adds that while the recent data indicates some households may be getting back into the market, others "may still be thwarted by the run-up in costs compared to one year ago."
"Even though the pace of rent and price growth is slowing, finding a deal remains an elusive quest for consumers."
Mortgage applications jump up
Mortgage demand increased 7% from last week, according to the Mortgage Bankers Association (MBA).
Joel Kan, vice president and deputy chief economist at the MBA, called falling rates "good news for potential homebuyers looking ahead to the spring homebuying season."
"Homebuying activity remains tepid, but if rates continue to fall and home prices cool further, we expect to see potential buyers come back into the market. Many have been waiting for affordability challenges to subside," Kan says.
Refinance activity also increased by 15% this week, though that's still 77% behind last year's pace — providing "very little refinance incentive" for any borrower locked into lower rates, notes Kan.
Sponsored
Get peace-of-mind on your home insurance
Homeowners insurance buys you peace of mind. But are you sure you're not paying too much for home insurance?
SmartFinancial compares quotes from over 200 insurance companies to check for discounts and help you find lower rates in your area.
Use SmartFinancial right now and stop overpaying for home insurance.