Mortgage rates this week
30-year fixed-rate mortgages
The average 30-year fixed rate slid further to 6.42% this week, compared to last week's average of 6.60%.
A year ago at this time, a 30-year home loan averaged 4.42%.
"With rates below 6.5%, more Americans can purchase the median-price home by putting 18% down without being cost-burdened," says Nadia Evangelou, senior economist for the National Association of Realtors (NAR).
Evangelou anticipates the housing market to rebound even faster than expected if mortgage rates continue their decline this spring.
15-year fixed-rate mortgage rate trend
The average rate on a 15-year home loan tumbled from 5.90% to 5.68% this week. This time a year ago, the 15-year fixed-rate averaged 3.63%.
Hannah Jones, economic research analyst at Realtor.com, notes that despite the Fed's softened stance on additional rate hikes, the federal funds rate will still remain fairly high — "meaning that a higher interest rate environment is here to stay for the time being, including for home loans."
Jones says that while buyer demand is increasing due to slightly lower financing costs, many Americans are still grappling with affordability challenges.
"At the current price and mortgage rate level, the typical housing payment on a median-priced home is still 36.4% higher than one year ago."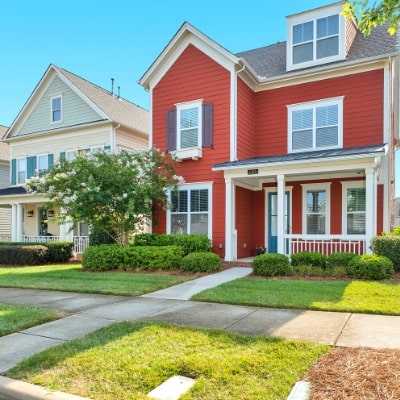 The right homeowners insurance policy protects you, your loved ones and your home.
Find the coverage you need at the most competitive rate in your area. Compare quotes from over 200 insurance companies with SmartFinancial.
Compare Now
U.S. home sales pick up in February
There was an unexpected uptick in new home sales in February, inching 1.1% from January to an annual pace of 640,000 new home sales, reports Realtor.com. This is still 19% lower compared to the housing market a year ago, but sales may continue to rise as mortgage rates fall.
"Higher mortgage rates are the new normal, which leaves home shoppers measuring their willingness to participate in the market with each change in rates," writes Jones.
She adds that sales activity is becoming increasingly concentrated toward new homes that haven't been started yet — making up about 23% of new home sales in February, compared to 17% in January — suggesting that "buyers are looking to lock in a good deal now, before construction has started."
Although lower mortgage rates signal increased affordability, the median new home sale price climbed to $438,200 last month — 2.5% higher than the same period last year.
"As long as the housing market remains undersupplied, buyer competition will put upward pressure on prices," explains Jones.
Mortgage applications continue to rise
Demand for mortgages rose 3% from last week, according to the Mortgage Bankers Association (MBA).
Homeowners have also been more encouraged to refinance — thanks to lower rates — with the refinance index climbing 5% since the week prior.
"Both purchase and refinance applications increased for the third week in a row as borrowers took the opportunity to act, even though overall application volume remains at relatively low levels," says Joel Kan, vice president and deputy chief economist at the MBA.
Kan notes that mortgage rates haven't plunged as drastically as Treasury rates due to increased volatility in the mortgage-backed securities market.
Sponsored
Get peace-of-mind on your home insurance
Homeowners insurance buys you peace of mind. But are you sure you're not paying too much for home insurance?
SmartFinancial compares quotes from over 200 insurance companies to check for discounts and help you find lower rates in your area.
Use SmartFinancial right now and stop overpaying for home insurance.