Mortgage rates this week
The average rate on a 30-year mortgage increased to 6.57% this week.
The average rate on a 15-year mortgage held steady at 5.97% this week.
30-year fixed-rate mortgages
The average 30-year fixed rate climbed to 6.57% this week, compared to last week's average of 6.39%.
A year ago at this time, America's most popular home loan averaged 5.10%.
"Dampened affordability remains an issue for interested homebuyers, and homeowners seem unwilling to lose their low rate and put their home on the market," says Sam Khater, chief economist at housing giant Freddie Mac.
"If this predicament continues to limit supply, it could open up an opportunity for builders to help address the country's housing shortage."
15-year fixed-rate mortgages
The average rate on a 15-year home loan also inched up from 5.75% to 5.97% this week. This time a year ago, the 15-year fixed-rate averaged 4.31%.
"Although buyers, sellers and builders are all more optimistic about the housing market, asking home price growth is easing, and the typical home sales price is slipping," writes Danielle Hale, chief economist at Realtor.com.
In April, the median new home sale price dropped 8.2% compared to the same month last year, falling to $420,800, according to a separate report from Realtor.com. That's the lowest figure since December 2021.
"These point to the nudge that buyers need to act on their improving outlook."
Hale also predicts the debt impasse will eventually come to an end: "Existing home sales will continue to muddle along, while the new homes market, which is relatively better supplied, will outperform."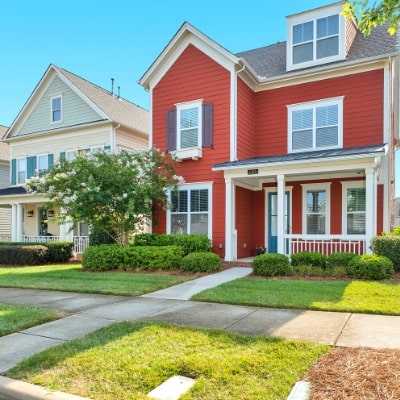 The right homeowners insurance policy protects you, your loved ones and your home.
Find the coverage you need at the most competitive rate in your area. Compare quotes from over 200 insurance companies with SmartFinancial.
Compare Now
Buyers resigned to higher rates
Bliss Ong, an agent with real estate brokerage Redfin who works primarily in Seattle, says while some buyers are completely priced out of the market, others are just pushing their price range down.
A mortgage rate in the current range "isn't scaring away buyers as much as it did back in the fall," says Ong.
"The housing market is different now because buyers are used to rates in the 6% range, and some of them are even motivated to secure a loan now in case rates rise further."
Heather Kruayai, another agent based in Jacksonville, Florida, indicates pricier homes in her area are actually the most popular.
She notes that buyers can cushion the impact of high rates by making big down payments or paying in cash.
"Other than cash buyers moving in from out of town, the only people buying and selling are the people who need to because they're retiring or going through another major life change."
Mortgage applications continue to decline
Demand for mortgages sank 4.6% from last week, according to the Mortgage Bankers Association (MBA).
Refinance activity also dropped by 5% — and was 44% lower than the same week a year ago.
"Since rates have been so volatile and for-sale inventory still scarce, we have yet to see sustained growth in purchase applications," says Joel Kan, vice president and deputy chief economist at the MBA.
"Investors remained attuned to the uncertainty around the U.S. debt ceiling and communication from several Federal Reserve officials last week, which sent Treasury yields higher, along with mortgage rates. Economic data released over the past week have also pointed to a still-resilient economy."
He adds there's been positive data on residential housing construction as well, which could help bring more inventory to the housing market.
Sponsored
Get peace-of-mind on your home insurance
Homeowners insurance buys you peace of mind. But are you sure you're not paying too much for home insurance?
SmartFinancial compares quotes from over 200 insurance companies to check for discounts and help you find lower rates in your area.
Use SmartFinancial right now and stop overpaying for home insurance.