Mortgage rates this week
30-year fixed-rate mortgages
The average 30-year fixed rate dipped to 6.09% this week, compared to last week's average of 6.13%. A year ago at this time, the rate averaged 3.55%.
America's most popular home loan is down nearly a full point from its November peak, says Sam Khater, Freddie Mac's chief economist.
"This one percentage point reduction in rates can allow as many as three million more mortgage-ready consumers to qualify and afford a $400,000 loan, which is the median home price," says Khater.
15-year fixed-rate mortgages
The average rate on a 15-year home loan also dropped from 5.17% to 5.14% this week. This time a year ago, the 15-year fixed-rate averaged 2.77%.
"With inflation pressures easing, mortgage originators have followed suit, lowering the cost of borrowing. At the same time, the Federal Reserve's monetary tightening is pushing short-term borrowing costs higher," writes George Ratiu, manager of economic research at Realtor.com.
"With the Fed's policy rate underpinning the prime rate, a host of credit products are seeing higher rates, including credit cards, auto loans and adjustable-rate mortgages. In effect, the Fed's actions are keeping a floor under mortgage rates for the short term."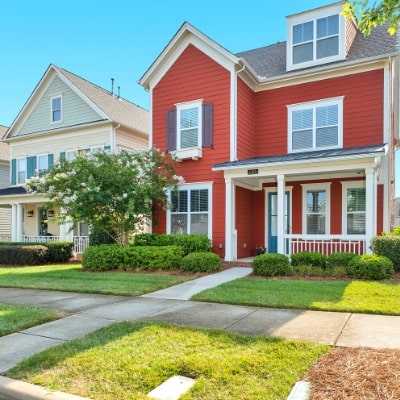 The right homeowners insurance policy protects you, your loved ones and your home.
Find the coverage you need at the most competitive rate in your area. Compare quotes from over 200 insurance companies with SmartFinancial.
Compare Now
Surprise job surge another factor to watch
The year 2023 started with an unexpected boom in the labor market — and as NAR's chief economist explains, home sales and job growth are related over the long term.
"That is why the South and the Rocky Mountain regions are seeing more robust home sales gains over the long haul due to faster job growth compared to the rest of the country," says Lawrence Yun.
The labor market remains resilient despite all the recent tech layoffs, according to the recent U.S. jobs report. The unemployment rate is down to 3.4%, with 517,000 jobs added in January.
Over the short term, however, Yun believes robust job data could raise the need for more aggressive monetary tightening, temporarily hiking mortgage rates once more.
"Still, rents are expected to calm down due to active apartment construction. That will help lower the broader consumer price inflation and halt Fed rate increases by summer. Mortgage rates can then go below 6%."
Mortgage applications decline despite lower rates
Demand for mortgages sank 9% from last week, according to the Mortgage Bankers Association (MBA).
Refinance activity also dropped by 7% — and is 80% lower than the same week a year ago.
"Overall application activity declined last week despite lower rates, which is an indication of the still volatile time of the year for housing activity," says Joel Kan, vice president and deputy chief economist at the MBA.
"Purchase activity is expected to pick up as the spring homebuying season gets underway, bolstered by lower rates and moderating home-price growth. Both trends will help some buyers regain purchasing power."
Sponsored
Get peace-of-mind on your home insurance
Homeowners insurance buys you peace of mind. But are you sure you're not paying too much for home insurance?
SmartFinancial compares quotes from over 200 insurance companies to check for discounts and help you find lower rates in your area.
Use SmartFinancial right now and stop overpaying for home insurance.