The details
Of course a 1% down payment loan sounds wonderful, but what's the catch? There are a number of caveats for who can even take advantage of these programs.
Both loans require you to have an income at or below 80% of the median income in your area. A minimum credit score of 620 is also necessary. ONE+ is also only available to homebuyers purchasing single-family units.
Now of course the benefits of the new loan to buyers are pretty obvious. If you're purchasing a $350,000 home through ONE+, for example, you don't have to pay $70,000 to meet the 20% threshold to eliminate the need for loan insurance. You don't even have to reach the $10,500 required for the 3% threshold. Instead, you would put down just $3,500. This could help a borrower improve their cash flow, preventing them from going under quickly.
Seeing mortgages with such low down payment requirements may remind market watchers of the 2008 crisis, where borrowers received loans they eventually were unable to pay. Poor underwriting practices were a big part of the problem, according to the International Monetary Fund.
Walters insists his company's requirement borrowers meet specific credit standards acts as a safeguard against the same pitfalls.
"We are not reducing the qualifications and putting people into loans they can't afford," Walters told MarketWatch.
"While a program like this isn't going to solve the supply problem in America, what it does is level up some of the folks who really are struggling in a market that's often competitive, and where prices have risen," he added.
More: Best mortgage lenders of 2023
Stop overpaying for home insurance
Home insurance is an essential expense – one that can often be pricey. You can lower your monthly recurring expenses by finding a more economical alternative for home insurance.
SmartFinancial can help you do just that. SmartFinancial's online marketplace of vetted home insurance providers allows you to quickly shop around for rates from the country's top insurance companies, and ensure you're paying the lowest price possible for your home insurance.
Explore better rates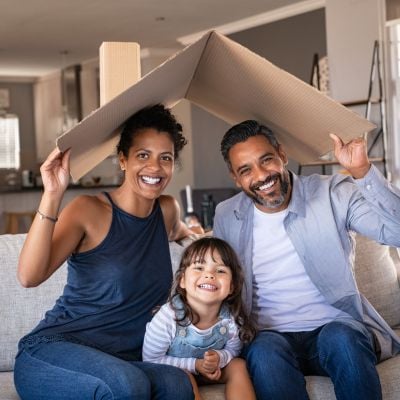 Interest rate
These mortgages may reduce upfront costs, but the question remains, how long would it take borrowers to pay back such a loan?
Sure, you've paid 1% down on a home, but mortgage interest rates remain high. The average 30-year fixed rate climbed to 6.57% this week.
It's clear what Rocket Mortgage and UWM are getting out of this scenario. Borrowers will be locked in at high rates. What's more, it will likely take longer for them to pay off these mortgages given the target consumers are low-to-moderate income earners.
Yet, if you're desperate for a home, these loans could still provide you with savings in terms of keeping cash in your pocket upon purchase. Furthermore, the 2% coverage provided is considered a "grant," so you don't have to pay that back.
At the end of the day, it's always a good idea to meet with your financial adviser before agreeing to anything, especially a mortgage that could see you owe your hard-earned income for decades.
Sponsored
Follow These Steps if you Want to Retire Early
Secure your financial future with a tailored plan to maximize investments, navigate taxes, and retire comfortably.
Zoe Financial is an online platform that can match you with a network of vetted fiduciary advisors who are evaluated based on their credentials, education, experience, and pricing. The best part? - there is no fee to find an advisor.