How to calculate your home equity
You can find how much equity you have by subtracting the total of what you currently owe from the home's appraised value.
What you owe includes the principal balance of your mortgage loan as well as any other loans that are secured by your home. In other words, if you have a home equity loan or HELOC, it needs to be included in the total.
For example, if your home is worth $400,000, and you still owe $200,000 on your first mortgage and you've withdrawn $20,000 from your HELOC, then your total home equity is $180,000 or 45%.
What's the formula for this? Take your total loan balance, divide it by your home's current appraised value and then multiply that by 100 to come up with your home equity percentage.
Here's what that looks like expressed as a formula:
(Mortgage balance + Other loans) / (Homes appraised value x 100 )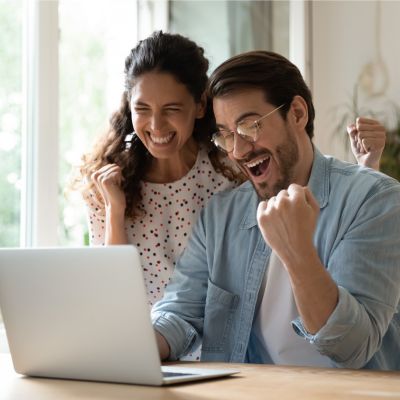 Compare current mortgage rates from top national lenders. Get the best rate for your purchase or mortgage refinance.
Compare Rates
How does home equity work?
Home equity is the difference between the current value of your home and what you still owe against it. It's typically expressed as a percentage.
The equity you've built can serve as a measurement of how much you have paid off the principal balance of your mortgage since you took out the loan. It can also be used to show how much the value of your home has increased since you bought it.
As a homeowner, you start contributing toward the equity in your home through your down payment. Whatever you put down at closing serves as a direct contribution toward your equity. So if you put down 10%, you'll start out with 10% equity.
After that initial payment, however, most homeowners find it takes a while to build up equity. That's because most of your first mortgage payments go toward paying off interest, not the mortgage balance.
But as you make monthly payments, your equity should gradually increase.
Using home equity to your benefit
Your equity doesn't just show you how much you've paid on your loan. It can also serve as a great emergency fund.
Once you've established a certain amount of equity, your mortgage lender will allow you to borrow against it, either through a home equity loan or home equity line of credit.
Establishing a certain amount of equity can also help you refinance your home loan.
What your equity does in both of these situations is show your mortgage lender that you're a responsible borrower. You've been chipping away at the balance consistently and you pose a low risk of defaulting if they decide to lend you more.
And if you're especially responsible, your lender could reward you with access to favorable loans or better interest rates.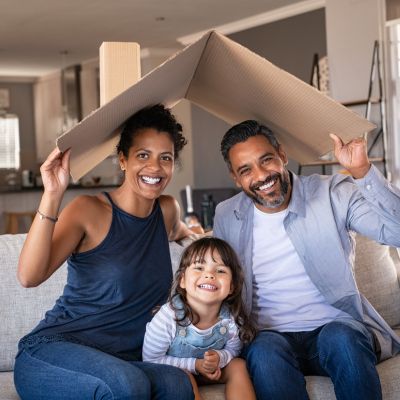 Home insurance is an essential expense – one that can often be pricey. You can lower your monthly recurring expenses by finding a more economical alternative for home insurance.
SmartFinancial can help you do just that. SmartFinancial's online marketplace of vetted lenders allows you to quickly shop around for rates from the country's top insurance companies, and ensure you're paying the lowest price possible for your home insurance.
Explore better rates
Home equity FAQ
What is a loan-to-value ratio?
You may have run across the term "LTV" when initially looking at mortgage loans. Your loan-to-value (LTV) ratio is just another way to express the amount of equity you have.
If we refer back to the example in which you have $180,000, or 45% equity in your home, your LTV would be 55%.
Once you have calculated your equity, your LTV is easy to figure out: Together, they equal 100% of your home's value. As you increase your equity, you equally reduce your LTV.
For mortgage lenders, a higher LTV ratio signals that a borrower is a higher risk.
How much can I borrow with a home equity loan?
Most lenders won't allow you to borrow the full amount of your home equity. In other words, they won't allow you to have an LTV ratio of 100%.
Instead, you'll typically be allowed to borrow 80% to 90% of your total equity. But that also depends on your level of risk as a borrower.
Your lender will factor in its own policies as well as your credit score and income when determining how much you're eligible to borrow.
Let's return once more to the example where you have $180,000 in equity in your home. That 80% to 90% rule means you can access at most $144,000 to $162,000.
Is there a catch to getting a home equity loan?
As they say, nothing comes for free.
While it's your equity, you still have to pay your mortgage lender to access it. Taking out a home equity loan will generally result in an origination fee and closing costs — just like when you took out your initial loan.
That's because this is a completely separate secondary loan.
This loan will also have its own interest rate. In fact, you'll likely face higher interest rates on your home equity loan or HELOC than with your first mortgage.
When you add up the fees and expenses, you may find you can borrow less money than you'd anticipated.
How do I get a better home equity loan rate or more money?
If your LTV is too high or your financial situation makes it difficult to qualify for favorable interest rates, you still have other options.
Here are ways to reduce your risk as a borrower:
Increase your home's value
Undertaking a few simple home improvements may be all it takes to increase the fair market value of your home, making it possible to access more of your equity.
A credit repair loan through Self Lender can help you build up a positive payment history quickly.
Reduce your DTI with debt consolidation
Your debt-to-income ratio may be holding you back. Managing your debt isn't as overwhelming or difficult as it may seem. And once your debt is under control, your borrowing possibilities will open right up.
2 alternatives to a home equity loan
Other than home equity loans or home equity lines of credit, homeowners have other ways to borrow money.
Cash-out refinance
This refinancing option allows you to access cash by taking out a larger loan than your original mortgage. But you're likely to get a higher interest rate and pay more in closing costs with a cash-out refinance than with a home equity loan, so proceed with caution.
Personal loan
A personal loan is an unsecured loan, meaning you won't be asked to provide an asset as collateral. As a result, you will generally face a higher interest rate than with home equity loans or HELOCs. But if you have an excellent credit score, it's a great option if you don't want to or can't mess with your LTV.
More: Compare personal loan rates from Credible
Sponsored
Secure your retirement with a reverse mortgage
If you're low on cash savings and investments but have wealth in your home, a reverse mortgage is a great option for covering retirement expenses.
Mutual of Omaha is a trusted insurance provider that helps you make the most of your home equity.