What is a home equity line of credit (HELOC)?
A home equity line of credit, or HELOC, is a revolving credit line that you can borrow from on demand.
A lender will approve you for a specific amount of money — determined by the value of your home and your credit score — for a specific amount of time. You may be able to borrow up to 85% of the value of your home.
During the initial "draw period," you can borrow money or pay off your balance whenever you want, and you'll only pay interest on the amount you're actually borrowing.
If you're still borrowing money at the end of the draw period, you enter the repayment period. You won't be able to borrow more money, and you'll begin paying down the amount you've used, plus interest.
Your lender will use a benchmark interest rate — such as the prime rate — to determine the interest rate of your HELOC. Because it's backed by your home, expect that rate to be a lot lower than other borrowing options, like credit cards.
Stop overpaying for home insurance
Home insurance is an essential expense – one that can often be pricey. You can lower your monthly recurring expenses by finding a more economical alternative for home insurance.
SmartFinancial can help you do just that. SmartFinancial's online marketplace of vetted home insurance providers allows you to quickly shop around for rates from the country's top insurance companies, and ensure you're paying the lowest price possible for your home insurance.
Explore better rates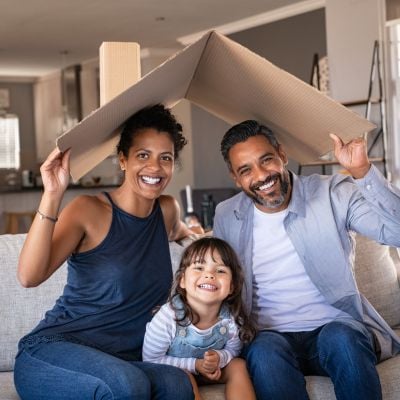 Is a HELOC right for you?
What's great about a HELOC is that you only borrow what you need, and you can do so at any point during the draw period. There's no obligation to use that money if you don't need it, but it can provide you with fast cash in a pinch.
Your interest payments may even be tax deductible depending on how you use the money. While lenders won't restrict your options, choosing to put your funds toward improving your home can get you some tax benefits.
Keep in mind, because a HELOC comes with a variable interest rate, your monthly payments might increase if the prime rate goes up. Since your property is used as collateral on the loan, you could put your home at risk if you can't keep up with the payments.
The cost of a HELOC depends largely on the lender. Some HELOCs come without fees or closing costs, while others may have high fees and a balloon payment toward the end.
The trick to finding the best deal is knowing where to look.
More: HELOC vs. home equity loan
Pros of a HELOC
You borrow only the cash you need. A HELOC allows you to withdraw the amount of money you need, when you need it. This is a good option if you aren't sure how much money you want to borrow upfront.
Some HELOCs come without fees. Some lenders waive closing costs and fees, though you might need to meet eligibility requirements.
Interest payments may be tax-deductible. You can deduct interest payments if you use the HELOC funds to make improvements to your home.
You can use the funds for anything. Lenders generally don't pose restrictions on how you use a HELOC, so you can pay off debts like a student loan, or use it to tackle a home improvement project.
Cons of a HELOC
Your house is collateral. You're putting your home at risk because the house secures the line of credit.
Payments are unpredictable. Because your interest rate is variable, it could increase anytime — and so will your payments.
HELOCs can be costly. Depending on the lender, borrowers may pay annual fees, transaction fees on each withdrawal and closing costs.
You'll need enough equity to qualify. The amount you can borrow depends on the amount of equity you have in your home.
You'll find yourself juggling two mortgage payments. If you're still raying your first mortgage down and then get a HELOC, you'll have two payments that will take up more of your disposable income.
Sponsored
Follow These Steps if you Want to Retire Early
Secure your financial future with a tailored plan to maximize investments, navigate taxes, and retire comfortably.
Zoe Financial is an online platform that can match you with a network of vetted fiduciary advisors who are evaluated based on their credentials, education, experience, and pricing. The best part? - there is no fee to find an advisor.