A lender can take other punitive measures, such as hiring debt collectors to persuade you to pay up, or reporting you as delinquent to the major credit bureaus.
While secured debt most often refers to mortgages and auto loans, unsecured debt covers a wide range of borrowing.
Types of unsecured debt Some of the most common types of unsecured debt include:
Credit card debt
Credit card debt is by far the most prevalent type of unsecured debt. The majority of credit cards have a revolving line of credit, and you accrue interest if you don't pay off your account in full each month but instead carry a balance.
The lender can't seize items you bought with your card, but failure to make your minimum monthly payment will trigger fees and higher interest rates and may lead to your card being frozen.
Student loans
Student loans fall into two categories: federal and private. Federal student loans are funded by the government, and private student loans are offered by banks and other private lenders.
Repayment of federal student loans is often deferred until after graduation so you will (hopefully) be able to use your education to land a good job and earn enough to cover the debt. But with private student loans, you may be required to make payments while you're still in school.
If you fail to pay back student loans, the lender is not going to confiscate your diploma, but you can expect nagging calls and emails asking about the status of your payment. And note that it's difficult to make student loan debt go away through bankruptcy. You have to prove the debt is an "undue hardship."
Medical bills
Medical bills are one type of unsecured debt that's generally out of the borrower's control; no one chooses to get sick or rack up enormous health care debt.
Medical debt is a huge financial burden in the U.S. A recent Gallup poll found that in 2018 Americans borrowed an estimated $88 billion to cover health care expenses.
Hospitals won't charge you interest on medical bills, and they can't very well take back the treatment you receive. Since medical bills are considered "nonpriority unsecured debt," it is possible to wipe them out by filing for bankruptcy if you're unable to make your payments.
Personal loans
Personal loans are installment loans issued by banks, credit unions and online lenders, and their terms usually depend on your credit history and income.
If you fail to repay a personal loan your account may go into default, which will negatively affect your credit rating and could lead to your wages or tax refund being garnished if your lender takes legal action against you.
More: Best personal loans
Telephone and utility bills
Telephone and utility bills are forms of unsecured debt that may have the easiest ways for creditors to force you to pay up.
Telephone and electric companies can't take away your assets if you don't make good on your bills — but they can cut off your service. For example, failing to pay your power bill could literally leave you in the dark.
Child support
Child support payments also qualify as unsecured debt. The terms of your child support are set by a court and are determined by your financial situation and the state you live in.
Unlike credit card debt or medical bills, child support payments are considered "priority unsecured debt," so even if you file for bankruptcy you will still be obligated to pay up.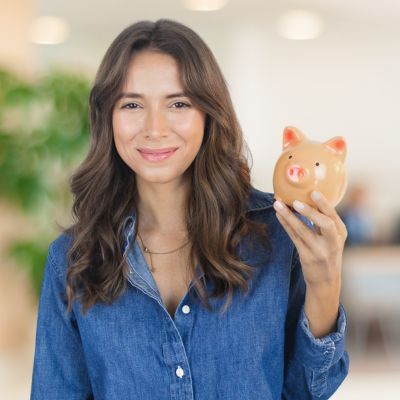 Don't let your money idle in low-interest accounts! Savvy savers are earning up to 10x more interest by keeping their hard-earned cash in a high-yield savings account. Find some of the best options here.
Get Started
Secured vs unsecured debt Although an unsecured loan might seem like the better way to go since you won't have to put your personal assets at risk, unsecured debt does come with a few disadvantages.
Since you aren't putting up any collateral that can be seized, an unsecured loan poses more risk for the lender than a secured loan — there's no guarantee you'll repay the debt, and there are fewer forms of recourse available for collection.
As a result, unsecured loans typically have stiffer interest rates than secured loans.
To put that into perspective, in November 2019 the average interest rate for a 30-year-fixed rate mortgage was around 3.7%, according to Freddie Mac. At that same time, the average interest rate for a credit card was 14.87%, the Federal Reserve says. That's quite a difference.
Another thing about unsecured loans is that they're less likely to be approved if your credit history isn't great. Before deciding to take on an unsecured debt, it's a good idea to get a free look at your credit score and make sure it's acceptable.
If it's not, don't panic — you can taken a few simple steps to get it back on track.
Can I pay off unsecured debt with a secured loan?
Lastly, if you're wondering whether you can pay off unsecured debt with a secured loan, like a home equity loan or line of credit, the short answer is yes — but it's not a good idea.
By tying your unsecured debt to a secured loan, you'll be giving your unsecured creditor recourse to seize your asset — in this case, your home — if you fall behind on your payments.
You have other, better options available, like selling some of your personal belongings or consolidating your debt. So think twice before you combine your unsecured debt with a secured loan.
Sponsored
Kiss Your Credit Card Debt Goodbye
Millions of Americans are struggling to crawl out of debt in the face of record-high interest rates. A personal loan offers lower interest rates and fixed payments, making it a smart choice to consolidate high-interest credit card debt. It helps save money, simplifies payments, and accelerates debt payoff. Credible is a free online service that shows you the best lending options to pay off your credit card debt fast — and save a ton in interest.