What caused the meltdown?
Smith and Cuscuna spent their entire life savings of $225,000 to open their first Ample Hills shop back in 2011. It was an instant success, thanks to its unique combination of flavors and quirky names — like It Came From Gowanus and Baby, I Was Churned This Way.
"[We were] trying to make something that was high-quality and that would speak to the 7-year-old inside of the 47-year-old," Smith told CNBC.
And it attracted the attention of celebrities (and ice cream aficionados) Oprah and Bob Iger — the Disney (NYSE:DIS) exec then proposed a partnership to create Star Wars ice cream flavors, with a storefront in Disney World.
Harvard economist Thomas Eisenmann and senior lecturer Lindsay N. Hyde, who conducted a case study on the popular ice cream parlor in 2022, point to this event as the catalyst for Smith and Cusuna's subsequent financial decisions that plunged Ample Hills into debt.
"It set them on a cycle of, for the first time, raising outside capital, borrowing money from a bank, but also taking equity from venture capitalists," Eisenmann said.
"And that's where the story becomes catch a tiger by the tail. They just can't keep up with it."
The couple believed they needed to build a factory to keep up with demand and raised $20 million over multiple rounds of venture capital funding and the addition of bank loans, backed by a personal guarantee.
But they struggled to find venture capitalists with industry knowledge, and their massive factory was beset with production issues. The couple overspent on custom rectangular pints and a Los Angeles storefront built inside a Craftsman-style bungalow.
"[They] didn't pay enough attention to financial discipline and keeping track of cash in and cash out, [which] can get an entrepreneur into trouble," Eisenmann told Harvard Business School.
The couple couldn't convince their investors to raise more funds, leaving them with no other choice than to file for bankruptcy and sell Ample Hills to an Oregon-based manufacturing company for $1 million.
Kiss Your Credit Card Debt Goodbye
Having a single loan to pay off makes it easier to manage your payments, and you can often get a better interest rate than what you might be paying on credit cards and car loans.
Fiona is an online marketplace offering personalized loan options based on your unique financial situation.
When you consolidate your debt with a personal loan, you can roll your payments into one monthly installment. Find a lower interest rate and pay down your debt faster today.
Get Started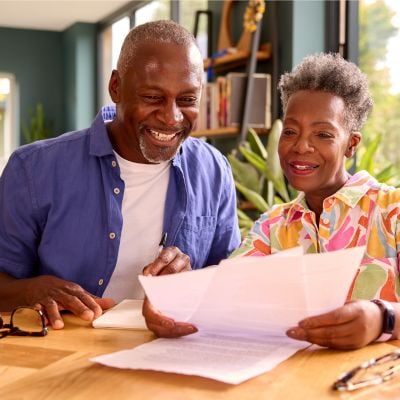 A sweet comeback
Unlike many entrepreneurs, the couple was able to bounce back after taking some time off to reflect on what went wrong.
Cuscuna took an online course for entrepreneurs looking to restart after a failed venture and was introduced to Norm Brodsky, a New York entrepreneur and business adviser. Brodsky ended up investing in the couple's new ice cream shop, The Social, which opened in 2021.
Smith and Cuscuna launched their new business with better record-keeping and budgeting and a few knowledgeable investors, while retaining many of their foundational ideals, like sticking to fresh, homemade ingredients.
They planned to scale up only if their first shop met performance targets and drew up a mission statement, which reads, "we are in constant pursuit of the Perfect Scoop, the Great American Scoop of Ice Cream."
And in 2022, the couple finally bought back Ample Hills for $150,000. The couple recently told CNBC their two businesses collectively brought in between $300,000 to $400,000 in revenue in July and each shop is profitable.
And they don't plan on repeating their past mistakes this time around.
"In terms of growth, I mean, we're going to approach it very slowly," Smith told CNBC. "The focus is really getting those systems down [and those] operations tight so that we can focus on the brand building again."
3 key lessons
Even if you're not planning on building your own business, there are some important lessons you can still learn from Smith and Cuscuna about successfully managing your own cash flow.
Stay on top of debts: Smith and Cuscuna ramped up their spending when they should've focused on breaking even. When you're splurging on nice things, make sure to also have a plan to pay down your debts before you dig a hole that's difficult to climb out of. The couple filed for personal bankruptcy — which can damage your credit score and make it harder to apply for personal loans, credit cards or a mortgage in the future.
Learn from your mistakes: Smith and Cuscuna are now rebuilding their brand after taking the time to reset and learn from what went wrong. Similarly, when you make a poor investment or another financial decision that nets you a big loss, try to reflect and apply your experience to avoid repeating history. If you're unsure of how to handle your current finances or what the best plan for your financial future is, consider speaking to a financial adviser who can help you evaluate your situation and get you on track for success.
Be savvy with your spending: The couple's "go-with-the-flow" attitude cost them their business, and they didn't even have the spare cash to save them from bankruptcy. It's important to be intentional with your spending, strictly stick to your budget, and build an emergency fund in case of any financial difficulties.
Sponsored
Follow These Steps if you Want to Retire Early
Secure your financial future with a tailored plan to maximize investments, navigate taxes, and retire comfortably.
Zoe Financial is an online platform that can match you with a network of vetted fiduciary advisors who are evaluated based on their credentials, education, experience, and pricing. The best part? - there is no fee to find an advisor.