Men are 'faking it' and women aren't taking an active role
Research shows financial decision-making remains fairly gendered in many heterosexual relationships — even when women are the primary breadwinners.
About 30% of the high-earning women in heterosexual relationships earn more income than their spouse or partner, according to a 2023 report from investment firm UBS. But only around half of these breadwinners decide how their earnings are spent or invested.
The survey revealed why this may be – just 53% of women primary earners think of themselves as highly knowledgeable about investing, compared with three-quarters of men primary earners. However, this doesn't mean women are less financially literate than men.
"Men are overconfident," said Sonia Kang, Canada Research Chair in Identity, Diversity and Inclusion and associate professor at the University of Toronto, to Moneywise. She explained that women tend to have a more realistic assessment of risk.
According to a 2021 Fidelity study, women investors actually outperform their male counterparts, opting for the buy-and-hold investing strategy instead of taking risks with frequent trading.
Orman during the interview with Wallace recounted stories of male clients who would pretend to understand when she would intentionally give them complicated financial strategies that didn't make any sense.
"It's very important when a man says to a woman, 'Oh, don't worry your pretty little head about it' — you better worry your pretty little head about it," she cautioned.
Here's what she wants women — and men — to do.
Kiss Your Credit Card Debt Goodbye
Having a single loan to pay off makes it easier to manage your payments, and you can often get a better interest rate than what you might be paying on credit cards and car loans.
Fiona is an online marketplace offering personalized loan options based on your unique financial situation.
When you consolidate your debt with a personal loan, you can roll your payments into one monthly installment. Find a lower interest rate and pay down your debt faster today.
Get Started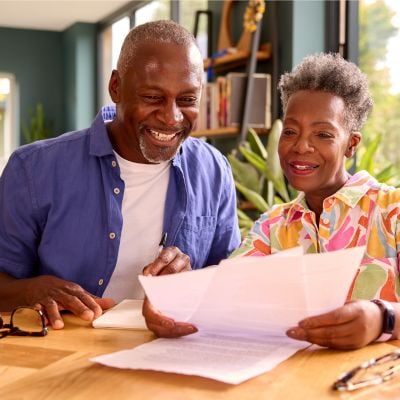 Be more financially prepared
Orman believes a whopping 95% of Americans are financially illiterate. When asked what financial illiteracy means to her, she provided several examples –
"I tell somebody to do a Roth IRA. They don't have a clue what I'm talking about. I ask somebody, what's in your retirement account? ... They don't have a clue. They don't have a will. They don't have a trust. They don't have a durable power of attorney for health care, or an advanced directive. They don't know what a 529 plan is. They don't understand."
The former financial adviser and bestselling author encourages women — and men — to take the proper steps to reach their financial goals.
If you want to start building savings and wealth to last you into your retirement years, the first thing you'll want to look at is picking the right investment vehicle.
For example, if your company offers a 401(k) plan, you can make contributions from your income before taxes are taken out and let your money grow tax-free until you make withdrawals in retirement. In some cases, your employer might even match your contributions.
If you don't have a retirement plan through your employer, Orman has recommended opening a Roth IRA, in which you pay taxes on your contributions upfront and enjoy your withdrawals tax-free in retirement.
She believes folks should invest at least 10% of their income for retirement, but 15% is the ideal goal.
If you have kids, it's a great idea to save for their education through a 529 plan as well, which you could use to fund the costs of sending them to a private school, or so that they can avoid taking on student loans once they go off to college.
And don't forget to financially prepare for what happens when you die or if you lose your decision-making faculties. This could include writing that will that you've been putting off for years, so you can divvy up your assets among your loved ones. It's also important to appoint a power of attorney to make important financial or health-related decisions on your behalf when you're not able.
Sponsored
Follow These Steps if you Want to Retire Early
Secure your financial future with a tailored plan to maximize investments, navigate taxes, and retire comfortably.
Zoe Financial is an online platform that can match you with a network of vetted fiduciary advisors who are evaluated based on their credentials, education, experience, and pricing. The best part? - there is no fee to find an advisor.