The food
A Disney travel specialist says that the food at the various parks can run you between $200 to $300 a day for a family of four. Between restaurants where you can lunch with Goofy or eat jacked-up fast food, this isn't such a wild number. But in three or four days, that translates into nearly $1,000 spent on food.
However, Disney parks aren't like movie theaters: you can bring your own food onto the grounds. Packing lunch and snacks for your family could save you hundreds of dollars.
Of course, there are the churros, funnel cakes and other sweet treats that are special to the theme parks. You don't want to deprive yourself and your kids of trying those delicious and unique foods.
Before you go to Disney, allot a specific amount of money toward in-park food. You'll not only protect your finances, but prevent your kids from sugar crashing throughout the day. A win for both your wallet and your mental health.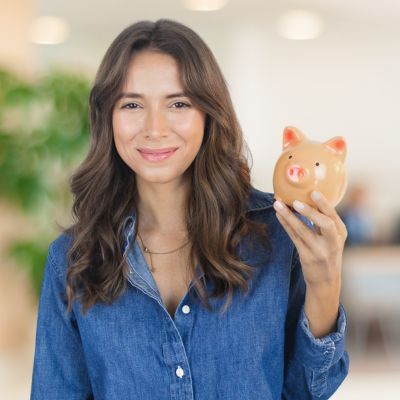 Don't let your money idle in low-interest accounts! Savvy savers are earning up to 10x more interest by keeping their hard-earned cash in a high-yield savings account. Find some of the best options here.
Get Started
Souvenirs
Disney has no shortage of stuffed animals, T-shirts and mouse ears for purchase. But do you really need to spend $69 on an adult costume of Bruno from "Encanto"?
For some people, absolutely. For others, absolutely not.
This presents an excellent opportunity to talk to your kids about your money values. You can explain to your children that you want to fully immerse yourself in your Disney experience and bring home meaningful mementos from your trip (which, fairly, could be that Bruno costume). You just don't want to borrow from their college fund to do so.
You can include your kids in the souvenir budgeting conversation. Go through the Disney merch website with them and show them the prices. Ask them what they think a good number is for an overall souvenir budget. If they suggest a number that's too high or too low, explain to them why.
You can also give each person a personal souvenir budget on the trip so that nobody goes overboard. It could even become a game for each person to find the best deals for their favorite souvenirs.
There are savings to be found
Though there are lots of Disney costs, there are also savings. You have to look at each individual park to see the various seasonal and location-based discounts, but you can find some good deals.
For instance, Walt Disney World in Orlando offers discounts for military personnel, Florida residents and Disney+ subscribers.
But if you ask Zelaya, there's just one way he'd suggest you save money on a family trip: "Don't go to Disney."
Sponsored
Kiss Your Credit Card Debt Goodbye
Millions of Americans are struggling to crawl out of debt in the face of record-high interest rates. A personal loan offers lower interest rates and fixed payments, making it a smart choice to consolidate high-interest credit card debt. It helps save money, simplifies payments, and accelerates debt payoff. Credible is a free online service that shows you the best lending options to pay off your credit card debt fast — and save a ton in interest.