Make good use of your spare change
With the rising cost of food, fuel and just about everything else, straining your finances, you can make better use of your digital dimes and nickels.
Acorns is an investing and savings app, which automatically rounds up the price of your everyday purchases to the nearest dollar and places the excess into a smart investment portfolio.
Let's say you purchase a doughnut for $2.30 with your credit or debit card. Before you're done licking the sugar off your fingers, Acorns will round the amount to $3.00 and invest the 70-cent difference for you.
Your spare change may not seem like much, but look at this math: $2.50 worth of daily round-ups add up to $900 per year — and that's before your savings earn money in the market.
Signing up for Acorns takes less than five minutes with this special link, and you can start saving automatically for as little $3 a month.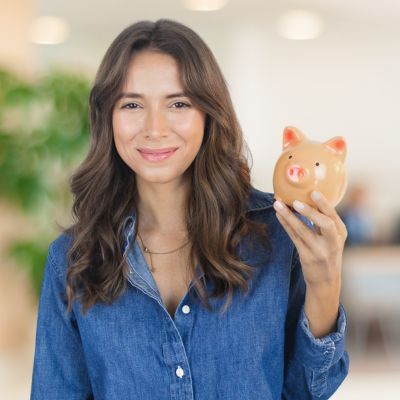 Don't let your money idle in low-interest accounts! Savvy savers are earning up to 10x more interest by keeping their hard-earned cash in a high-yield savings account. Find some of the best options here.
Get Started
Stop getting ripped off by your insurance provider
Insurance shouldn't really be a "set it and forget it" kind of thing. If you haven't shopped around in the last six months, there's a good chance you're overpaying for your home and car insurance.
While you're enjoying your morning coffee, check out SmartFinancial's quote comparison tool for home insurance on your phone — and you could save hundreds.
You just answer some quick questions about yourself and the type of insurance you want, and SmartFinancial will instantly sort through more than 200 insurers to find you the best deals available in your area. It's that easy.
Local homeowners in Washington state, for example, often save close to $1,000 or more per year by shopping around for their insurance — according to the nonprofit consumer group Puget Sound Consumers' Checkbook. While drivers who comparison shop can save an average $1,127 a year, a study by CarInsurance.com found.
Hedge against inflation with commercial real estate
Commercial real estate has always been reserved for a few elite investors — until now.
First National Realty Partners allows accredited investors to own a share of institutional-quality properties leased by national brands like Whole Foods, CVS, Kroger and Walmart.
You'll get a stable, positive cash flow and the firm handles the work for you. FNRP's team of experts vets every deal against a rigorous set of investment criteria and manages them in-house, so you don't have to worry.
FNRP's secure online platform makes investing in commercial real estate convenient and simple — you can get started in minutes.
Sponsored
Streamline your debt repayment
Having a single loan to pay off makes it easier to manage your payments, and you can often get a better interest rate than what you might be paying on credit cards and car loans.
Credible is an online marketplace offering personalized loan options based on your unique financial situation.
When you consolidate your debt with a personal loan through Credible, you can roll your payments into one monthly installment. Find a lower interest rate and pay down your debt faster with Credible today.