Track your spending
The first step to saving money this month is looking at how you spent it in previous months.
Many banks and credit card companies, including Wells Fargo and Bank of America, offer tracking tools that will show you a breakdown of your expenses.
If you have bank accounts and credit cards from multiple companies, then a service that aggregates everything is a better option. Popular free services include Mint, Personal Capital and Goodbudget.
There are paid options like You Need a Budget that have unique features — but if you're trying to save money fast, consider sticking to the free ones for now.
If most of your income and expenses are paid in cash, you may have to do things the old-fashioned way: with a notebook or spreadsheet. Try to sit down and write out what your actual bills are and then what you want your budget to be on discretionary expenses.
Some people who use cash — or need help with discipline — prefer to use the envelope method. You grab an envelope for every category of expense in your budget and stuff it with cash equal to the amount you want to spend. If you plan to spend $40 on clothes this month, then a pair of $20 bills goes into the "clothes" envelope. Once the money's gone, that's it.
More: How to save a million dollars for retirement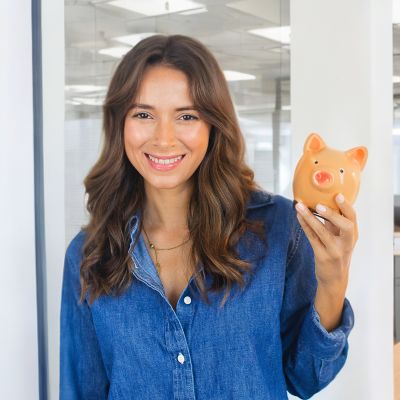 Cut your expenses
Now that you have a clear picture of your expenses, you may already see opportunities for cutting them. How ruthless you are will depend on how much money you need to save and how quickly you need it.
Discretionary expenses
Discretionary expenses are often the easiest to cut, but don't make yourself miserable unless you have to. The primary goal is to save money fast, but the secondary goal should be to build a sustainable savings habit so you never have to make sudden sacrifices in the future.
Prioritize a few little treats that bring you joy well worth their cost. If getting a $3 latte brings you far more joy than $3 spent elsewhere, get the latte.
But getting a coffee every day, plus a breakfast sandwich, plus lunch at work is $20 a day, $100 a week, $400 a month. Luxuries should feel like luxuries, and if you're enjoying several every day, you're not treating yourself — you just have expensive habits.
Consider taking cheaper alternatives to the treats you're giving yourself. If you order takeout because you hate cooking, consider buying nicer ready-made meals at the grocery store. Those can be pricey in their own right, but if it prevents you from ordering Chipotle off DoorDash and paying for delivery and tip, you're still saving.
Fixed expenses
Slimming down your fixed expenses may be easier than you think. It just takes some research and a willingness to shake things up.
For example, if you're using T-Mobile for your cell phone plan, consider switching to their cheaper counterpart Mint Mobile, which uses the same network.
In the same way, shop around for your car and home insurance and see if you can find similar coverage for a better price. Different companies use different formulas to set their rates.
Call your internet provider saying you're planning to switch and see if you can get a retention offer.
And if you're carrying a hefty balance on a credit card, consider signing up for a balance transfer card with a promotional 0% APR. You might pay a fee for the transfer, but you'll get a reprieve from interest for a while.
Just make sure you focus on paying it off as quickly as you can, so you don't end up in the same place at the end of the promotional APR period.
Increase your income
It's common to put all of your effort into lowering your expenses without ever considering the other half of the equation: bringing in more money.
With inflation rising, increasing your income may be necessary to get ahead.
Work overtime at your job, if it's an option. Try to negotiate for a raise — you can't expect to get one if you don't ask. And if that doesn't work, look into picking up a side-hustle that fits your schedule and your talents.
Sell extra items in your home on Facebook Marketplace or Ebay. If you're not using them, you're just sitting on excess money.
And you can take that logic one step further if you have a spare room in your home. Consider furnishing it and listing it on airbnb, renting it to a travel nurse or even getting a long-term roommate.
Sponsored
Streamline your debt repayment
Having a single loan to pay off makes it easier to manage your payments, and you can often get a better interest rate than what you might be paying on credit cards and car loans.
Credible is an online marketplace offering personalized loan options based on your unique financial situation.
When you consolidate your debt with a personal loan through Credible, you can roll your payments into one monthly installment. Find a lower interest rate and pay down your debt faster with Credible today.