Budgeting styles Various budgeting types suit different types of people. Pick the one you think sounds easiest to create and follow.
Envelope method
The envelope method is the simplest way to budget your money. Create an envelope for all of your expenses — one for your rent or mortgage, another for food, credit card payments, utilities, etc. Create envelopes for the money you want to save and the money you want to use for fun. When you get paid, divide your paycheck into each envelope and use only what each envelope is created for. When you run out of money, don't dip into another envelope.
The real cash approach was used by your grandparents or great-grandparents and seeing your cash come and go physically rather than electronically could help you curb your spending, but keeping your funds in cash can be more trouble than it's worth in this modern day. There are free budgeting apps that provide online envelope budgeting, such as mvelopes.
Divide and conquer method
A popular budget is the 50/30/20 method. The 50 represents half of your income, which you put into must-have living expenses such as your rent or mortgage, utility bills, and food. The 20 represents the percentage of your income that should be going into a savings or investment account. The 30 that is left over can be used on your discretionary spending, such as travel, entertainment, and dining out. Of course, instead of spending all 30%, increasing your savings to 30% and decreasing your discretionary spending to 20% is a better use of the 50/30/20 method.
The pay yourself first method
Similar to the 50/30/20 method, albeit a bit easier to follow, is the 80/20 budget. When you get paid, save 20% and then use the rest on your expenses and discretionary spending. You don't have to track your expenses with this budget but it will force you to save like you have been meaning to get around to.
The reverse budget method
But if you really want to save, you can do another version of the pay yourself first philosophy and set higher savings goals. In a reverse budget, instead of putting 80% into spending, you'll put as much money as you can into your savings and investing before you pay bills. This forces you to spend only a minimal amount.
The zero-based method
This is the type of budget most everyone images when they think of a budget. The zero-based budgeting method or ZBB requires you to record every penny you spend and, using your income, allocate each penny into its space (like an envelope, really) and zero out of money at the end of the month. Many budgeting apps can make this easier by syncing with your credit cards and bank account and automatically tracking spending and earning. Try apps like YNAB (You Need a Budget) and Mint.
More: Savings goal calculator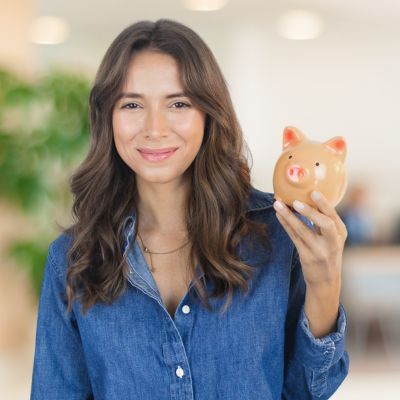 Don't let your money idle in low-interest accounts! Savvy savers are earning up to 10x more interest by keeping their hard-earned cash in a high-yield savings account. Find some of the best options here.
Get Started
Budgeting challenges Now to make it more fun, try following one of several challenges, for a week, a month, a quarter, a season, a year… you determine what you think you can handle and that which will inspire you.
Coffee or cigarette challenge
This one isn't foreign: Instead of contributing to your daily coffee run or buying a pack of smokes, try saving the money you would have spent instead.
Meal-planning challenge
Similarly, if you eat out every day for lunch or go out to eat every weekend, challenge yourself to make lunch and eat at home and save what you would have spent for the week instead. You'll be surprised how much you'll save.
Spare change challenge
Many banks and stores are asking you to round up your spending and put your spare change into an account or a charity. While it's great if you want to donate to charity, stick with the banks that automatically round up your expenses to the nearest dollar and put the funds into a high-yield savings account, such as Bank of America and Chime.
The no-spend challenge
As it sounds, this simple challenge calls for you to make a deal with yourself not to spend. Start with a day or a week — no purchases beyond living expenses. Period. All the money left over goes into savings. If you can handle it for a week, stretch it to two, and then keep on rolling.
The 52-week saving challenge
Talk about easy: Start a year-long savings plan with just $1. That is your first week's challenge. Double it your second week. Double it again your third week. Then keep doubling it as you move into a new week.
The 365-day savings challenge
Or you can try a daily challenge for a year, again with little funds need. Start by saving .05 the first day and then, like the 52-week challenge, double it each day. By the end of your year-long challenge, you'll have saved $3,339.
Related: Decade by Decade Retirement Plan: How Much You Should Be Saving at Your Age
Bottom line You don't need much money to begin saving. As you're told again and again how compound investing works, what makes a new savings plan a true success is watching your little seed money grow over 10, 20, 30, and 40 years. By the time you retire, your $1 here and .05 there will provide you a bigger payout than you could have ever imagined.
Sponsored
Kiss Your Credit Card Debt Goodbye
Millions of Americans are struggling to crawl out of debt in the face of record-high interest rates. A personal loan offers lower interest rates and fixed payments, making it a smart choice to consolidate high-interest credit card debt. It helps save money, simplifies payments, and accelerates debt payoff. Credible is a free online service that shows you the best lending options to pay off your credit card debt fast — and save a ton in interest.