The perils of IDR plans
That any portion of a decades-old loan could suddenly disappear is in itself a happy prospect, says Jade Warshaw, a debt-elimination specialist and contributor to The Ramsey Show.
"Finally, these folks are getting their money," Warshaw said on a recent episode of the popular show.
But Warshaw also said that current and future student-debt holders should think long and hard about the implications of dragging around student loan debt for two or more decades, all for the possibility of getting some forgiveness at the end.
After a pandemic-related pause of more than three years, federal student loan payments will resume this October, while interest on loans picks up again in September. However, borrowers will be given a 12-month on-ramp period, during which any missed payments won't be considered delinquent.
Knowing that your balance will one day be forgiven, it may seem tempting to sign up for one of four types of IDR plans currently available: Income-Based Repayment (IBR), Income-Contingent Repayment (ICR), Pay As You Earn (PAYE) or Saving on a Valuable Education (SAVE).
With SAVE loans, the newest iteration of IDR launched by the Biden administration on Aug. 22, unpaid interest doesn't accrue, and those with undergraduate loans will have monthly payments reduced from 10% to 5% of their discretionary income. Those who have undergraduate and graduate loans will pay a weighted average between 5% and 10% of their income based upon the original principal balances of their loans. And more.
But with any IDR plan, Warshaw said borrowers "kick that can down the road for 20, 25, 30 years," and at the end hope there'll be "a little bucket of gold at that rainbow."
But at what cost?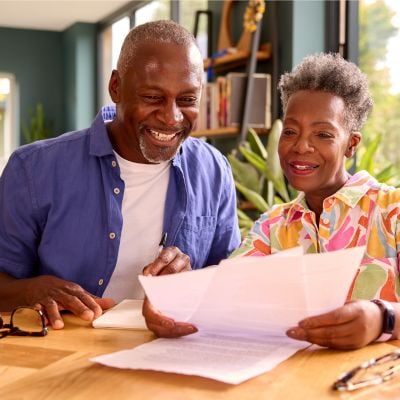 Having a single loan to pay off makes it easier to manage your payments, and you can often get a better interest rate than what you might be paying on credit cards and car loans.
Credible is an online marketplace offering personalized loan options based on your unique financial situation.
When you consolidate your debt with a personal loan through Credible, you can roll your payments into one monthly installment. Find a lower interest rate and pay down your debt faster with Credible today.
Find your rate
The mental health toll of dragging out debt payments
These days, there's a better understanding of the psychological and mental health aspects of owing people money.
"It messes up your sleep, it messes up your relationships," said Warshaw's co-host, Dr. John Delony, a mental health expert. The choice to prolong student loan payments over decades is a choice to be "miserable and not be fully present," he said, because you always have a black cloud of debt hanging over you.
It also discourages people from earning a better living, since taking in more money means potentially forfeiting eligibility for IDR.
All of this can trigger stress, anxiety and depression.
"Debt can make you feel anxious, especially if you don't have support from friends or family or from your creditors," according to the Mental Health Foundation.
"I know how it feels to not be able to sleep at night," Warshaw said. "I know how it feels to have that effect on your marriage, the way you work, all the decisions that you make are so that you can pay bills. That's a load of crap, that's for the birds."
The debt snowball approach
When you're struggling to make ends meet, an IDR plan may seem like the best option.
But if you're still paying off your student loan well into your 50s, you'll have paid thousands more in interest than if you'd made larger monthly payments over a shorter period of time.
The Ramsey Show staff touts a potential alternative for those on fixed incomes: the debt snowball method. The idea is you pay off your debts from smallest to largest, regardless of interest rate. You keep paying as much as possible on your smallest debt until it's paid off, while making minimum payments on your other debts. Like a snowball, once you get rolling, you gain momentum.
Warshaw pleaded with her audience not to rely on the government, which may or may not be willing to bail out debt holders, but to focus instead on being happy.
With that in mind, she says what will bring you peace and give you freedom is "you taking back your power, you taking back your autonomy, you being able to financially self-regulate on your own instead of depending on the government.
"I want you to be free, I know you can be free, I know you have the power inside yourself to be free," she said.
Sponsored
This Company Will Help Nearly Anyone Get Rid of Credit Card Debt
Do you feel like paying off your credit card is a constant grind, with no end in sight? You're not alone. A personal loan offers lower interest rates and fixed payments, making it a smart choice to consolidate high-interest credit card debt. It helps save money, simplifies payments, and accelerates debt payoff.
Credible is a free online service that shows you the best lending options to pay off your credit card debt fast — and save a ton in interest.