How to apply for forgiveness
The Department of Education says around 8 million borrowers may automatically qualify to receive relief without applying — unless they decide to opt out — since it already has their income data. However, it still encourages all eligible borrowers to file the application regardless.
The department had launched a beta test of the process on Oct. 14 in order to check for bugs and improve the site before it officially went live. Borrowers were able to fill out and submit their applications — although they were told the forms wouldn't be processed until the site formally launched.
"As millions of people fill out the application, we're going to make sure the system continues to work as smoothly as possible so that we can deliver student loan relief for millions of Americans as quickly and as efficiently as possible," Biden said on Monday.
Anyone who filled out their form during the beta testing won't have to apply again as long as they received their confirmation email. But keep in mind that according to a court filing by the administration earlier this month, the department will not be canceling any student debt before Oct. 23.
The form itself takes less than five minutes to fill out and is available in both English and Spanish. You'll enter your name, Social Security number, date of birth, phone number and email. You'll also have to confirm you meet the income eligibility. And if the Department of Education doesn't already have your details, you may be asked to provide proof of income by March 31, 2024.
Once you've applied, the department says most borrowers can expect to receive forgiveness within four to six weeks.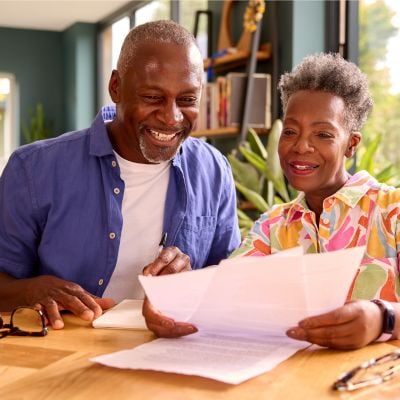 Having a single loan to pay off makes it easier to manage your payments, and you can often get a better interest rate than what you might be paying on credit cards and car loans.
Credible is an online marketplace offering personalized loan options based on your unique financial situation.
When you consolidate your debt with a personal loan through Credible, you can roll your payments into one monthly installment. Find a lower interest rate and pay down your debt faster with Credible today.
Find your rate
Who's eligible?
You'll need to meet certain income requirements to qualify for relief.
Borrowers who earned less than $125,000 in either 2020 or 2021 (and households who made less than $250,000 in either of those years) could get up to $10,000 of their federal student loan debt forgiven.
Pell Grant recipients — who are considered to have "exceptional financial need" — may receive up to $20,000 in debt relief.
Private or non-federal loans are not eligible for this plan, although if you consolidated your Federal Family Education Loans (FFEL) or Perkins loans into Direct Loans prior to Sept. 29 of this year, they will qualify for debt relief.
And note that if your balance is less than the maximum relief being offered, the amount you receive will be capped at your outstanding eligible debt.
Watch out for scams
The Biden administration is reportedly cracking down on student loan scams and recently released a "Do's and Dont's" page for borrowers to protect themselves.
In a press release earlier this month, the White House announced that the FTC reached almost $30 million in settlements that "included refunds for tens of thousands of student borrowers who were illegally charged up front fees and falsely promised reduced or eliminated student loan payments."
The Department of Education notes that borrowers should work directly with it and its loan servicers — and to be wary of companies that contact you to get your loan discharged in exchange for a fee.
You can report scam attempts to the Federal Trade Commission by calling 1-877-382-4357 or submitting an online form at reportfraud.ftc.gov.
Sponsored
This Company Will Help Nearly Anyone Get Rid of Credit Card Debt
Do you feel like paying off your credit card is a constant grind, with no end in sight? You're not alone. A personal loan offers lower interest rates and fixed payments, making it a smart choice to consolidate high-interest credit card debt. It helps save money, simplifies payments, and accelerates debt payoff.
Credible is a free online service that shows you the best lending options to pay off your credit card debt fast — and save a ton in interest.