Loan forgiveness — for some
First off, as with so many things in life and finance, timing is everything. With the student loan forgiveness program, if you made or are making payments on eligible loans when the government paused payment requirements and interest accrual (between March 13, 2020 and Dec. 31, 2022) then you fall within the window and qualify for forgiveness.
But debt cancellation is only available for public loans, meaning loans held by the U.S. Department of Education.
To qualify for forgiveness, you'll have to have made payments during the freeze period and have an eligible public loan.
Per the Federal Student Aid site, certain qualifying loans include:
Direct loans
Federal Family Education Loan (FFEL) Program loans held by the U.S. Department of Education (defaulted and non-defaulted)
Government-held Federal Perkins loans
Government-held Federal Family Education Loan Program loans
Some defaulted loans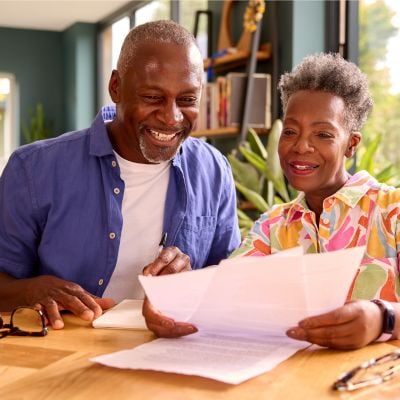 Having a single loan to pay off makes it easier to manage your payments, and you can often get a better interest rate than what you might be paying on credit cards and car loans.
Credible is an online marketplace offering personalized loan options based on your unique financial situation.
When you consolidate your debt with a personal loan through Credible, you can roll your payments into one monthly installment. Find a lower interest rate and pay down your debt faster with Credible today.
Find your rate
What to do if you've already paid down your student loan
Any borrower who took advantage of the pause on payments and interest accrual during COVID-19 to pay down their debt can request a refund now. The refunded amount will reappear in your account as a loan balance.
According to the Department of Education, all you need to do is contact your loan servicer to request the refund.
Applications for loan forgiveness are expected to be available by mid-October. But since it could take some time for the change to be reflected in your account, borrowers who want payments refunded should think about starting that process soon.
Claiming student loan forgiveness
Keep in mind that the forgiven amount is capped at what you owe — or owed until you paid it off during the pause. For example, if you have an outstanding loan balance of $6,000 and you qualify for up to $10,000 canceled through the program, your $6,000 loan will be canceled and that's that.
If you owe $13,000 and qualify for $10,000 canceled through the program, you'll now have a loan balance of $3,000 after the forgiveness amount is applied.
But let's say you paid off the last $15,000 on your account before you knew you'd qualify for $10,000 of forgiveness. You can ask for a refund, but keep in mind that by reopening your account, you will have to start repaying that balance — with interest — once the pause ends on Dec. 31.
And since it could take months for the forgiveness to be applied, you could be on the hook for regular payments until that comes through.
Sponsored
This Company Will Help Nearly Anyone Get Rid of Credit Card Debt
Do you feel like paying off your credit card is a constant grind, with no end in sight? You're not alone. A personal loan offers lower interest rates and fixed payments, making it a smart choice to consolidate high-interest credit card debt. It helps save money, simplifies payments, and accelerates debt payoff.
Credible is a free online service that shows you the best lending options to pay off your credit card debt fast — and save a ton in interest.