How does a line of credit work?
A line of credit has plenty of uses, whether you need cash to do a home remodel, pay off debt or help cover your monthly bills.
Unlike the typical loan that provides a lump sum of money, a line of credit, or LOC, gives you access to a limited amount of money you can borrow as needed. Once you pay off what you borrow, you can borrow that money all over again.
That makes a credit line a revolving account, similar to a credit card — but with lower interest rates and the potential for a much higher credit limit.
One of the major upsides of a line of credit, besides its flexibility, is that you're charged interest only on what you borrow. You can request a certain amount of credit but you don't have to use it all, and you'll pay interest only on the portion you use.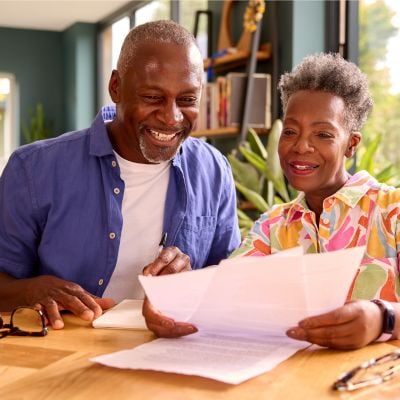 Having a single loan to pay off makes it easier to manage your payments, and you can often get a better interest rate than what you might be paying on credit cards and car loans.
Credible is an online marketplace offering personalized loan options based on your unique financial situation.
When you consolidate your debt with a personal loan through Credible, you can roll your payments into one monthly installment. Find a lower interest rate and pay down your debt faster with Credible today.
Find your rate
Secured vs. unsecured lines of credit
A credit line can be either secured or unsecured.
Secured
When you open a secured line of credit, you must back it up with collateral: something of value that the lender can take if you fail to make your payments.
The best example of a secured credit line is a home equity line of credit, or HELOC. Features of a HELOC include:
You put up your home as collateral — meaning you risk losing your house if you don't pay back what you owe.
You can borrow up to 90% of your home equity, which is your home's value minus your remaining mortgage balance.
You'll typically pay interest at a variable rate that can fluctuate in sync with the prime rate.
The interest may be tax-deductible if you're borrowing the money to buy, build or make substantial renovations to your home.
More: HELOC vs. home equity loan
Unsecured
When you take out an unsecured line of credit, no collateral is needed. Because these credit lines are riskier for the lender, they tend to be costlier and have more restrictions.
The interest rates are fixed — that is, they never change — but they're higher than the rates on secured credit lines. The rates on unsecured lines of credit can be in double digits, though not as high as a credit card interest rate. The average credit card rate is 20.4%, according to the latest Federal Reserve data.
You'll need a good credit score to apply — and to land the best possible interest rate. If you're concerned about your credit score, you have plenty of ways to boost it.
Unsecured credit lines are generally limited to no more than $100,000.
The interest is not tax-deductible.
An unsecured line of credit for individuals (as opposed to businesses) is called a personal line of credit. It has become a popular choice among the growing numbers of Americans who find themselves facing big expenses with no emergency savings to fall back on.
The latest report from the Federal Reserve on the economic well-being of Americans found that around 32% of consumers have no way to cover an urgent and unexpected $400 cost. In addition, 24% of adults reported going without some form of medical care because they could not pay for it.
More: Get a competitive, personalized loan quote from Credible
Should you apply for a line of credit?
In the doldrums with debt and an empty bank account — and then you find yourself blindsided by a big bill? A line of credit might provide you with easy and flexible access to cash.
A home equity line of credit can be a good choice if you're a homeowner with equity in your home. Because a HELOC is a secured line of credit that uses your house as collateral, you're likely to land a relatively low interest rate.
So long as you stay on top of your payments and stick to the terms outlined by the lender, you won't put your home in jeopardy. You can use the credit line to cover a financial emergency — or pay for a major home project, like a new roof or a kitchen remodel.
An unsecured personal line of credit is your option if you don't have a home, car or other asset you can put up as collateral.
You can expect a somewhat higher interest rate, and you'll need a good credit rating.
But seriously, if you have a history of not repaying your debts you'll be hard-pressed to find a bank willing to let you borrow anything. If bad financial habits are the reason you're short on cash, you should probably work on those before you open a credit line.
Sponsored
This Company Will Help Nearly Anyone Get Rid of Credit Card Debt
Do you feel like paying off your credit card is a constant grind, with no end in sight? You're not alone. A personal loan offers lower interest rates and fixed payments, making it a smart choice to consolidate high-interest credit card debt. It helps save money, simplifies payments, and accelerates debt payoff.
Credible is a free online service that shows you the best lending options to pay off your credit card debt fast — and save a ton in interest.