1. Greeting cards
A birthday card from the brand American Greetings can cost you as much as $7 at the grocery store — but there's no need to splurge on something fancy that will probably just get tossed in the trash later.
"The cost has a lot more to do with the perceived value of the card," Ginger McClesky, a manufacturer's representative in the greeting card industry, told CBS Minnesota in 2017.
Some greeting card companies tend to print on thicker cardstock and add features like music or letterpress, which may also up the price.
Reader's Digest recommends buying greeting cards at the dollar store — you may be able to get a two-for-$1 deal — or looking for generic card sets that you can use for any occasion.
You can even consider crafting your own greeting cards or sending your loved one a free e-card instead.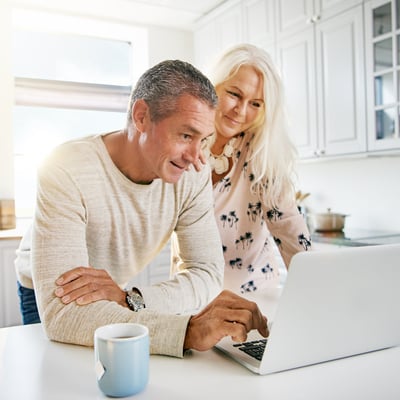 Are you confident in your retirement savings? Get advice on your investment portfolio from a certified professional through Datalign. It only takes 3 minutes to connect with an advisor who puts you first.
Get Started
2. Beauty products
You might find it convenient to pick up your lipstick and mascara while also grabbing your potatoes and onions — but watch out for higher markups.
You may also see similar markups on skincare or haircare products.
To save a few bucks, always check the flyers, wait for sales or use coupons at the drugstore or at department stores like Walmart.
"From body lotion to shampoo and toothpaste, unless it's on sale, skip it. The best deals are offered at various drug stores like CVS (with coupons), Walmart, and even cheapest at dollar stores (makeup applicators, cotton swabs, shampoo, etc.)," consumer savings expert Andrea Woroch told PopSugar in 2016.
3. Cooking tools
If you just bought pancake mix and realized you don't have a spatula at home, think again before running out to purchase one at the grocery store.
"Those types of items are usually much cheaper at discount retailers like Walmart," personal finance expert Rachel Cruze advises in Reader's Digest.
It may also be more cost-effective to pick up a set rather than purchasing individual utensils.
Voraciously by The Washington Post even recommends purchasing kitchen tools at restaurant supply stores for better quality and cheaper prices. These products are more likely to withstand damage, last longer and they often cost less because supply stores price their items to sell to businesses in bulk.
More: 25 things to avoid buying at Walmart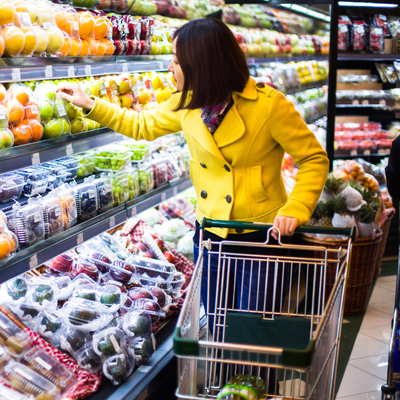 Upload a picture of your shopping receipts to the free Fetch app, and start earning points today. Redeem your points for cash or gift cards.
Start Earning
4. Prepared meals
Didn't have time to pack a lunch for work the night before? You might be tempted to grab a ready-to-eat sandwich from your nearby grocery store.
But while you're saving yourself time and effort, you're still paying more for the convenience of an already prepared meal.
You could save up to 90% on items like deli meals and pre-made salads just by making them at home, says consumer savings expert Jill Caponera in Reader's Digest.
Savings like that may incentivize you to just hit up the grocery store in advance and buy your cold cuts, cheeses and bread separately.
5. Name-brand cereals
You're often overpaying for just the packaging design and advertising when you opt for the branded versions of your favorite cereals over the generic variety, says Kitchn.
For example, you'll fork over $4.48 for an 18-ounce box of Kellogg's Corn Flakes at Walmart.com, but you can save more than half the cost by purchasing the store brand version instead.
"Compare ingredients of name brand with generic — if the ingredients are the same, you won't taste much of a difference. In fact, most store labels (generic) are actually produced by the big-name brands," Andrea Woroch told PopSugar. "This difference in packaging results in prices that are as much as 50% cheaper!"
She adds that some stores may even offer a money-back guarantee on their own brands, in which case you can always keep the receipt and return the cereal if you're dissatisfied with the taste.
6. Pre-cut produce
Buying your fruit and veggies in pre-cut chunks sure saves you the time (and cleanup) of chopping away at them yourself, but it will cost you more in the end.
For example, an 8-ounce container of diced yellow onions costs $2.78 at Walmart.com, and you could pay $2.48 for a three-pound bag of uncut yellow onions instead. There's similar markup on fruit.
"Generally speaking, I think that it's better for most people to buy whole fruit from an economic standpoint; it's going to be less expensive," Max Lugavere, health and science journalist and author told HuffPost in 2021. "It's going to be fresher, also."
Pre-cut produce typically comes packaged in plastic, too — which poses a serious environmental issue when that plastic ends up in a landfill.
Consider taking an hour of your week to prep all your fruits and veggies in advance and avoid the hassle of doing it throughout the week. It's an eco-friendly and cost-effective way to avoid splurging at the grocery store.
7. Diapers It's tough being a new parent, and baby stuff can be expensive — diapers alone use up a big chunk of those funds.
The exhausted parent making an emergency run to grab a box of nappies may simply not have the time to travel to a specific location or hunt for the best deal.
But, save yourself the time (and money) by making your one stop at a big box store instead of the supermarket — check out warehouse clubs like Costco where you can buy them in bulk.
You can also look out for coupons or sales, join loyalty rewards programs with popular diaper brands like Huggies and Pampers or sign up for Amazon Family, which allows you to get 20% off with a diaper subscription (as long as you have a Prime account).
Another option is to invest in cloth diapers — although The New York Times reports that there's been some debate over their cost effectiveness and environmental benefit.
8. Prepared meat
We all love the convenience of pouring your marinated chicken right out of the package and into the oven. No need to prep hours in advance, no cleanup — it's the ultimate ready-to-go meal at the end of a long work day.
However, food magazine Kitchn says you might be paying up to 60% more when you purchase your meat pre-chopped or marinated.
Like the pre-cut produce, you can set aside time in the week to prep your meat in advance. If you're looking for even more ways to save at the meat counter, Kitchn also suggests looking for marked-down meat that is nearing its sell-by date. Just be sure to cook or freeze it right away.
9. Name-brand spices
Spices have one of the highest markups, as much as an eye-popping 100%, according to Woroch, so consider buying your pepper and paprika off-brand next time.
"Seasonings and spices are another good bet for going generic, because the taste difference is minimal, but you'll also save a lot," personal finance writer David Bakke said in a 2016 CBS News article.
While spices can certainly vary in quality, and it can be difficult to determine whether one spice brand is better than another, you don't always need to opt for the expensive packages at the grocery store.
You might also be able to save more by purchasing your spices whole and in bulk — these typically stay fresher longer than ground spices, as well.
10. Baked goods
Sure, the smell of freshly baked croissants and chocolate chip cookies wafting toward you when you step into the grocery store can be tantalizing.
But Kitchn claims you can face markups of up to 300% on baked goods at the grocery store's bakery counter. That's a steep increase.
Home cooking site Allrecipes also reports that some offerings at the in-house bakery aren't prepared fresh and may be frozen in advance.
If you don't have the luxury of preparing your baked goods from scratch, consider buying a box of pre-made cake mix to whip up at home instead. Or, look for discounts on day-old items at the bakery — just be sure to check the expiry date.
11. Bottled water
This one isn't specific to just grocery stores — think twice before you grab that bottle of water from any checkout line cooler. It might not take a lot out of your wallet at the moment, but it'll add up over time.
Reader's Digest claims that bottled water can have a markup of as much as 4,000% — the site says a $2 water bottle costs manufacturers a mere 5 cents to produce.
The CDC reports that over 90% of Americans have access to safe, potable water straight from their kitchen tap. If you don't trust the source, you can also get a water filtration system to clear out any contaminants.
If you're only purchasing bottled water on the go, remember that disposable bottles are not only pricey — they're also damaging to the environment. Invest in a reusable water bottle instead — glass, stainless steel or BPA-free plastic are ideal — and stop worrying about having to pay everytime you're thirsty while out and about.
12. Canned beans
Canned beans are a filling and effortless addition to your dinner — but while you'll save on soaking and preparation time, the dried variety is by far the more cost-effective option.
Nutrition site The Bean Institute says a family of four that eats beans once a week could save almost $80 a year by choosing dry beans over a national brand of canned beans.
For example, a 16-ounce bag of dried pinto beans costs $1.29 at Kroger, according to the store website. The Bean Institute says this amounts to 12 half-cup servings of cooked beans. On the other hand, a 15.5-ounce can of Kroger pinto beans is priced a little lower at $1, but will make you only 3.5 half-cup servings.
Dried beans aren't just cheaper, they could also be healthier (canned beans are often high in sodium) and you might achieve better flavor when you add your own spices as you cook them, says HuffPost.
13. Batteries
Don't get charged more on batteries. This household staple is another bad buy from the grocery store when you're trying to budget — experts recommend buying from other retailers or purchasing them in bulk.
"Batteries are definitely a better buy at club warehouse stores," Erin Konrad, a spokesperson for CouponPal.com, told Business Insider. You might be able to stock up on a larger quantity for a cheaper price, compared to buying a small six-pack at the grocery store.
For example, a 40-pack of Duracell AAA batteries costs $14 at Costco.com, but a 16-pack of the same brand is priced at nearly $15 on H-E-B's store website.
Konrad also suggests purchasing batteries from Amazon or stocking up on generic batteries from the dollar store.
14. Alcohol
Before a big party, you might be tempted to save time by just picking up the booze while you grab your snacks and other essentials.
But don't buy your beer at the grocery store — you can actually save by buying in bulk at the warehouse clubs.
Beer and wine could be priced 10% to 20% more at grocery stores than at warehouse clubs like Costco and Sam's Club, according to consumer reporter and author Jeanette Pavini, who spoke to Business Insider in 2015.
You might not even have to pay the membership fee: "Alcohol laws vary state to state, but in general it is against the law to charge a membership fee for alcohol purchases, so score deals on your favorite wine and spirits even if you're not a member," she said.
15. Snack packs Those small bags of chips and Goldfish crackers might be a convenient buy for your kids' lunch bags, but you can score lower prices online or at warehouse clubs.
Woman's Day magazine says snack packs often get marked up by as much as 50%. Take Walmart for example — an 8-ounce bag of Lay's classic potato chips retails for $3 (or 37 cents per ounce), but a package of 10 1-ounce bags costs $17 at the same store.
Joanie Demer, co-founder of The Krazy Coupon Lady, told Business Insider in 2015 that shoppers can shave 10% or more off what they'd typically pay at the grocery store by purchasing their little snack bags off Amazon instead.
Or, skip the individual portion bags entirely, and just buy the regular-sized bags — you can portion out your chips into smaller containers at home.
16. Pet food
You can't forget about your fur babies when you do your grocery haul, but you can save on pet food depending on where and how you purchase it.
Skip out on buying cans of wet food one by one, which can be costlier, and consider buying them in a bulk package from Costco.
Or, you can sign up for the loyalty program at your local pet store to earn rewards, snag coupons and get discounts.
For example, PetSmart offers a free membership program called Treats, which lets pet parents earn points on purchases, services and donations to PetSmart charities, which can later be redeemed for discounts. You'll also receive access to some members-only deals.
"Ordering pet food online can often save you more by selecting the 'repeat delivery' deal option [for] savings of up to 15% off orders," savings expert Andrea Woroch says in Business Insider's 2015 article.
17. Fresh seafood
Save on your salmon by grabbing it from the frozen section of the grocery store instead of hitting up the seafood counter.
Frozen fish tends to be 20% cheaper than the fresh variety, says food and recipe magazine The Spruce Eats. And you're not always skimping on quality.
"From the introduction of micro-misting to more powerful and rapid deep-freeze technologies at lower temperatures, the process has really turned frozen product . . . into a means to capture pristine quality," chef and author Barton Seaver told The Washington Post in 2018.
The newspaper also reports that shoppers should take a look at the label on "fresh" seafood at the counter — some items might be labeled "previously frozen," which means they were only thawed out once they hit the store.
18. Magazines
Don't get distracted by those big, bold headlines and flashy stills of your favorite celebrities while you wait at the checkout counter.
Instead of paying $5 for a magazine that you'll probably end up tossing in the trash later, there are several ways to read them for free or for a discounted price.
Check with your local library — they may offer digital magazines that you can borrow and read off your tablet, including both the latest and back issues.
If you're an Amazon Prime member, you'll enjoy access to some digital magazines through Prime Reading. You can also find deals on print and digital magazine subscriptions on Amazon, even if you don't have Prime, which can cost you less over the long term.
And look into other sites, like Magazines.com and DiscountMags.com, which feature discounts and deals on magazine subscriptions.
19. Party supplies
So, you're throwing a birthday bash and are hitting the grocery store to pick up snacks, drinks and cake — but save yourself the stroll down the party supplies aisle.
You can save big on things like paper plates, balloons and candles by hopping over to the dollar store instead. For example, a pack of paper plates can cost you $6 at Kroger, but half the price at Dollar General.
Remember to also check online stores that offer cheap or discounted party goods and favors. You might be able to save at stores like Amazon by purchasing party supplies in full sets rather than picking out individual items.
Another great idea is to stock up on party supplies during end-of-season clearance sales at stores like Target or Walmart. The discounted beach-themed napkins will certainly keep until next summer.
Or, why not skip the disposable dishes altogether and use plates and cups from your cupboard to save some money and the environment?
20. Toothbrushes and dental floss
Why get your oral care products from the grocery store (or any other store) when you can get it for free?
If you go to the dentist regularly, you'll probably receive a little goodie bag with a toothbrush, floss and perhaps even a sample toothpaste. If you don't, it never hurts to ask for one.
Just bear in mind that the CDC advises you to replace your toothbrush every three to four months, especially if the bristles are looking worn out. They'd also like to set the record straight that a replacement isn't needed due to bacteria or germs, but because a worn out toothbrush is less effective at cleaning your teeth.
You can also look out for deals and coupons at retailers and save more on value packs as opposed to just buying one toothbrush at a time.
Check the brand websites and social media pages of products like Oral-B in case they're offering exclusive deals or complimentary gifts with purchases on oral care.
21. Toilet paper
Remember the era of toilet paper shortages at the onset of the pandemic? Shoppers were stocking up as quickly as possible and Costco had to enforce limitations on how much you could buy at a time.
Here's the thing — buying your toilet paper in bulk at warehouse clubs or office supply stores is your best bet for savings, according to MoneyTalksNews.
That doesn't mean you need to buy multiple packs at a time, but it is cheaper than frequently grabbing smaller packs at the grocery store. It means fewer trips to the store as well, and we all know how expensive gasoline is these days.
You can also clip coupons and check the flyers regularly for cheaper prices at other retailers. It's also a good idea to do the math so you know exactly how much you're paying per roll.
More: Scan your grocery store receipts for free rewards with Fetch
Sponsored
Jump-start your retirement plan with personalized advice
Are your retirement savings on track? Get personalized advice from a financial advisor that understands your needs.
Datalign matches you with vetted registered advisors that can help you improve your investment portfolio and grow your retirement savings safely. In minutes, you can connect with a local or remote advisor and get a free initial consultation.
Get matched with a financial advisor today at Datalign and get on the path to financial success.