Farmland
Agriculture and bitcoin don't have much in common. Bitcoin was created in 2009 while agricultural communities began to form about 10,000 years ago.
Buffett isn't known for being an agricultural investor, but he sees value in an asset class that's critical to the sector — farmland. His point is if you buy farmland, you hold a tangible asset that produces food.
"If you said, for a 1% interest in all the farmland in the United States, pay our group $25 billion, I'll write you a check this afternoon," Buffett says.
Of course, you don't need to have $25 billion to invest in U.S. farmland. Publicly traded real estate investment trusts — that specialize in owning farms — allow you to do it with as little money as you're willing to spend.
Plus, new investing services allow you to invest in farmland by taking a stake in a farm of your choice. You'll earn cash income from the leasing fees and crop sales — and any long-term appreciation on top of that.
With inflation running hot, the prices of agricultural commodities including corn and soybeans are soaring to new highs.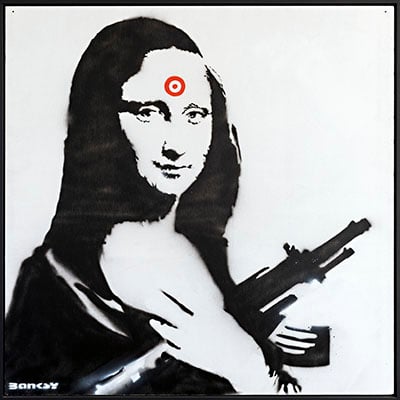 Join Masterworks to invest in works by Banksy, Picasso, Kaws, and more. Use our special link to skip the waitlist and join an exclusive community of art investors.
Skip waitlist
Apartments
Apartment buildings are another asset that Buffett wouldn't mind owning at the right price.
"[If] you offer me 1% of all the apartment houses in the country and you want another $25 billion, I'll write you a check. It's very simple," the legendary investor says.
Whether the economy is booming or in a recession, people need a place to live. And with real estate prices rising to unaffordable levels in many parts of the country, renting has become the only option for many people.
You can always buy an apartment building yourself, find tenants and collect the monthly rent checks. Of course, apartment-focused REITs can do that for you.
And if REITs don't provide the stability you're looking for, there are more "private" ways to get involved.
For instance, some popular investing services make it possible to lock in a steady rental income stream by investing in premium real estate properties, from commercial developments in Los Angeles to residential apartments in NYC.
You'll gain access to high-end properties that are typically off-limits to retail investors, and you'll receive regular payouts in the form of quarterly dividend distributions.
Sponsored
Fine art as an investment
Stocks can be volatile, cryptos make big swings to either side, and even gold is not immune to the market's ups and downs.
That's why if you are looking for the ultimate hedge, it could be worthwhile to check out a real, but overlooked asset: fine art.
Contemporary artwork has outperformed the S&P 500 by a commanding 174% over the past 25 years, according to the Citi Global Art Market chart.
And it's becoming a popular way to diversify because it's a real physical asset with little correlation to the stock market.
On a scale of -1 to +1, with 0 representing no link at all, Citi found the correlation between contemporary art and the S&P 500 was just 0.12 during the past 25 years.
Earlier this year, Bank of America investment chief Michael Harnett singled out artwork as a sharp way to outperform over the next decade — due largely to the asset's track record as an inflation hedge.
Investing in art by the likes of Banksy and Andy Warhol used to be an option only for the ultrarich. But with a new investing platform, you can invest in iconic artworks just like Jeff Bezos and Bill Gates do.