U.S. Bancorp (USB)
As the parent company of U.S. Bank, U.S. Bancorp is one of the largest banking institutions in the country.
Last summer, the bank increased its quarterly cash dividend from 42 cents to 46 cents per share – that's $1.84 per share annualized. At the current share price, the company yields a generous 3.6%.
Berkshire owns 144,046,330 shares of U.S. Bancorp, meaning it's earning over $265 million in annual dividend income just from this one holding.
It also helps that banks are solidly positioned for the rising interest rate environment: they lend money out at higher interest rates than they borrow, pocketing the difference. As interest rates increase, the spread earned by banks widens.
To tame spiking inflation, the Fed raised its benchmark interest rates by 50 basis points on May 4, marking the first half-point increase since 2000. Similar moves are expected to occur at the Fed's upcoming meetings in June and July.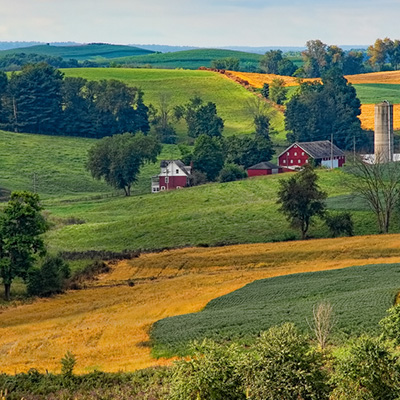 Farmland is one of the top asset classes capable of insulating your money from volatile market conditions. Learn how you can use FarmTogether to safeguard your portfolio.
Diversify now
Coca-Cola (KO)
A discussion of Buffett's dividend stocks would not be complete without his beloved Coca-Cola.
Buffett started hoarding shares of the beverage giant in the late '80s. Today, Berkshire owns a whopping 400,000,000 shares of the company.
Coca-Cola went public more than 100 years ago. This February, the board approved the company's 60th consecutive annual dividend increase, raising the annual payout to $1.76 per share.
And that means Berkshire now collects $704 million in dividends a year from Coca-Cola.
It's not hard to see why the payout has been so reliable: The company's iconic products are sold in more than 200 countries and territories, and even in a recession, a simple can of Coke is still affordable to most people.
The stock currently yields 2.8%.
Chevron (CVX)
Energy stocks have turned out to be big winners amid the oil price boom, and Buffett expects the fun to continue.
The legendary investor significantly increased his stake in Chevron in Q1. Owning 159,178,117 shares, Berkshire's Chevron position has a market value of over $28 billion, making it the third-largest holding in the portfolio.
As an oil and gas supermajor, Chevron's business is firing on all cylinders. For Q1, the company reported earnings of $6.3 billion, which more than quadrupled the $1.4 billion in the same period last year. Revenue totaled $54.4 billion for the quarter, up 70% year-over-year.
In January, Chevron's board approved a 6% increase to the quarterly dividend rate to $1.42 per share.
Holding 159,178,117 shares of Chevron, Berkshire now collects a staggering $904 million a year in dividends from the oil producer.
Chevron shares are already up 50% in 2022 and now offer an annual dividend yield of 3.2%.
Sponsored
Diversify your investments with farmland
You don't have to own a farm to profit off farmland.
Farmland has proven to be one of the most stable assets of the past few decades — and with FarmTogether, you're able to invest today. FarmTogether's platform gives accredited investors access to this exciting market, and one of the highest-yielding asset classes on a risk-return basis.
Sign up for FarmTogether to start investing in farmland.