Netflix (NFLX) In an interview last year, Cuban noted that he had owned Netflix since it was trading at $50 per share.
With the stock currently boasting a price of $633, Cuban's return on Netflix sits at about 1,100% — assuming he still holds those shares.
Netflix was the best performing S&P 500 component of the last decade.
Naturally, that performance was nicely enhanced by the pandemic-induced, stay-at-home environment we've been living in over the past two years.
In Q2 of 2021, Netflix added 1.5 million subscribers, bringing its total paying membership base to over 209 million. That helped revenue grow 19% year over year to $7.3 billion.
But Netflix isn't without competition.
Its success has inspired giants like Disney and Apple to launch their own subscription-based streaming platforms, suggesting that the next decade won't be quite as epic for shareholders as the last one.
If you're on the fence about Netflix, some investing apps can give you a free share of Apple or Disney just for signing up.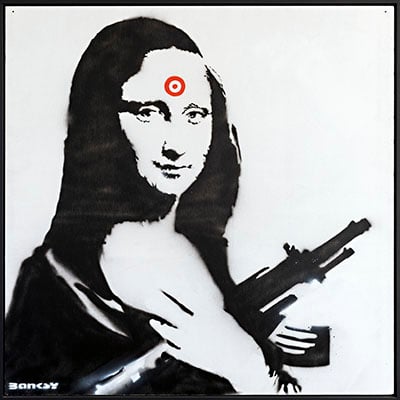 Join Masterworks to invest in works by Banksy, Picasso, Kaws, and more. Use our special link to skip the waitlist and join an exclusive community of art investors.
Skip waitlist
Amazon (AMZN) Amazon is another big winner for Cuban. He loaded up on shares of the e-commerce giant when they were trading at $500 to $700 apiece and added more at just under $2,000.
Today, the stock is at over $3,200.
While Amazon's most recent quarterly results didn't blow out expectations — the stock is actually down 5% over the past month — business is still firing on all cylinders.
In Q2, sales totaled a whopping $113.1 billion, representing a 27% increase year over year.
The bottom line turned out to be even more impressive: Amazon earned a profit of $7.8 billion for the quarter compared to $5.2 billion in the year-ago period.
Mega-cap tech stocks like Amazon tend to command high price tags.
But the good news? You can get a piece of the company using an app that allows you to buy fractions of shares with as much money as you are willing to spend.
A finer alternative
Just a quick word of caution: Stocks — even great ones — don't always go up.
After all, someone was willing to take the other side of Cuban's bet.
To earn life-changing investment returns, you don't need to limit yourself to the stock market, or the crypto market, for that matter.
If you want to invest in something that has very little correlation with the violent swings of the stock market, you might want to consider an overlooked asset — fine art.
Investing in fine art by the likes of Banksy and Andy Warhol used to be an option only for the ultra-rich like Cuban.
But with a new investing platform, you can invest in iconic artworks too, just like Jeff Bezos and Peggy Guggenheim.
According to the Citi Global Art Market chart, contemporary artwork has offered a return of 14% per year over the past 25 years, easily topping the 9.5% annual return from the S&P 500.
Sponsored
Fine art as an investment
Stocks can be volatile, cryptos make big swings to either side, and even gold is not immune to the market's ups and downs.
That's why if you are looking for the ultimate hedge, it could be worthwhile to check out a real, but overlooked asset: fine art.
Contemporary artwork has outperformed the S&P 500 by a commanding 174% over the past 25 years, according to the Citi Global Art Market chart.
And it's becoming a popular way to diversify because it's a real physical asset with little correlation to the stock market.
On a scale of -1 to +1, with 0 representing no link at all, Citi found the correlation between contemporary art and the S&P 500 was just 0.12 during the past 25 years.
Earlier this year, Bank of America investment chief Michael Harnett singled out artwork as a sharp way to outperform over the next decade — due largely to the asset's track record as an inflation hedge.
Investing in art by the likes of Banksy and Andy Warhol used to be an option only for the ultrarich. But with a new investing platform, you can invest in iconic artworks just like Jeff Bezos and Bill Gates do.