Fidelity ZERO Large Cap Index Fund (FNILX)
The S&P 500 Index is widely regarded as the benchmark index for the U.S. stock market. Several funds track the S&P 500 in order to provide investors with convenient exposure to U.S. equities.
But if a fund wants to use the S&P 500 name, it has to pay a licensing fee that essentially gets passed on to investors.
The Fidelity ZERO Large Cap Index Fund closely mirrors the performance of the S&P 500. But it's not an "official" S&P 500 copycat, so it doesn't have to pay the licensing fee. In turn, FNILX boasts an expense ratio of 0%.
Every dollar you put into FNILX gets put to work.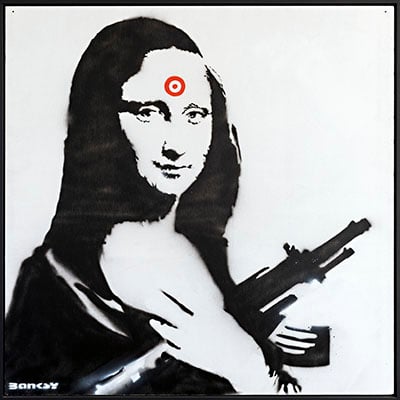 Join Masterworks to invest in works by Banksy, Picasso, Kaws, and more. Use our special link to skip the waitlist and join an exclusive community of art investors.
Skip waitlist
Vanguard Small-Cap ETF (VB)
Small-cap stocks don't get as much attention as their large-cap counterparts. But investors should ignore them.
The largest companies we see today were once small. Companies with plenty of room to grow have tremendous upside.
For a low-cost way to invest in this growth-oriented group, investors can check out Vanguard Small-Cap ETF. It tracks the CRSP U.S. Small Cap Index, which measures companies in the bottom 2%-15% of the investable universe.
VB is diversified, holding around 1,550 stocks. It also has a low expense ratio of just 0.05%.
One thing to keep in mind: Because small-cap stocks are relatively young, they tend to be more volatile than more established large-cap names.
Vanguard Total International Stock ETF (VXUS)
To truly diversify your portfolio — especially in this age of globalization — having some exposure outside of the U.S. is essential. Thankfully, it's easy these days to invest overseas.
For instance, Vanguard Total International Stock ETF seeks to match the performance of the FTSE Global All Cap ex-US Index. By owning this index fund, investors get broad exposure across developed, as well as emerging non-U.S. equity markets.
The fund's top holdings include global industry titans such as Samsung Electronics, Nestle, Tencent Holdings and Toyota. It also owns smaller names and holds over 7,800 stocks, with an expense ratio of 0.07%.
Sponsored
Fine art as an investment
Stocks can be volatile, cryptos make big swings to either side, and even gold is not immune to the market's ups and downs.
That's why if you are looking for the ultimate hedge, it could be worthwhile to check out a real, but overlooked asset: fine art.
Contemporary artwork has outperformed the S&P 500 by a commanding 174% over the past 25 years, according to the Citi Global Art Market chart.
And it's becoming a popular way to diversify because it's a real physical asset with little correlation to the stock market.
On a scale of -1 to +1, with 0 representing no link at all, Citi found the correlation between contemporary art and the S&P 500 was just 0.12 during the past 25 years.
Earlier this year, Bank of America investment chief Michael Harnett singled out artwork as a sharp way to outperform over the next decade — due largely to the asset's track record as an inflation hedge.
Investing in art by the likes of Banksy and Andy Warhol used to be an option only for the ultrarich. But with a new investing platform, you can invest in iconic artworks just like Jeff Bezos and Bill Gates do.