Invest in ETFs
Exchange-traded funds have been gaining popularity in recent years. You can think of an ETF as a portfolio of stocks. Because ETFs trade on major exchanges, it's very convenient for investors to buy and sell them.
And they come in particularly handy for index investors.
Case in point: the Nasdaq Composite is a market capitalization-weighted index of over 3,000 stocks listed on the Nasdaq Stock Market. It would be difficult for an investor to try to buy all the components individually to track the index.
With ETFs, investors can gain exposure to a large portfolio of stocks with a single transaction.
For instance, the Fidelity NASDAQ Composite Index ETF (ONEQ) aims to provide investment returns that closely correspond to the Nasdaq Composite. The index has climbed about 12% year to date and so has the ETF. The fund does charge a fee for providing this convenience: it has a net expense ratio of 0.21%.
Read more: Rich young Americans have lost confidence in the stock market — and are betting on these 3 assets instead. Get in now for strong long-term tailwinds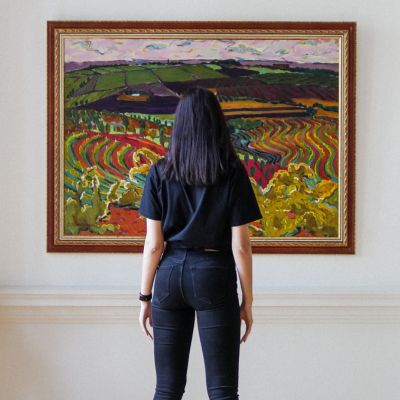 Contemporary art has outperformed the S&P 500 by 131% for the past 26 years. Join the exclusive platform to invest in million-dollar works by artists like Banksy, Basquiat, and more. Get started today and diversify your portfolio with art.
Learn More
Invest in Nasdaq heavyweights
Even though the Nasdaq Composite is made up of thousands of stocks, not every stock moves the index the same way. As mentioned earlier, the index is market cap-weighted. So big players tend to move it the most.
Indeed, at the end of 2022, the top three components of the Nasdaq Composite were Apple, Microsoft, and Amazon. They accounted for 12.19%, 10.54%, and 5.05% of the index's weight, respectively.
If you want to pick Nasdaq stocks yourself, starting with the heavyweights may not be a bad idea — especially when Wall Street also sees upside in these names.
Apple: Apple (AAPL) is a tech behemoth. In the latest earnings conference call, management revealed that the company's active installed base has surpassed two billion devices. Shares have climbed 25% year to date and Morgan Stanley analyst Erik Woodring sees more upside ahead. The analyst has an 'overweight' rating on Apple and a price target of $180 — around 14% above the current levels.
Microsoft: Software gorilla Microsoft (MSFT) is moving on the right track. In the December quarter, revenue grew 7% year over year on a constant currency basis. Mizuho Securities analyst Gregg Moskowitz has a 'buy' rating on Microsoft and a price target of $315, implying a potential upside of 17%.
Amazon: Amazon's (AMZN) stock price performance hasn't been stellar. Even though shares are up 13% in 2023, they are still down nearly 40% compared to a year ago. JPMorgan analyst Doug Anmuth sees a rebound on the horizon. The analyst has an 'overweight' rating on Amazon and a price target of $135 — roughly 39% above where the stock sits today.
Sponsored
Meet Your Retirement Goals Effortlessly
The road to retirement may seem long, but with WiserAdvisor, you can find a trusted partner to guide you every step of the way
WiserAdvisor matches you with vetted financial advisors that offer personalized advice to help you to make the right choices, invest wisely, and secure the retirement you've always dreamed of. Start planning early, and get your retirement mapped out today.