Apple (AAPL)
Cramer has been a fan of Apple for years.
He says that he's been 'long' on the company ever since his daughter owned a blue and a pink iPod. And due to the recent drop in Apple's share price — the tech giant is down 20% year to date — Cramer thinks it's time to hit the buy button once again.
"I want to buy it. I upgraded for the charitable trust. It's been straight down," he says.
In the latest earnings conference call, Apple CEO Tim Cook said that the company hasn't been immune to supply chain disruptions. CFO Luca Maestri added that supply constraints — resulting from COVID-related disruptions and silicon shortages — could impact sales by $4 billion to $8 billion.
That said, Cramer thinks the iPhone maker will be fine, citing his recent interview with Micron Technology CEO Sanjay Mehrotra.
"He said phones are good," Cramer recalls. "Higher-end phones? Good."
In the most recent quarter, iPhone sales grew 5.5% year over year to $50.6 billion and accounted for 52% of Apple's total sales.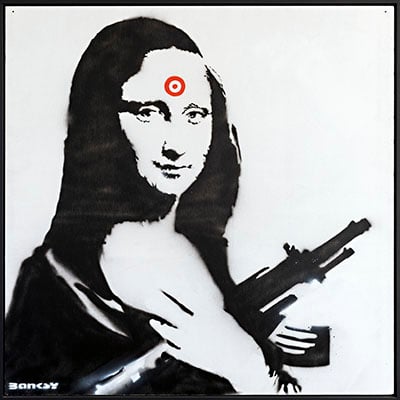 Join Masterworks to invest in works by Banksy, Picasso, Kaws, and more. Use our special link to skip the waitlist and join an exclusive community of art investors.
Skip waitlist
Nvidia (NVDA)
As a leading manufacturer of graphics cards, Nvidia shares have had a solid bull run over the past decade. But that rally came to an abrupt end in November 2021. Since reaching a peak of $346 in late November, the stock has fallen about 50%.
Nvidia's plunge is substantial even when compared to other beaten-down stocks in the semiconductor sector. And Cramer has taken notice.
"Nvidia has been cut in half," he says on CNBC. "It's the worst chart I've seen. Honestly, it's so horrible that I want to buy it."
Nvidia's business is performing well, making it a particularly intriguing contrarian idea. The chipmaker generated $7.64 billion of revenue in its fiscal Q4. The amount not only represented a 53% increase year over year, but also a new quarterly record.
Revenue from gaming — Nvidia's largest segment — increased 37% year over year to a record $3.42 billion. Meanwhile, data center — the company's second-largest segment — saw revenue spike 71% to a record $3.26 billion.
Nvidia is scheduled to report Q1 FY23 results on May 25 after the closing bell.
Sponsored
Fine art as an investment
Stocks can be volatile, cryptos make big swings to either side, and even gold is not immune to the market's ups and downs.
That's why if you are looking for the ultimate hedge, it could be worthwhile to check out a real, but overlooked asset: fine art.
Contemporary artwork has outperformed the S&P 500 by a commanding 174% over the past 25 years, according to the Citi Global Art Market chart.
And it's becoming a popular way to diversify because it's a real physical asset with little correlation to the stock market.
On a scale of -1 to +1, with 0 representing no link at all, Citi found the correlation between contemporary art and the S&P 500 was just 0.12 during the past 25 years.
Earlier this year, Bank of America investment chief Michael Harnett singled out artwork as a sharp way to outperform over the next decade — due largely to the asset's track record as an inflation hedge.
Investing in art by the likes of Banksy and Andy Warhol used to be an option only for the ultrarich. But with a new investing platform, you can invest in iconic artworks just like Jeff Bezos and Bill Gates do.