Coca-Cola (KO)
Coca-Cola is a classic example of a recession-resistant business. Whether the economy is booming or struggling, a can of Coke is affordable for most people.
The company's entrenched market position, massive scale, and portfolio of iconic brands — including names like Sprite, Fresca, Dasani and Smartwater — give it plenty of pricing power.
Add solid geographic diversification — its products are sold in more than 200 countries and territories around the globe — and it's clear that Coca-Cola can thrive through thick and thin. After all, the company went public more than 100 years ago.
More impressively, Coca-Cola has increased its dividend for 60 consecutive years. The stock currently yields 2.7%.
According to GMO's latest 13F filing to the SEC, the asset manager owned 9.41 million shares of Coca-Cola at the end of March, valued at $583.5 million.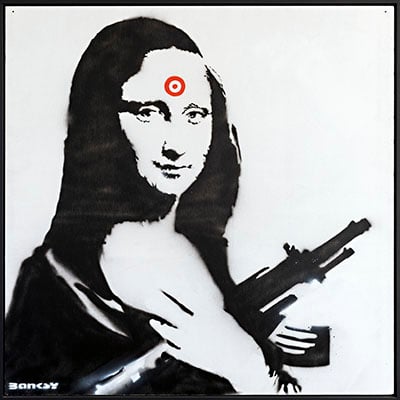 Join Masterworks to invest in works by Banksy, Picasso, Kaws, and more. Use our special link to skip the waitlist and join an exclusive community of art investors.
Skip waitlist
Johnson & Johnson (JNJ)
With deeply entrenched positions in consumer health, pharmaceuticals and medical devices markets, healthcare giant Johnson & Johnson has delivered consistent returns to investors throughout economic cycles.
Many of the company's consumer health brands — such as Tylenol, Band-Aid, and Listerine — are household names. In total, JNJ has 29 products each capable of generating over $1 billion in annual sales.
Not only does Johnson & Johnson post recurring annual profits, but it also grows them consistently: Over the past 20 years, Johnson & Johnson's adjusted earnings have increased at an average annual rate of 8%.
The stock has been trending up for decades. And it is demonstrating its resilience again in 2022: While the broad market has declined quite a bit, JNJ is up 2.7% year to date.
JNJ announced its 60th consecutive annual dividend increase in April and now yields 2.6%.
As of Mar. 31, GMO held 2.58 million shares of JNJ, worth approximately $457.2 million at the time.
More: Tips on investing when inflation is high
U.S. Bancorp (USB)
Rounding out the list is U.S. Bancorp, the parent company of U.S. bank and one of the largest banking institutions in the country.
The banking industry isn't quite as shockproof as consumer staples or healthcare. But interest rates are on the rise, and that could serve as a tailwind for banks.
Banks lend money out at higher interest rates than they borrow, pocketing the difference. As interest rates increase, the spread earned by banks widens.
To tame spiking inflation, the Fed raised its benchmark interest rates by 50 basis points on May 4, marking the first half-point increase since 2000. Similar moves are expected to occur at the Fed's upcoming meetings in June and July.
U.S. Bancorp has a strong focus on asset quality. In Q1, net loan charge-offs declined 52% year over year.
Last summer, the bank increased its quarterly cash dividend from 42 cents to 46 cents per share. At the current share price, the company yields a generous 3.5%.
At the end of March, Grantham's asset management firm owned $520.5 million worth of U.S. Bancorp.
Sponsored
Fine art as an investment
Stocks can be volatile, cryptos make big swings to either side, and even gold is not immune to the market's ups and downs.
That's why if you are looking for the ultimate hedge, it could be worthwhile to check out a real, but overlooked asset: fine art.
Contemporary artwork has outperformed the S&P 500 by a commanding 174% over the past 25 years, according to the Citi Global Art Market chart.
And it's becoming a popular way to diversify because it's a real physical asset with little correlation to the stock market.
On a scale of -1 to +1, with 0 representing no link at all, Citi found the correlation between contemporary art and the S&P 500 was just 0.12 during the past 25 years.
Earlier this year, Bank of America investment chief Michael Harnett singled out artwork as a sharp way to outperform over the next decade — due largely to the asset's track record as an inflation hedge.
Investing in art by the likes of Banksy and Andy Warhol used to be an option only for the ultrarich. But with a new investing platform, you can invest in iconic artworks just like Jeff Bezos and Bill Gates do.