So why should you care about a strange new digital asset that sounds like cryptocurrency for sports-card addicts and the art school set?
Start with the fact that many of the richest and most influential investors seem to care. And they care a lot.
What are they? NFT stands for "non-fungible token," and it refers to a unique crypto asset.
A single bitcoin, for example, is "fungible" in that it can be exchanged for another bitcoin and there's no difference. But with NFTs, each item is a one-of-a-kind digital item.
This gets confusing, however, when you learn that many NFTs are connected to images and video clips, which can be viewed for free online.
NBA Top Shot sells officially-licensed clips of basketball plays and other digital collectibles. Recently, a clip of a LeBron James dunk from a 2019 game went for more than $200,000.
So why would someone pay that much for a clip they can just watch on YouTube?
Think of it as the difference between a famous painting and a print of that same painting. You can buy or download an image of the Mona Lisa, but there's only one original.
For a lot of people, there's a tangible appeal to feeling like they truly own something, even if the thing they own isn't itself tangible.
With NFTs, you get that sense of ownership plus a blockchain entry confirming that attests to your ownership.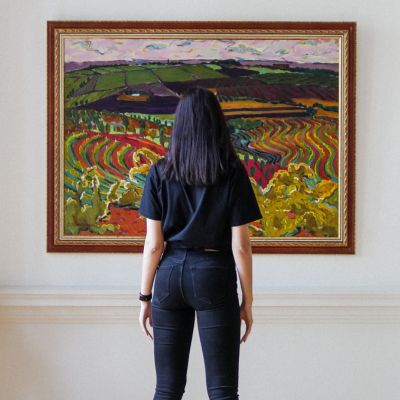 Contemporary art has outperformed the S&P 500 by 131% for the past 26 years. Join the exclusive platform to invest in million-dollar works by artists like Banksy, Basquiat, and more. Get started today and diversify your portfolio with art.
Learn More
What are star investors saying?
While Warren Buffett has not, as of this writing, weighed in on NFTs, it's not hard to guess what he'd think — the Oracle of Omaha is famously cool to cryptocurrency.
But there are many big investing minds who are quite high on NFTs. Here are a few of the high profile NFTs supporters.
Mark Cuban Billionaire investor Mark Cuban is definitely an NFT convert and one of the platform's top evangelists.
He's selling one of his own motivational quotes as an NFT and he's also selling NFTs of hype videos for the Dallas Mavericks, the NBA team he owns.
"The tech is real," he told CNBC. "The impact is real, and permanent."
According to the Shark Tank star, what we're seeing right now with six- and seven-figure deals for digital artwork or sports clips is the early phase of what he believes is a burgeoning market.
"Like the early days of all new tech, the excitement sometimes creates some unique situations." Cuban says.
"As more entrants come into the market, it will become more efficient and the pricing will settle down."
Elon Musk Elon Musk made headlines of his own just recently when he made a song about NFTs and then tweeted that he was going to sell the song as an NFT. (He later changed his mind despite already having received a top bid of more than $1 million.
It's hardly surprising that Musk is interested in NFTs. He's a noted fan of cryptocurrency, and his electric-car company Tesla invested heavily in Bitcoin earlier this year.
As with many things Musk-related, however, it's difficult to tell whether he's a genuine fan of the platform or just having a bit of fun trolling on social media.
The fact that his girlfriend Grimes recently made almost $6 million selling NFTs of her digital art is one indication that he sees real value there.
Jim Cramer Mad Money host Jim Cramer has discussed NFTs briefly of late, though he did admit he was pretty new to the concept.
"You're trading scarcity," he told The Street. "And I think if there is scarcity, you might want to use it."
Though Cramer sees the value in an asset that's scarce, he also acknowledged that he's still wrapping his head around the concept of NFTs.
"I need to get comfortable with it. Right now I'm not," he said.
Alexis Ohanian Reddit co-founder Alexis Ohanian has been talking up NTFs while promoting his new venture Alt, which allows users to buy and sell sports cards like stocks.
"NFTs are just underlying technology," he told CNBC this month. "And there is a lot of noise, for sure, but there are some real indicators that this is a manifestation of, frankly, changing markets and changing investor bases."
Ohanian says NFTs represent an opportunity for non-traditional assets to be traded like any market commodity.
"Folks who are looking for ways to put capital into alternative assets, things that historically would have been really hard to move around, like art, and pretty illiquid, are becoming more and more liquid thanks to technology," he said.
How can you get in? If you're interested in investing in assets like cryptocurrency, there are apps that make investing easy.
If you're still unconvinced about the new wave of digital investments, DIY apps let you take a more traditional approach.
Acorns can round off your debit and credit card purchases to the nearest dollar and invest the leftover change in a balanced portfolio that reflects your risk tolerance and goals.
And of course, there's always the appeal of having an old-fashioned, flesh-and-blood human investment adviser to help you get the most out of your money — and to talk you through some of these newfangled assets like NFTs.
Sponsored
Meet Your Retirement Goals Effortlessly
The road to retirement may seem long, but with WiserAdvisor, you can find a trusted partner to guide you every step of the way
Wiseradvisor matches you with vetted financial advisors that offer personalized advice to help you to make the right choices, invest wisely, and secure the retirement you've always dreamed of. Start planning early, and get your retirement mapped out today.